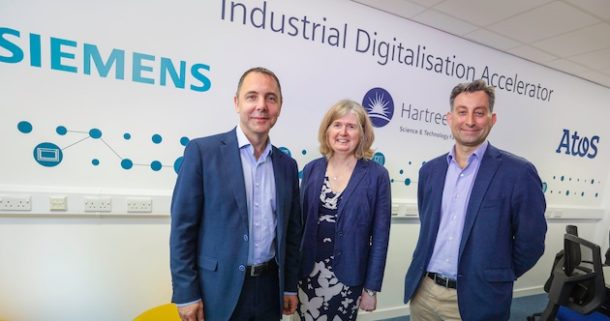 NAA Member News: Siemens, Atos and STFC launch ground-breaking partnership to help businesses adopt Industry 4.0 technologies
Siemens Digital Industries, Atos and the Science and Technology Facilities Council's (STFC) Hartree Centre have launched a ground-breaking Industrial Digitalisation Accelerator (IDA) to offer businesses a practical, collaborative space to explore Industry 4.0 technologies…
It is the first time that three distinct and yet complementary experts in the field of computing, analytics and Internet of Things (IoT) solutions have come together and combined their expertise to offer industry the opportunity to overcome digitalisation challenges and discover new pathways to growth.
The programme is offering businesses of all sizes a practical, collaborative space to explore Industry 4.0 technologies (also known as the fourth industrial revolution). Here they will be able to produce proof of concepts and access mentorship to help them acquire these technologies, such as big data analytics, IoT, modelling, simulation and sensor technology, through the government's Made Smarter programme.
The IDA was launched at an event at the Hartree Centre, at STFC's Daresbury Laboratory. Located within Sci-Tech Daresbury in the Liverpool City Region, the Hartree Centre has a key mission to transform UK industry through high performance computing, data analytics and artificial intelligence technologies.
STFC's Alison Kennedy, Director of the Hartree Centre, said: "At the Hartree Centre we work with companies in a wide range of industries to help them benefit from advanced digital technologies such as supercomputing, big data analytics and AI. We're thrilled to be able to offer our expertise in this exciting and unique partnership which will offer UK companies a practical, collaborative space to accelerate the exploration and integration of Industry 4.0 technologies and improve productivity."
Adrian Gregory, Senior Executive Vice president and CEO, Atos UK and Ireland, said: "In combining the expertise of our three organisations this facility will deliver new levels of data-driven insight and opportunity in direct alignment with the challenges set out in the Made Smarter Review. Through our continued partnership we are pleased to support The Hartree Centre as a beacon of innovation, where the enormous potential of digital technologies can be harnessed and applied helping businesses to remain competitive and fit for Britain's digital future."
Brian Holliday, Executive Management Board of Siemens plc and Managing Director for Siemens Digital Industries, said: "Staying competitive in the evolving technology landscape isn't easy, yet the opportunity to drive productivity has never been greater.
"By harnessing the combined power of these three partners the IDA has a mandate to do just this; increase industrial productivity providing new pathways to growth.
"Combining the unique capabilities of Siemens, Atos and the STFC Hartree Centre in one accelerated environment, we aim to cut through the noise to help businesses overcome their own digitalisation challenges and realise the opportunities presented within Industry 4.0."
The IDA is contributing to the UK Industrial Strategy by offering businesses of all sizes a practical, collaborative space. It aims to address many of the challenges set out in the independent Made Smarter Review commissioned by UK Government which, the review estimates, could add £455bn to UK GDP within the next 10 years if properly implemented. Read more about the Made Smarter Review