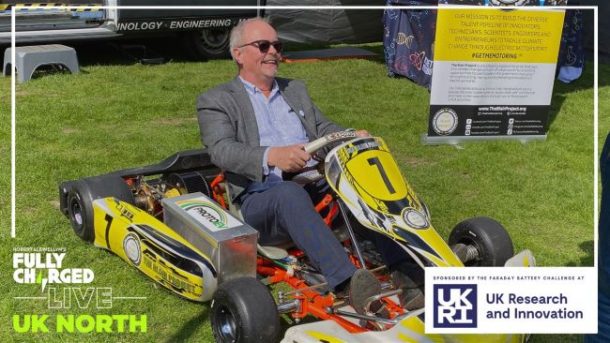 NAA Member News: The Blair Project invites Robert Llewellyn to try the ProtoEV e-kart
Future ProtoEV e-kart racer, Robert Llewellyn? Looks like our Blair has some fierce competition on his hands!
NAA member The Blair Project had a fun time at Fully Charged LIVE North and South. Attendees had a chance to see how we are training the next electric generation of innovators, technicians, engineers, and entrepreneurs through our Planet Possibility and ProtoEV programmes!
ProtoEV is the ultimate motorsport STEM competition for schools, colleges, youth clubs and apprentices in the UK. Participating teams learn how to retrofit petrol go-karts and convert them into fully electric e-karts which they test and race to see which is the fastest and most energy efficient. Find everything you need to know about the ProtoEV STEM Challenge or register a team for a UK Regional final: https://lnkd.in/eAjTCevS
The Blair Project is delighted to be part of this pioneering and game changing Planet Possibility Consortium. Together, our aim is to make Physics more appealing to Black, Asian, Minority Ethnic and Working Class youths to increase uptake and grow the future workforce. Participants conduct hands-on physical experiments to better understand the forces that underpin modern technological advances and govern the world we live in. Discover more about our Planet Possibility programme or book a visit to your school, college, youth group or event here: https://lnkd.in/e739bxy4
Our visit to Fully Charged LIVE North and South wouldn't have been possible if it wasn't for our sponsors, The Faraday Battery Challenge at Innovate UK. The Faraday Battery Challenge aims to support a world-class scientific, technology development and manufacturing scale-up capability for batteries in the UK. The challenge is focused on developing cost-effective, high-performance, durable, safe and recyclable batteries to capture a growing market.
Find out more about The Blair Project here