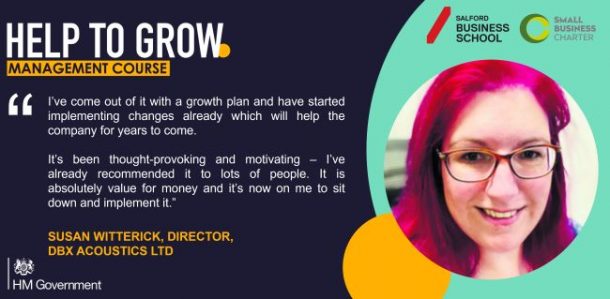 NAA Member News: The University of Salford Help to Grow: Management Course
The University of Salford would like to personally invite you to join our upcoming cohort of the 90% government-funded Help to Grow Management Course.
Aimed at managers and directors of SMEs, the government-backed programme equips senior business leaders with the skills to help you grow your business, expand your client base, improve your bottom line and optimise your business processes.
We are now accepting registrations for the upcoming cohort starting on 19 September 2023. Our latest cohort launched back in April welcomed 30 more companies onto the course, meaning that Salford Business School has now supported over 140 local businesses through the programme.
A maximum of 30 places are available on the programme, so if you're interested, you can register for one of the remaining places using the link below.
About Help to Grow:
Important information about the course:
• 50 hours over 12 weeks, for managers and senior leaders of SMEs.
• Delivered one morning a week by business growth experts and our business faculty.
• Delivered 75% online, with only the four case study workshops taking place physically on our campus at Salford Business School.
• Includes 10 hours of 1-to-1 professional business mentoring for you to create a high-growth plan for your company or business area.
Don't just listen to us!
We believe the Help to Grow really is valuable to all businesses.
To really get a taste of how it could be beneficial listen to what some of the past participants have said about the programme:
DISCOUNTED RATE (including govt funding): £600 (full cost usually £750)
To find out more about the programme, take a look at the Help to Grow Programme brochure and the course session delivery dates. If you are interested, please register your interest using the link below and a member of the team will reach out to you with details regarding the next steps to finalise your registration.
Click here to register for Help to Grow