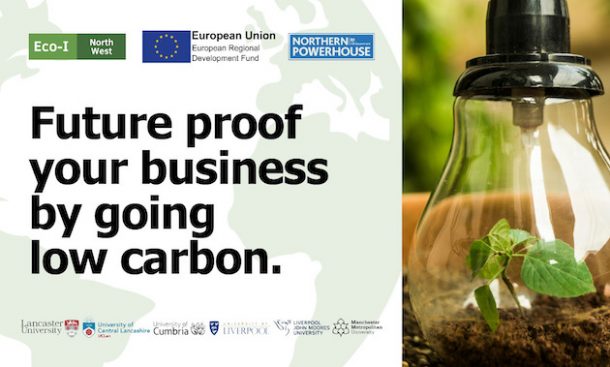 NAA Member News: University support to reduce the carbon intensity of your business
This year will see COP26 come to the UK and the environmental and social impact of business has never been higher on the agenda.
The UK is aiming for carbon neutrality by 2050 and some regions, including Greater Manchester, are bringing that date forward to 2038. Reducing the carbon intensity of your operations is key to future proofing your business and with carbon taxes on the horizon, now is the time to identify ways of reducing the environmental impact of your business.
To support this, Manchester Metropolitan University is working with a number of partners, including Lancaster University, to deliver ERDF Eco-I NW, a fully funded (available at no cost to the business) project available to SMEs across the North West.
The purpose of the project is to support businesses to innovate to achieve one, or more, of the following:
– Reduce the carbon intensity of your day-to-day operations
– Reduce the carbon intensity of your products/services
– Develop new, low carbon products/services
At Manchester Met the project is delivered in partnership between the Business School and the faculty of Science and Engineering. The business school lead on the project is providing support on business model innovation and design thinking, with the Science and Engineering team delivering insights and support on emerging, clean technologies. Including:
– Hydrogen and Fuel Cell technology
– Anaerobic digestion
– Smart infrastructure
– Industry 4.0 and Additive Manufacturing, including utilising recycled plastic feedstock
– Dual fuel combustion and emission reduction technologies.
The project is delivered through a series of online workshops, with the next cohorts starting in September and November 2021.
For businesses that complete the workshop programme and have an innovative idea they want to develop, the project can provide additional 1-2-1 support through the development of a proof of concept/business case study led by a dedicated academic team.
The project is open to businesses from all sectors, but is limited to SMEs from the NW of England.
To find out more and organise an informal chat, contact Johnny Reay on j.reay@mmu.ac.uk or complete an expression of interest form at ECO-I North West · Manchester Metropolitan University (mmu.ac.uk).