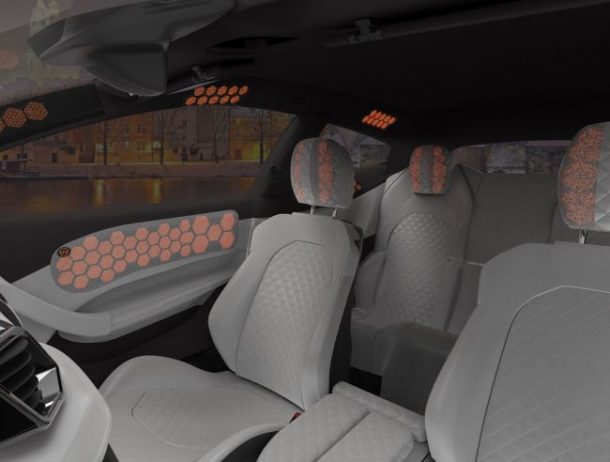 NAA Member News: Warwick Acoustics develops new speaker technology that could revolutionise the soundscape inside cars
Warwick Acoustics and the company's ability to revolutionise the soundscape inside cars is the subject of a feature in Autocar this month, which is reproduced below.
Revolutionary British-designed premium car audio technology with the potential to bring huge improvements to both on-the-move listening experiences and overall car efficiency is soon to be launched by a Midlands company that was spun out of Warwick University's engineering department 20 years ago.
The company, Warwick Acoustics (WA), has headquarters at the MIRA Technology Park near Nuneaton and it bases its revolutionary business on the development of electrostatic speakers that are smaller, lighter, higher performing and easier to package than any existing conventional speakers for cars. In addition, WA – which also develops accompanying software for its systems – claims powerful advantages in sustainability for the trailblazing new products, due to be revealed in a prototype vehicle soon.
WA's managing director is Mike Grant, who was drafted in by the company's investors in 2015 to assess its potential. The firm had harboured its highly promising audio technology for about 10 years but done little to move towards production. Grant says his first job was "to decide if the company's technology had a production future". He soon recognised that although electrostatic speakers weren't new in principle, WA's unique 'take' on them made them especially suitable for cars and e-technology. He reckoned that with the right kind of development programme, they could become "classic disruptors" in a global market for around 500 million car-based speakers a year, currently worth around $8 billion (£5.9bn).
He set out to adapt WA's technology to all kinds of cars but now believes its arrival will be perfectly timed to enhance the new generation of electric cars in which weight is absolutely critical and whose different cockpit layouts offer bold new packaging opportunities. What is more, their innate quietness will provide a listening environment for sophisticated audio that is closer to the ideal.
Previous electrostatic speaker designs were too delicate and difficult to power to survive in the tough automotive environment, says Grant. But by combining WA's original university-developed intellectual property with more recent fruits of its R&D, and with help from recent developments in materials science, WA was able to start developing products that are durable enough for road cars and e-mobility applications. WA moved into its current MIRA premises in 2018 with just five employees. By the end of 2020, it had a team of 15, and by the end of this year, it'll be 50.
An electrostatic speaker uses very different technology from the conventional circular or oval types we're used to. Whereas conventional speakers have a relatively bulky and heavy moving magnet to activate a diaphragm that moves air and thus creates sound, an electrostatic speaker has an extremely thin multi-layer membrane sandwiched between two electrically conductive stators. The audio signal is applied across the stators to vibrate the membrane and produce sound – which is usually more detailed because the membrane is very light and responds more quickly to inputs.
"My original plan was pretty simple: use our technology to take the company onto the audio market for all kinds of cars," says Grant. "But it has since become clear that the real opportunity is in the market for electrified vehicles, now expanding really quickly."
However, Grant and his team soon realised that it would take years to develop a wide enough range of products for its planned e-mobility applications and that it needed a means of establishing credibility with hard-to-please car makers in the meantime. So in 2016, it launched the first in a range of ultra-high end headsets using its electrostatic transducers (speakers).
These were primarily intended for use by recording studio engineers but have since been embraced by discerning audio enthusiasts, have won more than 30 awards and are widely acclaimed as "the best headphones money can buy". They should be good, mind. The ultimate model, called Aperio, is hand manufactured in gold, comes with a custom amp and sells for a cool £30,000 – only in Harrods. This perhaps gives us a helpful clue to the automotive sector WA will initially target. "We won't be putting our equipment in Ford Fiestas for the time being," says Grant.
With the reveal of WA's game-changing audio in prototype cars just months away, Autocar was offered exclusive access to the company's MIRA laboratories, to hear how the new products work – and sound – and to meet the multitalented team bringing them to production.
The results are astounding, and the products' instantly perceivable ability to "breathe new life into music" is just one of their advantages. WA's much experienced head of programmes, Graham Landick, claims the WA system can save as much as 75% of the electric power needed to work an equivalent conventional system in a premium car. It can also save up to 75% of a conventional system's weight – a matter of 6-8kg – which is a huge saving in today's ounce-conscious car business. Just those two advantages can usefully boost the electric cruising range of a current EV.
WA also claims ease of packaging as one of its key advantages. Its speakers' thinness, lightness and flexibility of shape mean they can be fitted integrally into a car's trim surfaces in the ideal positions for the best sound quality. "In presentations to OEMs, we've learned that there's a big advantage in having car designers present," says Ian Hubbard, WA's chief commercial officer. "When they see the new packaging opportunities, their eyes light up."
Other advantages? WA's easyto-position electrostatic speakers are particularly suited to noise cancellation applications because their low-mass membranes respond very quickly and precisely to changes in ambient noise. They also suit the creation of personalised sound zones for a car's different occupants, a customer demand that is just beginning but likely to increase.
Finally, the sustainability story: WA's electrostatic panels are almost entirely recyclable and contain none of the poisonous or hard-to-handle rare earth materials often found in magnet/voice coil transducers. This advantage will become increasingly important to car makers as they strive to decrease their products' environmental footprint.
Grant believes WA is well on the way to meeting the technology challenges but now needs to build the brand and to focus carefully on the needs of the customer in the cabin.
"Five years ago, our main concern was the basics," he says. "The low weight, the power efficiency and the sound quality of our products. Now, we believe it's really, really important to bring great engineering together with the emotional side of the business. This matters as much in audio as it does in cars. We've got to bring the two things together."
There's plenty of new territory to be tackled, Grant explains. In future, we'll see car makers wanting to tailor sound to suit their own brand values. The location and look of audio controls will change radically. There will be a new emphasis on 'sound zones' that are specific to individuals in a car, and for ever more effective noise cancellation systems. But whatever the new demands, Grant believes he's well on the way to having the equipment – and the brand – for the job.
The key element
The basis of WA's automotive sound revolution – the electrostatic transducer – looks almost too simple and small to be a disruptor, especially against a conventional cone speaker with its relatively heavy central magnet and fragile diaphragm. But just by handling one, you can appreciate WA's claim for light weight and easy mounting.
The examples we saw were about the size of a large, oval biscuit, and similar in thickness. They are encased in an extremely light two-piece plastic frame with a honeycomb-shape web to protect the all-important membrane and a small set of connectors at one end.
Although electrostatic speakers were fragile when the technology was first discovered around 70 years ago, WA says its products' simplicity and robust design make them impervious to temperature and humidity variations, stable in performance and sound quality over time and "extremely durable".
Reproduced from Autocar:
https://www.autocar.co.uk/car-news/features/car-sound-revolution-meeting-warwick-acoustics