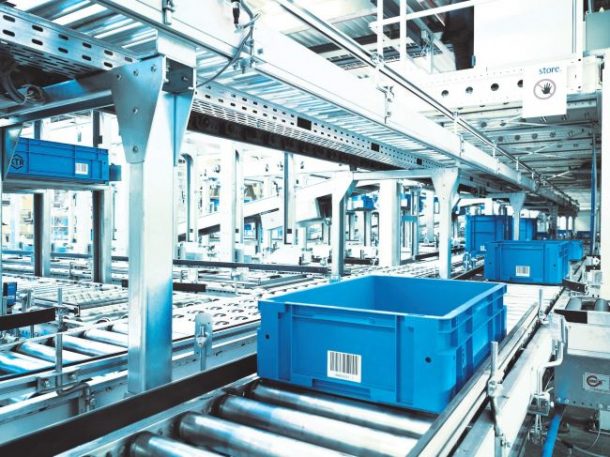 NAA Member Profile: Smart and sustainable returnable packaging solutions from George Utz Ltd
With a focus on smart and sustainable solutions, George Utz Ltd supplies a wide range of standard and bespoke returnable packaging products.
Based in Alfreton, Derbyshire, the company is part of Utz Group, the global market leader for returnable packaging with 1350 employees and 8 production locations worldwide. Utz is the only global returnable packaging manufacturer that is carbon neutral across all of its manufacturing facilities.
As well as plastic totes for the automotive, distribution, food manufacture, catering and other industries, George Utz manufactures plastic pallets, pallet boxes, picking bins, collapsible containers, component holders, lids, dividers, and handles. The firm also offers a range of identification technologies including barcodes, in-mould labelling, foil stamping, stickers and RFID transponders. In short, George Utz Ltd is a one-stop-shop for design, toolmaking, prototyping and production. All off-the-shelf and bespoke products are manufactured in the UK using advanced injection-moulding. Modern plastic technology enables Utz to offer products that are made from recycled material and solutions that are 100% recyclable.
The Utz Group was established in Switzerland in 1947. Much of its global growth since then has mirrored the expansion of its large automotive customers including Jaguar Land Rover, and Toyota. Key Utz products for the automotive sector include KLTs, galias, plastic pallets, collapsible FLCs (Klapa), solid FLCs (Paloxe), dollies, customised component holders and ESD containers with lids.
Output at the group's UK facility has risen considerably in recent years, with the number of units manufactured increasing threefold since 2018. "As part of our strategy to meet ever-growing customer demand," says Russell Evans, General Manager of George Utz Ltd, "we installed two brand-new Krauss Maffei injection-moulding lines last year. The new production lines are not only faster but also more sustainable, as they use significantly less energy."
The company's production processes have also become much more digitalised and automated in recent years. "Investment at our Alfreton factory has included automation of the handling of pallets to major machinery," continues Russell Evans, "the installation of palletising stations at the end of production lines, the introduction of machine visualisation software and a new warehouse management system for real-time stock control. We also operate Six Sigma strategies across the facility to continuously improve manufacturing quality."
George Utz Ltd
01773 543170
info.uk@utzgroup.com