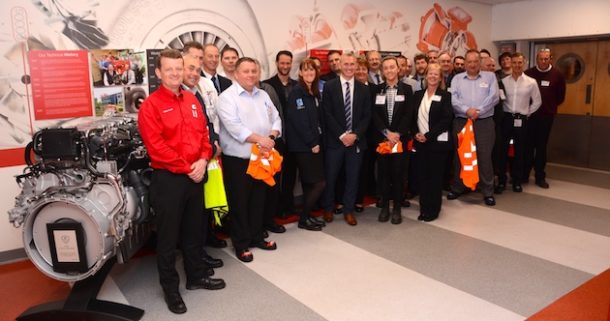 NAA Networking Event review: Cummins Turbo Technologies
NAA members recently enjoyed a behind the scenes tour of Cummins Turbo Technologies' engineering, manufacturing and testing facilities in Huddersfield…
Cummins is the world's largest independent engine maker, headquartered in the small Midwestern town of Columbus, Indiana; a company that has grown from its humble roots into a global manufacturing powerhouse.
The company was founded in 1919, the result of an unlikely partnership between a banker and an inventor, who shared a belief in the power of ideas and a vision for what ingenuity and hard work could achieve.
The men were mechanic Clessie Cummins and investor W. G. Irwin, with the financial support from the Irwin family; visionaries who saw the potential and power of the simple diesel engine.
As one of the 200 companies with the diesel license, Cummins took the available technology and transformed diesel into a reliable and everyday power source.
The Irwin family believed in diesel technology and understood the importance of taking the long view – that investing in innovative ideas take time. It took 18 years before Cummins earned its first profit – in 1937.
Today, Cummins builds a sustainable future through its people, products and practices. Integral to its vision, mission and values, is its approach to sustainability.
Through its people, Cummins is building strong communities where it does business, building a diverse workforce.
Through its products, Cummins designs and builds clean engines, remanufacturing to give a second life to the things it makes and uses.
Through its practices, Cummins designs buildings that are more efficient, recycling and developing generators that run on landfill gas.
Cummins is a global company with 55,000 people worldwide, serving customers in more than 190 countries and territories through a network of approximately 600 company-owned and independent distributor locations and approximately 7,200 dealer locations.
The company manufactures products on six continents, allowing it to understand local markets and the challenges that its customers face.
Cummins has four complementary business segments:
Engine Business
This builds a range of diesel, natural gas and other engines for on-highway and off-highway applications around the world.
Power Systems
This segment designs, develops and manufactures products that provide everything from back-up power to primary power and all of the accompanying systems. Cummins engines power the generators and Cummins components make them run cleaner and more efficiently.
Components
Comprising turbo technologies, emission solutions, fuel systems, filtration and electronics, these are the components that are integrated into the engine to make it run cleaner and with more power.
Distribution
The biggest customer-facing part of Cummins; distributors and dealers are based around the globe providing products, service and support to customers who rely on Cummins products for power.
Cummins engines power the world in on-highway and off-highway applications. From tractor-trailers hauling US goods to market, to buses transporting the people of Beijing across the city, Cummins makes engines that meet a range of on-highway needs.
Off-highway, Cummins high horsepower engines power everything from construction to agricultural equipment.
In 2015, Cummins made more than one million engines. Currently the engines it makes in the engine business unit range from 49 – 675 horsepower.
In 2016 the company merged its high horsepower business with its power generation business to create a new power systems business. This focuses on large engines that power generators, mining equipment, boats, oil and gas equipment and trains.
Cummins has four businesses within Components to deliver integrated technology solutions: fuel systems, emission solutions, turbo technologies and filtration. It also has capabilities in electronics that complement this group.
As the technology leader in its industry, Cummins Components Business achieved $5.2 billion in revenue in 2015.
As emissions regulations spread around the world, Cummins technology has become more in demand, and as an independent manufacturer it is in an ideal position to work with the leading players in each market. Even as many of these leading players make some of their own engines, they still need Cummins to ensure that they have the best technology to meet emissions with competitive costs and fuel economy.
Turbo Technologies designs and manufactures turbochargers and related products, on a global scale, for diesel engines above 3 litres. An integral part of a modern diesel engine, it delivers emissions reduction, increased power density and fuel economy and with new technology can deliver engine braking, Exhaust Gas Recirculation (EGR) and intake and exhaust noise reduction.
At the Huddersfield site, demand is increasing, leading to around 5,000 turbos being manufactured per week by 330 employees.
Cummins discussed the process for recruiting new staff with the NAA's members. There is a well documented shortage of skills within the UK industry as a whole, and a lack of gender diversity. Cummins is trying to address this challenge in a number of ways, including working with schools. Traditionally, engineers in the automotive industry are likely to have been recruited based on their pastime of tinkering with cars. However Cummins has a well developed recruitment process that instead looks for people with drive and ambition to succeed, and staying power, and this has resulted in a greater number of female engineers.
Find out more at www.cumminsturbotechnologies.com