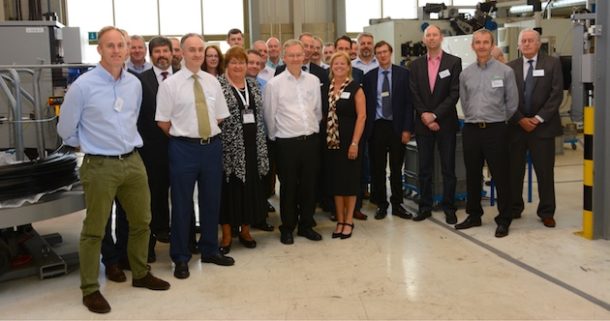 NAA Networking Event review: Force Technology, 14 June 2017, Blackpool
NAA members were able to hear how Force Technology has grown from a start-up to a supplier of springs to some of the world's largest automotive companies in less than two years …
Steve Williams, Managing Director of Force Technology, described how the company was a start-up in January 2016. Yet as at June 2017, Force Technology – which designs and manufactures high precision, high duty springs – is just about to be awarded the TS 16949 automotive quality standard. Steve explained how the company – a 'fast track SME start-up' – has achieved this incredible progress.
One of the first strategies was to implement marketing – a new brand, website, presentations etc – before going for investment. This gave a professional image of the company from the outset, and was one of the key factors in successfully gaining the funding that was required.
Steve then went on to describe how the UK is good at the first three stages of growing a business, ie. the Innovative, Entrepreneurial, and Pragmatic stages. The fourth stage, Systematic, is a strength more normally associated with German companies, and this is where many UK start-ups fall down. However from the outset Steve's vision was of 'Germanic standardisers' – ie. having stable and repeatable processes and products.
The fifth stage, 'Analytical', is what Japanese companies are excellent at – however Force Technology is also determined to get that stage right.
The company is already exporting 40% of its products, and after only 18 months is working for large OEMs and Tier 1s, in automotive as well as other sectors. Force Technology has always been intent on avoiding being seen as a supplier of commodity products, and instead it works with its customers as a strategic partner.
Find out more at: http://www.forcetechnology.co.uk
Force Technology is based in the same building as Lightworks, the company that manages the Blackpool Illuminations, so as an extra bonus, NAA members were treated to a fascinating guided tour of the manufacturing and storage facility which contains a diverse collection of exhibits from the Illuminations.
There were also two other presentations at the event:
George Fowkes, Director, BasePower
George explained how automotive companies with an energy spend in excess of £1 million per year could save costs by using their own Combined Heat & Power (CHP) system – which BasePower can install, manage and even fund for them. Having energy generation on site reduces the losses normally involved in distributing energy from the National Grid – and saves CO2. A CHP system can typically provide the vast majority of heat for a site, and maybe around 50% of electricity (with the remainder coming from the grid). It can also provide chill if needed.
To find out more, contact George Fowkes on george.fowkes@basepower.com
 Dr Andy Pickard, Centre Manager, Centre for Global Eco-Innovation
The entire automotive industry is on a trajectory to ultra-low emissions. Any NAA members that are struggling to implement projects in the area of low carbon or sustainability can use the services of Lancaster University's Centre for Global Eco-Innovation. If you have a problem that needs a solution, then a Masters student can be placed with you for just £2 per hour, and a PhD student costs just £3.25 per hour.
To find out more, contact Dr Andy Pickard on a.pickard@lancaster.ac.uk