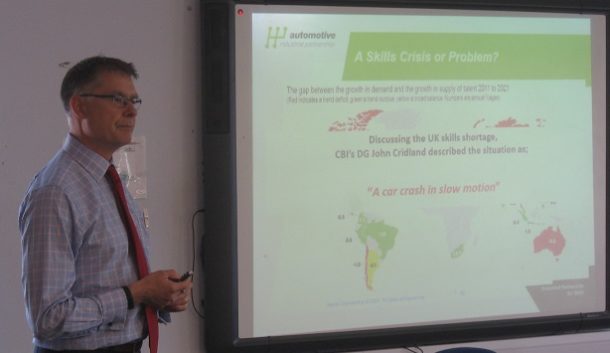 NAA Networking Event Review: Making the Apprenticeship levy work for you – The Automotive Perspective, 5 May 2017, Blackburn
The 'Making the Apprenticeship levy work for you – The Automotive Perspective' event started with an introduction from Carol on the results seen in the Lancashire Survey, linked into the critical skills for companies in the next three years. The top skill was Programme Management, followed by Leadership and Advanced Problem Solving.…
Paul Duerden of Training 2000 introduced the Apprenticeship levy and gave explanations and examples of the challenges that are still to be faced. We then had the privilege of Simon Farrall from BMW, and vice-chair of the Automotive Skills Working Group, talking about the Automotive Council approach to skills, the specific actions that have happened since its inception in 2012, and the vision for the future.
With the top item from the Lancashire Survey identifying Programme Management as the top critical skills issue, Mandy Topping from Blackpool & Fylde talked about their Project Management apprenticeship, and finally Jeff Thompson from KZN spoke about the work that they are undertaking with large companies.
All the presentation material is available on the NAA Events page, linked to this event, and if you have any questions about the Apprenticeship levy or any of the opportunities that were identified at the event, then please contact Martina.