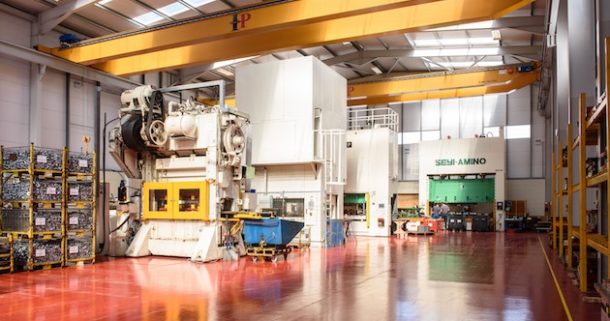 NAA New Member Profile: Irish Pressings
Founded in 2005 by brothers Brendan and Declan Ward, Irish Pressings specialises in the design and manufacture of press tools, pressed metal parts and welded assemblies for the automotive industry…
The company also offers a range of value-added ancillary services such as projection welding, precision machining and prototyping.
Irish Pressings is a Tier 1 and Tier 2 supplier to the automotive industry across the UK, Europe and beyond. Its USP is that by designing and manufacturing its tooling in-house, it is able to offer a complete concept-to-completion service for all its tooling and pressed part requirements.
Irish Pressings. Award-winning. Innovative. Quality.
Irish Pressings has maintained an average growth rate of over 20% per annum since starting out in 2005. The company is now on the cusp of another significant expansionary phase and is seeking to integrate its business interests further in the NAA region.
The level of service it offers to its customers is widely recognised as being what distinguishes the company from the competition. Its ability to project manage versus time, cost and quality helps ensure that customer satisfaction levels are always at the highest possible level.
In this regard, it can offer a wide range of services to NAA members and it seeks to engage with customers of all sizes and so is open to communication from all.
Design and simulation services
Tool design and manufacture
Metal Pressings/Stampings
Machining
Welding
Macro testing (weld testing)
R&D
As Irish Pressings embraces the ongoing evolution of the automotive industry it is also seeking to engage in collaborative projects and R&D initiatives with companies that share its enthusiasm for innovation and its commitment to quality and customer satisfaction.
For further information on Irish Pressings and the services it provides please contact:
Karen Campbell (Sales & Logistics Manager) k.campbell@irishpressings.com
Ben McGonagle (R&D, Risk and Business Planning) b.mcgonagle@irishpressings.com
Alternatively you can access information on Irish Pressings via:
www.irishpressings.com
www.linkedin.com/company/irishpressingsltd
www.instagram.com/irishpressingsltd/
www.twitter.com/IrishPressings
www.facebook.com/irishpressings/
www.vimeo.com/irishpressings