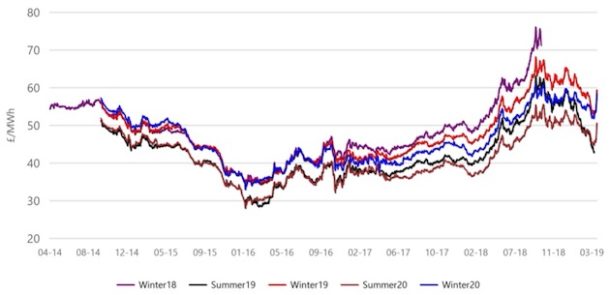 NAA News: Energy Market Update
This month has already seen UK gas and power markets experience a level of volatility not seen in years, with prices across both commodities, near and far curve, experiencing close to 10% rises over the course of three days during the first week of April…
Some of the contributors to the price shifts include:
Arrival of a mini cold-snap
Some disruption to gas flows from Norway (flipping the UK's gas system from over to under-supplied)
Volatility in the Carbon market
These pricing spikes managed to make new multi-year highs, climbing above the previous highs hit in October last year: In more positive news, the outlook since has seen a downward correction to this price spike which may continue, or perhaps the overall downward trend have found their lows: It is worth noting that prices over the last 12 months have seen huge swings creating a wide range for which prices can trade between and be considered 'normal'.
Many factors can affect energy pricing, and in today's economic climate, particularly for the automotive sector, it is necessary to manage energy consumption accordingly: Energy reduction remains one highest costs for manufacturers and therefore one of the primary opportunities to improve profit margins: For this very reason, the NAA has partnered with Businesswise Solutions (BWS), experts in energy management: As an NAA member, you can benefit from the following BWS offers.
Access to the 'NAA Green Energy Basket'
20% discount to 'Energy Insights', a unique service for changing energy consumption behaviour.
For more information on the above, please contact Andy Scott andy:scott@businesswisesolutions:co:uk or for more information on our energy partnership, please follow this link