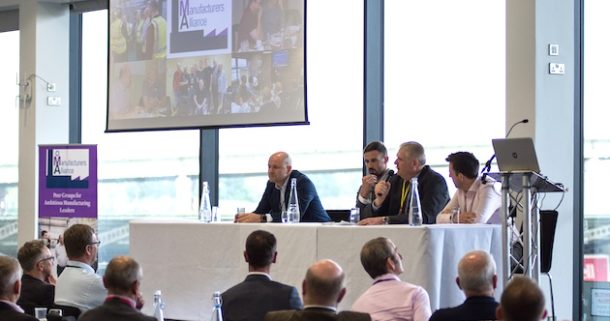 NAA Partner Event Review: The Manufacturers Alliance 2nd Annual Conference Inspires the Cogs of Industry to Keep on Turning
The conference has been the biggest to date with over 100 attendees, including a diverse range of speakers sharing best practice, including NAA member Mark Brickhill from Klarius.
Created specifically for small and medium sized businesses in the manufacturing industry, the Manufacturers Alliance runs peer support groups for senior manufacturing leaders, who meet on a monthly basis to share ideas and solve their most challenging business issues. Its members are experienced managing directors and senior decision makers, so each peer group boasts a wealth of expertise and knowledge.
Manufacturing leaders at the conference inspired attendees by taking the stage and sharing insights into what has worked well for them. A few of the best practice themes included Doubling the Size of Your Business, Digital Transformation, Inspiring Leadership, Improving Productivity and Using Your Values to Drive Your Culture.
Gary Knight, Managing Director at Wheatley Plastics said "It's great to interact with other group members and see their journeys in business but more importantly, it's so beneficial to have access to the tools and techniques of business growth and leadership and how I can apply that to the day to day running of my business." 
Manufacturing support organisations such as Make UK, Business Growth Hub, Made Smarter, Manchester Metropolitan University and Lloyds Bank shared how they have engaged with and supported the development of local SME manufacturing businesses in the current economic and political climate. 
David Searle, Chairman of South Manchester & Cheshire Groups, said "It was a great day and inspiring to see over 100 manufacturing leaders from SME businesses in the same room together all with a desire to learn and improve. It bodes well for the future of British manufacturing."
For more information visit: https://www.manufacturersalliance.co.uk