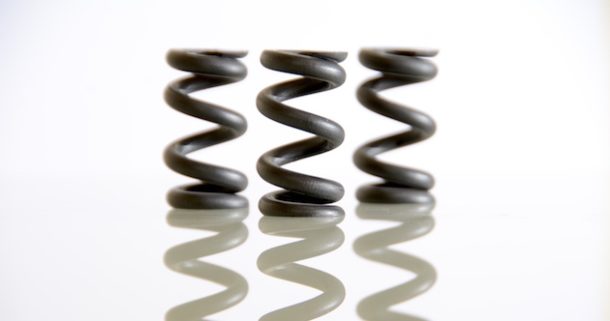 NAA Project News: SPLICE presentation at LCV2017
The NAA's SPLICE (Specialist Polymer Lightweight springs: Innovative processing using Conventional Equipment) project presented at the recent Cenex LCV2017 event, and will be doing so again at the European Spring Conference in Sicily from 29th September – 1st October…
About the project
The SPLICE project set out to determine whether lightweight polymer springs could be manufactured using existing conventional processes used to manufacture steel springs. Researchers at WMG, part of the University of Warwick, together with Force Technology and the Northern Automotive Alliance (NAA) won research funding worth £244,090 from Innovate UK for the project. The project has been led by The Institute of Spring Technology.
Benefits of polymer springs
Polymer production is less energy and raw material intensive than either silicon steel wire or titanium wire. Polymer springs can also be easily recycled at the end of their life. Lightweight polymer springs have the potential to lower emissions and improve fuel economy in automotive applications. They could replace heavier steel springs in other sectors. Polymer springs are also corrosion resistant and can be used when steel cannot, due to their non-magnetic and electrically insulating properties.
Results
The SPLICE project was successful in proving that lightweight polymer springs can be manufactured using conventional processes, by modification of a manual spring coiler (found in many factories) with the addition of a heating stage. No significant new tooling was required, allowing cost-effective high-variety production at low to medium volumes. Initial testing shows that the polymer springs had very promising performance.
What next?
Additional research is needed to develop the optimum properties for polymer spring materials and applications. With further development, polymer springs could be used cost-effectively for a range of applications in the automotive, transport, aerospace, space, marine, oil & gas, electronic and medical sectors. This would result in new market opportunities for the UK spring industry.
SPLICE Partners
Institute of Spring Technology (IST)
Force Technology
University of Warwick – Warwick Manufacturing Group
Northern Automotive Alliance (NAA)
For more information visit http://northernautoalliance.com/projects/splice/