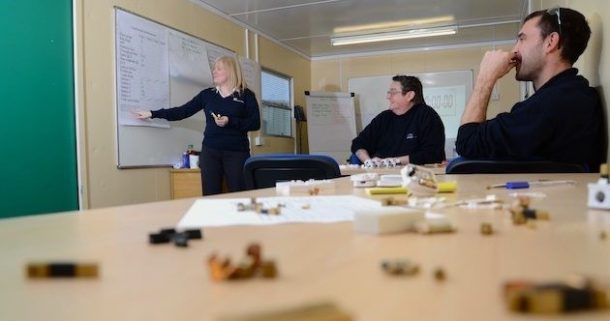 NAA Training: IATF 16949:2016 Internal Auditor Training, 26 & 27 April – Virtual Course
This course is designed for auditors supporting an organisations internal audit programme and others who have a working knowledge of quality systems within the automotive sector and/or any previous auditing experience.
Who should attend?
This course will help auditors develop relevant skills in judgement, decision making, audit planning, audit non-conformity writing and subsequent close out related to the new IATF 16949:2016.
Internal auditing and familiarity with ISO 9001 and ISO/TS 16949:2009 would be beneficial but not a necessity.
What are the objectives?
Delegates will learn the skills required to become competent in structuring, planning and undertaking internal system audits against IATF 16949.
Delegates will understand the high level structure of the new standard and its application across other management system standards (Annex SL).
Delegates will understand how risk management is incorporated into the standard and how this risk-based approach should be applied to auditing.
Topics Covered
• Annex SL
• 7 Management principles
• Risk based thinking
• Structure of ISO9001/IATF16949
• Review of IATF16949
• Audit theory
• Auditor competence
• Process Approach
• Auditing Customer Specific Requirements (CSR)
• Internal audit process
Course Delivery
This course will be delivered virtually – please see virtual delivery technical requirements below.
This participative course is delivered by SMMT QMD and is made up of a number of modules supported by group exercises and open discussion. Delegates are evaluated through a proctored exam at the end of the course.
The practical emphasis of this course and high tutor to delegate ratio provides a great opportunity for individual guidance, support and learning.
Virtual Delivery – Technical Requirements
To get the best experience from the virtual class, and to be able to effectively take part in the interactive exercises in the programme, each delegate must have:
• A PC or laptop with good (1Mbps or more) internet access
• A microphone and speaker or headset (recommended)
• Webcam (preferably)
• A Chrome web browser
• Ability to access Google drive (you do not need a personal account but your laptop / PC must not block access
What certificate do I receive?
Delegates will receive an IATF16949:2016 Internal (1st party) Auditor Training certificate of attendance underwritten by the UK IATF Oversight Office.
Provider: SMMT QMD
Location: Virtual
Cost: Members of NAA – £650 + vat/delegate
Non-Members – £850 +vat/delegate
Delegates will receive a copy of the IATF 16949:2016 – Technical Specification
Booking: Please contact Zoe for a booking form: zoe@northernautoalliance.com