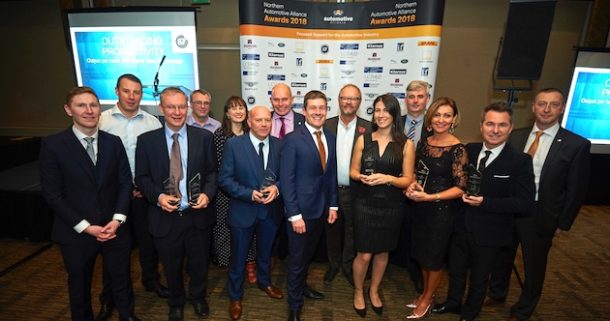 NAA Update: 2019 NAA Awards Applications Open and Training Hub Launch
The 2019 NAA Awards are open, the NAA Training Hub is launched, we've been working on behalf of members with Local Enterprise Partnerships in support of their Local Industrial Strategies, and we have news about McLaren…
It's that time of year again – the NAA Awards and Sponsors for 2019 are officially confirmed and applications are now open! Link to 2019 Awards and Application information.
One notable addition to the award categories this year is the new Corporate & Social Responsibility (CSR) Award, sponsored by GEFCO. What is unique about the CSR Award is that it is the first Award which is open to Large Enterprises, when traditionally the NAA Awards have been exclusively for SME companies.
I want to emphasise that for the small amount of time needed to apply for an Award, the potential effect it can have on your business is significant. Steve Williams, Managing Director at Force Technology, said "The recognition gained from winning an NAA Award has added massive benefit with raising our profile. Winning the 2018 NAA Company of the Year Award has provided the perfect testimonial for regional, national and international customers, and therefore a platform for winning new business." With this in mind, all NAA members are encouraged to apply for at least one Award!
Finishing on the topic of Awards, I am also proud to announce that the NAA has been nominated and shortlisted for the Award of 'Best Automotive Industry Support Services – England' with Corporate Vision Magazine. The winner is announced in July, so please do keep your fingers crossed for an NAA win!
This past month has also been another month of collaboration. The NAA has been working with Local Enterprise Partnerships in our region in support of their Local Industrial Strategies, very much being the voice of our members. Feedback was focussed around the need to improve local infrastructure in line with the rest of the UK, the need to develop STEM skills, the need to leverage national opportunities in line with the UK Sector Deals, and the need to promote cross-sectoral collaborations, which the NAA will endeavour to contribute towards through our events and network.
I would also like to signpost the following upcoming events:
To finish, I would like to welcome McLaren Automotive as this month's newest member, having set up a new facility on the border of Sheffield and Rotherham, adding yet another vehicle manufacturer to the NAA membership group!
Rowan