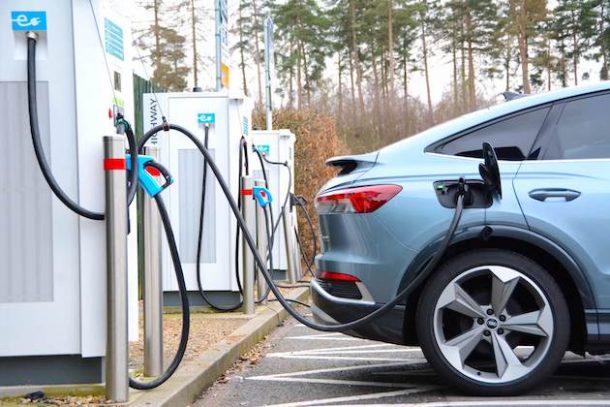 NAA Update: A round-up of government announcements including the Automotive Roadmap
Government announcements in the last month included the Automotive Roadmap and the EV Infrastructure Strategy; new NAA members; training; and more…
Welcome to this month's newsletter and I hope that you are all keeping well.
It has certainly been a busy few weeks, with a number of announcements from government directly affecting our sector.
The Chancellor last month presented the Spring Statement. Measures to support businesses include:
Cutting fuel duty on petrol and diesel by 5p per litre for 12 months, worth around £200 for the average van driver and £1,500 for the average haulier.
Increasing the Employment Allowance from £4,000 to £5,000, allowing eligible businesses to reduce their employer National Insurance contributions each year.
Bringing forward an exemption on business rates for green technology, saving businesses an extra £35 million in 2022-23.
Reforming R&D tax credits to enable businesses to claim relief on the storage of their vital data and pure maths research.
The Treasury has also announced a series of potential policy changes to the UK's existing capital allowances regime, which the government will consider ahead of April 2023.
Further information can be found in the Business Support fact sheet here.
The government also unveiled its Automotive Roadmap last month, alongside new plans for expanding the numbers of electric vehicle (EV) charge points. The EV Infrastructure Strategy sets out how the UK will reach 300,000 EV charge points by 2030, and will see new legal requirements to allow EV drivers to pay by contactless, compare charging prices and find nearby charge points via apps.
The Automotive Roadmap is backed by £1.6 billion of investment, and sets out joint government and industry commitments to decarbonise road transport, enable the automotive sector transition to zero emission vehicles and support the UK's energy security by reducing our demand for petrol and diesel. Further details can be found here.
Furthermore, the government's £11.4 million V2X (vehicle-to-everything) Innovation Programme aims to address barriers to enabling energy flexibility from bi-directional electric vehicle charging. Phase 1 (£2 million) will support the development of V2X bi-directional charging prototype hardware, software or business models. The anticipated launch of a Phase 2 competition supporting small scale V2X demonstrations is currently 2023. Further details on eligibility and how to apply can be found here.
The Advanced Propulsion Centre (APC) has just launched its latest round of funding: APC21. UK-registered businesses can apply for a share of up to £25 million for UK-based, late-stage, collaborative research and development of automotive technology and processes. Eligible projects will support the UK's transition towards net zero by growing supply chain capability and automotive product manufacturing.
This competition is seeking proposals for collaborative match-funded projects. These must demonstrate the development of on-vehicle technologies (including material, product and manufacturing processes) for on or off-road vehicles.
Projects must:
• support the growth and security of the UK's automotive supply chain
• accelerate the development of technologies and processes which support the transition to net zero
• align with the UK's strategic aims for net zero
• clearly demonstrate how high-value R&D will take place in the UK as a result of this funding
Click here for more information and to secure your place at the APC21 applicant briefing webinar.
I would like to welcome three new members this month:
Merchant Ports
Based in Preston, its charging division specialises in assisting developers, businesses and homeowners to implement charging solutions.
Transition International
Based in Sheffield, a bespoke manufacturer of Ferro Titanium. The product is made to order, matching exact customer requirements. Transition's clients recognise the importance of demanding specifications and ensure they are rigorously adhered to. Transition also prepares titanium scrap for both vacuum and air melt applications.
W.H. Tildesley
Based in Wolverhampton, with over 140 years of experience in the Drop Forging industry, servicing many industries worldwide with forged and machined components in many different types of materials ranging from carbon and alloy, nonferrous, stainless, duplex and super alloys. The company will develop the mould designs and forging dies and tools to enable titanium near-net FAST components to be forged.
Both Transition International and W.H. Tildesley were partners in the FAST STEP 3 consortium which also comprised of Bentley Motors, Force Technology, the Northern Automotive Alliance and The University of Sheffield.
We will hear more from our new members in the coming months.
Our partner organisation, Make UK, will be hosting a webinar on Thursday, 28 April, 12:00-13:30 – "Product Labelling: UKCA and CE Marking". This webinar will provide an up-to-date overview of what the product labelling requirements are for UK-EU trade of manufactured goods & machinery. In particular, UKCA and CE markings. Hearing from both UKAS and BEIS – full details can be found later in the e-news.
Elsewhere in this month's newsletter, you can read about some of the latest developments from a selection of our other members, including: Mergon; MMU; Team Eco.
For the latest news on the training front, read on:
**Upcoming Core Tool Courses**
SPC (1 Day) – 26th April
MSA (1 Day) – 6th May
APQP (1 Day) – 19th May
PPAP (1 Day) – 22nd June
IATF 16949:2016 – Internal Auditor Course (2 Days) – 24th/25th May
All the above courses will be held virtually – if any of your employees / colleagues require this training, please register your interest with Zoe. Please note that we need to achieve a minimum number of delegates to run this course. Industry Forum – SMMT Oversight will once again provide the training. Industry Forum is the only training provider in the UK sanctioned to deliver SMMT Oversight approved core tools training and certification.
Additive Manufacturing – in partnership with member company 3DGBIRE and its CREATE project, the NAA is able to offer a two-day training course in Additive Manufacturing Technologies, covering an introduction, exploration and application of a wide variety of techniques including 3D scanning and printing. Please note however, that we need to achieve a minimum number of delegates per course to make this feasible. For further details please contact Zoe.
If you would like to submit content to feature in an upcoming e-news please contact Zoe.
Stay safe.
Paul Jones
NAA CEO