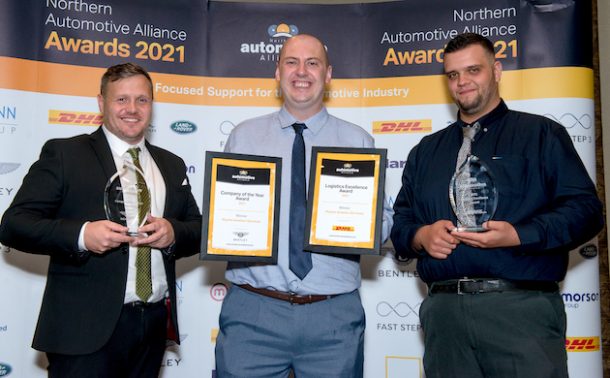 NAA Update: Annual Business Awards & Networking Dinner: Last chance to book your seat!
The Business Awards Dinner is the annual highlight of the NAA's networking events, if you haven't booked a seat yet, this is your last chance!
Welcome to this month's newsletter and I hope that you are all keeping well and have hopefully managed to take a well-earned summer break.
Let me start by reminding you that our Annual Business Awards & Networking Dinner is just around the corner – if you haven't already booked your place, please contact Zoe – full details on the Dinner can be found here
Moving on to the membership side, I would like to welcome three new members this month:
Axillium Research is a company that offers innovation support and advice, helping organisations develop and manage their innovation capabilities.
Klarity 4.0 HR, based at Sci-Tech Daresbury, in the heart of a world-class science and innovation campus, will guide you through Engaging Digital Adoption for exponential growth in performance, productivity, and profitability.
The Tax Credit Company is an innovation funding specialist, helping SMEs and large businesses realise their growth potential through tax relief and grant schemes.
We will be hearing more from our new members in the coming months.
In July the SMMT launched its 2022 Automotive Sustainability Report, highlighting the ongoing progress of the UK automotive industry across a variety of social, environmental, and economic performance metrics.
Key headlines for this year's report:
• UK Automotive's production carbon footprint shrinks to the lowest level on record, as CO2 emissions fall 11.2% in 2021.
• Industry greener and cleaner with less energy use and more sustainable energy sourcing.
• Waste to landfill per vehicle falls to lowest ever level – down 96.2% on 1999.
Full details and report can be found here
Focusing more regionally, Lancashire County Council is launching its new Watchtower Initiative, aimed at supporting Lancashire-based Advanced Engineering & Manufacturing businesses to innovate, adapt and diversify to be competitive and remain financially sound, thus ensuring that they can successfully recover from the pandemic and continue to thrive. Full details can be found here
Member News
Last month, Bentley Motors unveiled the Bentley Mulliner Batur – a new two-door grand touring coupé limited to 18 series pieces that embodies the start of a design revolution at Bentley. Created by Director of Design Andreas Mindt and his team, the Batur is a showcase of a new design DNA that will ultimately guide the design of Bentley's future range of Battery Electric Vehicles (BEVs) – full details can be found here
Senseye has launched a number of Trend Detection podcasts, including "Digital Transformation & Industry 4.0 and Agile Predictive Monitoring" – this is a new publication designed to help you go away with ideas on how to achieve maintenance efficiencies – full details can be found here
MMU has launched its Help to Grow: Management Programme, with cohorts starting in late September and early October. The in-depth, high-quality curriculum will support you to build your capabilities in leadership, innovation, digital adoption, employee engagement, marketing, responsible business and financial management. By the end of the programme, you will develop a business growth plan to help you lead your business to release its potential. The cost to attend is also 90% funded by the Government – there are certain criteria to apply and full details can be found later in the e-news.
Professor Dongping Song, Professor in Supply Chain Management at the University of LiverpoolManagement School, has written an interesting short thought leadership piece on the digitalisation of operations and supply chain management – full details later in e-news.
Elsewhere in this month's newsletter, you can read about some of the latest developments from a selection of our other members, including H&T Battery Components and ULEMCo.
Events
We will hold our next NAA Members' Virtual Roundtable tomorrow, 15 September, 11:00-12:00 – the Roundtable offers a great opportunity to network with fellow members from the convenience of your own desk – if you would like to register, please contact Zoe
NAA Member, Marks & Clerk LLP will be hosting a webinar with us on 6 October – "A practical introduction to Intellectual Property (IP)" – full details can be found on the Events page of our website here
The SMMT, alongside other organisations, is hosting a number of trade missions over the coming months:
Trade Mission: India-UK: Partners in Manufacturing and Engineering
Virtual Trade Mission 2022
27-29 September 2022
Department for International Trade (DIT) is hosting a virtual engineering and manufacturing mission to India in September 2022. This will be their second virtual mission to India, building on the successful engagement last year – Register here

Trade Mission: Supply Chain & Additive Manufacturing Opportunities in Spain
Barcelona, Spain: 27-29 September 2022
SMMT is partnering with HP on a 3-day trade mission to Barcelona. Delegates will learn how additive manufacturing can be used in automotive and will gain an understanding of opportunities in the Spanish EV supply chain – Register here
Trade Mission: India
New Delhi, Pune & Chennai, India: 3-7 October 2022
SMMT is partnering with Department for International Trade to bring a UK Delegation to three cities in India to explore electrification opportunities – Register here
On 19 October, you are invited to join Make UK's HR Inform "From Flexible Working to a Four Day Week" webinar – this online event will provide a unique insight into those firms that have made flexible working and a four-day week a reality. In this session you will hear from a HR & employment law expert on change management and from both an SME and a Large organisation on their experience of implementing flexible working – full details can be found later in e-news.
Make UK will be hosting a national Meet the Buyer event on 29 November – this event will benefit businesses looking to solve supply chain challenges or source new technology. It will also be open to suppliers looking to promote their products to new clients – full details can be found later in the e-news.
Q4 Training:
IATF16949:2016 – Lead Auditor (5 Days): 28th November – 2nd December (Virtual)
Contact Zoe to register for above
Core Tools / Internal Auditor – Dates for 2023 TBC (Virtual):
Measurement Systems Analysis (MSA – 1 Day)
Statistical Process Control (SPC – 1 Day)
Advanced Product Quality Planning (APQP – 1 Day)
Failure Mode and Effects Analysis (FMEA – 1 Day)
IATF16949:2016 – Internal Auditor (2 Days)
To register your interest in any of the above courses, contact Zoe
If you would like to submit content to feature in an upcoming e-news please contact Zoe.
Stay safe.
Paul Jones
NAA CEO