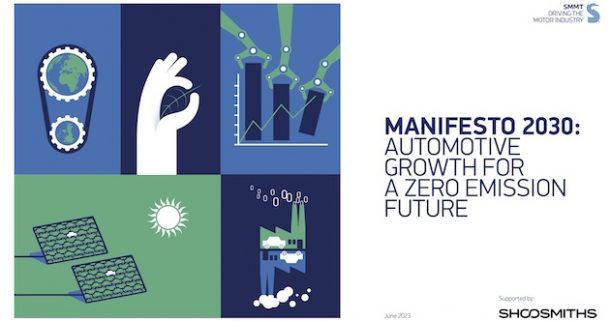 NAA Update: Automotive growth for a zero emission future
The SMMT's Manifesto 2030 "Automotive growth for a zero emission future" calls for the government to commit to five pledges which would help drive the industry forward to a massive £106 billion electric vehicle production prize.
Welcome to this month's newsletter and I hope that you are all keeping well.
Late last month the SMMT International Automotive Summit provided the perfect, high profile platform for it to launch its "Manifesto 2030: Automotive growth for a zero emission future". With it came the call for all political parties to commit to five pledges which would help drive the industry forward to a massive £106 billion electric vehicle production prize from now until the end of the next Parliament.
We are at a critical moment, and it is imperative to our decarbonisation goals that this government – and the next – not only commits to these pledges, but delivers on them. A green automotive transformation strategy; net zero mobility for all; the right skills for the future; a trade strategy that gives us the freedom to trade our products around the world; and affordable clean energy.
We are in the midst of the most fiercely competitive landscape of a generation and with the US pumping trillions of dollars into its green industries and the EU responding in kind, the UK must develop its own response, one that reflects our strengths and helps us win investment.
Closer to home, there are only two days remaining for you to submit your "Expression of Interest" for NAA member STFC's Automotive Call – Round 2. STFC is seeking project proposals that will combine newly researched and developed digital technologies and existing digital technologies, improving speed, accuracy, and efficiency of solutions within logistics, engineering, manufacturing, and end-of-life – full details can be found later in e-news.
Our innovation funding member, The Tax Credit Company, along with its grants partner, Granted, is available to assist the NAA with project scoping and bid writing services. Currently working with several NAA members, the company offers expertise in securing funding for upcoming projects or ideas. Some new grant calls are Faraday Battery Challenge; Innovate UK Smart grants: June 2023 and Commercialising Connected and Automated Mobility: Mass Transit 2. If you are interested in securing funding, please feel free to contact Alex: Alex@taxcreditcompany.co.uk.
Last month we wrapped up the latest Boost Business Owners Network Programme – a big thank you and well done to all the companies who completed the programme.
Huge congratulations to NAA Member, Melo World, who won the "Clean Green Business of the Year" Award at Halton Business Awards.
In other news on the membership side, I would like to welcome three new members this month:
Mercury Hampton, an executive recruitment company specialising in the provision of permanent and contract professionals.
OMRON Electronics offers a leading Industrial Automation portfolio across fixed robotics, cobots, mobile robotics, sensing and safety products, control products and wide service offerings.
MAS Optimal, developer of OPEX Digital, is an international leader in business transformation consultancy services. With its unique lean and business improvement offering, it is able to deliver true, recognisable value to its clients.
We will hear more from our new members in the coming months.
Elsewhere in this month's newsletter, you can read about some of the latest developments from a selection of our other members, including AMRC, Briggs Automotive Company (BAC), Fitfactory, NanoSUN and Warwick Acoustics.
Last month saw NAA members visit Sigmatex at its Runcorn facility, where we were superbly hosted by Dr. Gerard Turk, Strategic Project Manager and NAA Advisory Board Member, together with the Sigmatex team, in its very impressive new collaboration working space. For the full event review please read later in the e-news.
Grant Thornton hosted our most recent webinar on the automotive sector outlook for the remainder of 2023 and beyond, and talked us through the latest trends in vehicle registrations data, before moving on to an overview of the supply chain, followed by the changing legislation picture, and finally covering the funding landscape. If you missed out on this webinar, please contact Zoe for the slide deck.
Dates for your diary – NAA Events / Webinars:
As we take a break from events for the Summer, we will return on 21 September and kick off with the NAA Annual Awards & Networking Dinner.
You have until Friday, 21 July to submit your award entries – categories and criteria can be found here and application forms can be obtained from Zoe.
To register for the Dinner, please contact Zoe
Upcoming Training:
APQP – 12 September
PPAP – 19 October
Full details on the above courses can be found on our Training Hub here
If you would like to submit content to feature in upcoming e-news please contact Zoe.
Paul Jones
NAA CEO