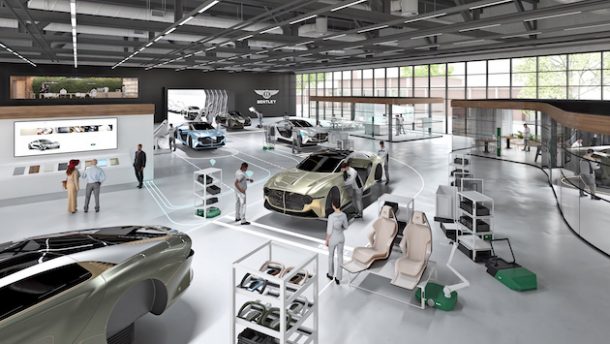 NAA Update: Bentley to invest £2.5 billion in sustainability over the next 10 years with Crewe's first EV here in 2025
2022 has certainly got off to a flying start in our sector and region, with the announcement that Bentley Motors has committed to invest £2.5 billion in sustainability over the next 10 years, with its first battery electric vehicle scheduled to roll off the Crewe production line in 2025.
Bentley's news is in addition to over £300 million already committed last year by Ford (Halewood) and Stellantis (Ellesmere Port) for electric vehicle and drivetrain production. This all adds up to a very bright outlook for the supply chain in the region.
With this in mind, please note that the latest funding competition from the Advanced Propulsion Centre, APC 20: Developing automotive technologies and growing capability towards net zero is now open.
UK registered businesses can apply for a share of £25 million for late-stage research and development projects that help accelerate the UK towards a net zero automotive future. Further details can be found here.
The Hartree Centre and Institute of Digital Engineering (IDE) have also launched a call for projects that will help automotive companies to access and adopt advanced digital technologies.
The IDEAS (Innovation in Digital Engineering – Automotive Sector) programme offers businesses access to the latest technologies and expertise in data science, modelling and simulation and AI to drive automotive innovation.
The programme will provide fully-funded access to Hartree Centre and IBM experts to help solve product, manufacturing, or process challenges, powered by the centre's leading-edge high-performance computing, data and AI facilities and platforms. From start-ups to large corporates, IDEAS aims to fast track the development of new digital capabilities, boosting productivity, growth and global competitiveness of the UK automotive sector. Find further information here.
Following on from the success of our member virtual roundtables last year, for 2022, we are planning to hold these circa every six weeks – our next one is scheduled for Thursday, 31st March – places are limited and allocated on a first come, first served basis. So, look out for the next invitation via html and please be sure to book your place early.
Join us on 24 February for our first physical networking and roundtable event of 2022. Held in conjunction with NAA member company, Businesswise Solutions, this event will focus on the impact of net-zero carbon on the automotive supply chain. Hear from a range of speakers including myself and Adam Baker, Director of Business Development – Businesswise Solutions – full details can be found later in the e-news.
On 10 March we will be discussing The True Cost of Downtime to the Automotive Industry – in this webinar, Niall Sullivan, Global Marketing Manager at Senseye, an industry leader in using AI to drive scalable and sustainable asset performance and reliability, reveals the true cost of downtime in the automotive sector – full details can be found later in the e-news.
The Department for International Trade has launched its new Internationalisation Fund for eligible businesses in England. The fund is designed to support businesses looking to grow their international trade. SMEs can apply for match-funded grants of between £1,000 and £9,000 which will be available for proposed future activities (subject to eligibility). To secure a grant, the business will need to fund a proportion of the costs itself. Funding is subject to availability within your region, and will be prioritised for businesses who can demonstrate they have high export potential. At time of writing, Greater Manchester is sold out and Liverpool is very near sold out, however there is still funding for Cheshire; Cumbria and Lancashire. To apply, contact your International Trade Adviser or Customer Services Team on: T: 0333 320 0392 E: info@tradenw.org.
Elsewhere, our partner organisation, Make UK has issued its latest report on how can we support SMEs to reach their full potential – link here
What about this for an offer? NAA Member, 3D 360 has been given the opportunity to provide free fully funded training in 3D Printing and 3D CAD by the Greater Manchester Combined Authority – this is an amazing course and opportunity for people to take advantage of free training in digital manufacturing and walk away with a free 3D printer, subject to meeting eligibility criteria – find all the details and criteria later in the e-news.
In other membership news this month, I would like to welcome one new member, Barry Glover Engineering Services, based in Wrexham, providing automotive consultation, software and control system engineering, calibration and development driving services to OEMs throughout the UK. We will be hearing more from this new member in the coming months.
For the latest news on the training front, read on:
IATF 16949:2016 Internal Auditor Course is the next course we plan to schedule – if any of your employees / colleagues require this training, please register your interest with Zoe. Please note that we need to achieve a minimum number of delegates to run this course. Industry Forum – SMMT Oversight will once again provide the training – Industry Forum is the only training provider in the UK sanctioned to deliver SMMT Oversight approved core tools training and certification.
We also currently plan to run one of each of the Core Tool Courses (SPC; APQP; MSA; PPAP) over the next few months, dependent on interest, so again, please let Zoe know.
Additive Manufacturing – in partnership with member company 3DGBIRE and its CREATE project, the NAA is able to offer a two-day training course in Additive Manufacturing Technologies, covering an introduction, exploration and application of a wide variety of techniques including 3D scanning and printing. Please note however, that we need to achieve a minimum number of delegates per course to make this feasible. For further details please contact Zoe.
Elsewhere in this month's newsletter, you can read about some of the latest developments from a selection of our other member companies, including 3D 360; Bentley Motors; GEFCO; Manchester Metropolitan University; Senseye and Warwick Acoustics
Stay safe.
Paul Jones
NAA CEO