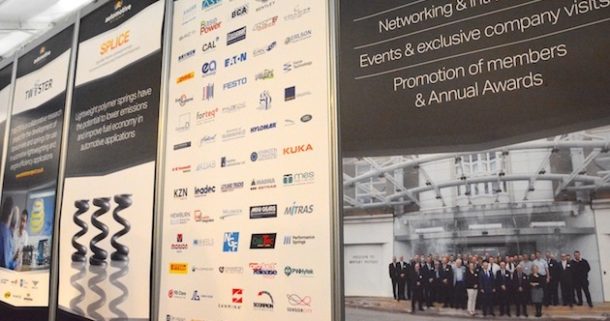 NAA Update: The Cenex Low Carbon Vehicle event & NAA's new Automotive Business Opportunities service
The NAA had a stand at the recent Cenex Low Carbon Vehicle (LCV2017) event where it launched its new Automotive Business Opportunities service; all NAA member companies are encouraged to take advantage of the NAA's support to ensure they are ready to benefit from the many new opportunities in the rapidly changing automotive industry…
It was a very successful LCV2017 for many of our companies (much of the content in this newsletter reflects the engagement of NAA companies with the event), with OakTec displaying its Rage Buggy (an NVN2016 project); there was also an announcement of funding for four NAA companies; AJE Powertrain, CCM Motorcycles, Millbrook and Far, for projects in the NVN2017 competition.
It was good to meet many of you who visited the show and for those that didn't, I recommend that you attend next year. This really is the show where you see what is happening in the industry, and typically what you see here will be in production in 3-5 years; in addition, it puts you into contact with all the right organisations, both public and private, to ensure that you are on the radar for the future! I encourage you to read the LCV2017 review in this newsletter – it gives you a summary of the key items that you and your business need to know about from two very busy days of conferences, exhibits and vehicle displays.
NAA members EA Technology took one panel with us three years ago, last year they had a small stand for the launch of the Electric Nation project, and then this year the Electric Nation project took a large stand – read more about this below. This shows the benefit of attending in conjunction with the NAA.
TR Fastenings exhibited with us this year – you can also see more information about TR below – and it was a pleasure to meet and get to know Christopher Black, Greg Lynch and Conor Nicholls. TR had a really positive view about both the LCV event and also about being an NAA member, and I look forward to working with the company further.
Automotive Comms and the NAA launched our new Automotive Business Opportunities service at the show to support companies making the transition offered by new opportunities in the industry, such as low carbon or connected vehicles. (Link to Automotive Business Opportunities service)
It was also the first of our dissemination events for the Innovate UK SPLICE project, in which the NAA was a member; if you didn't catch it at LCV, you have other opportunities, firstly at the European Spring Conference in Sicily at the end of September (I doubt that there will be many of you there!), but there's no excuse for missing the presentation on 2nd November at the Advanced Engineering Show. Which reminds me, we are busy finalising the NAA stand for the Advanced Engineering Show, if you are interested in displaying with us then you need to contact Zoe or myself immediately, we go to print for the stand by the end of September!
The other item of course that you need to finalise for the end of September is your NAA Award applications, the sponsors are looking forward to seeing all of the excellent applications, table bookings are going really well, all that is needed is plenty of applications to ensure the evening is successful – don't put it off, get pen to paper this evening…
I am impressed with, and looking forward to, our Autumn events programme; it starts with a visit to AMRC Factory 2050 in Sheffield on Wednesday 20th September (Event Link AMRC Factory 2050), then the visit to Bentley Motors on Tuesday 24th October is filling up rapidly (Event Link, Bentley Motors) and with this newsletter we are opening up bookings for our last networking meeting of the year to Plastic Omnium on Tuesday 5th December (Event Link, Plastic Omnium).
We would like to welcome new members Envisage Group and Metis Automation and look forward to hearing more about their companies in the newsletter and meeting them in person at our events.
Finally, don't forget to contact Zoe for your Awards applications form if you don't already have it and get it written pronto!
Carol