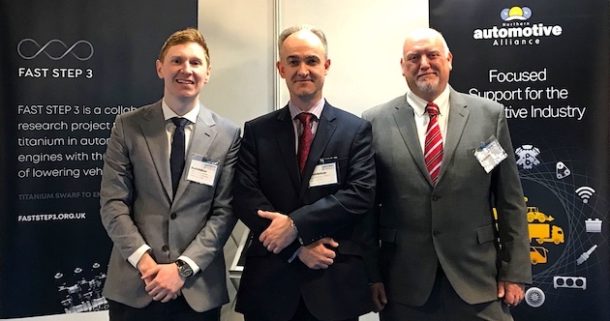 NAA Update: Companies shortlisted for Awards & Brexit support available
Congratulations to the companies that have been shortlisted for the 2019 NAA Awards. The judging process has already commenced, and I am pleased to say that already I can see very high-quality level of applications.
I am also delighted to announce that Prof Jon King, Hon DSc, CEng, FIMechE of WMG Centre High Value Manufacturing Catapult will be replacing Robert Llewellyn as the Dinner Guest Speaker. Prof King is SMMT Automotive Components Section, immediate past Chair and Automotive Council Supply Chain Group, Work Stream 7 Lead – Upstream Supply Chain. The late change has come about due to a shift in Robert Llewellyn's filming commitments for the new series of Red Dwarf. Read more about Prof Jon King and book your seat at the 2019 NAA Awards Dinner here.
In the run up to the postponed Brexit deadline date of 31 October, the NAA, in partnership with the SMMT, will be hosting a series of free training events listed below. The resounding feedback we have had from members all year round with regards to Brexit has been that companies, not surprisingly, are confused. If one of the topics below is of particular concern within your business I would encourage you to sign up. We will also be hosting a Brexit Briefing event on 29 October. Note that all training courses are free, but are limited to 20 places.
Supply Chain Risk Management & Business Strategy – 16th October (full-day)
Employment – 22nd October (half-day)
Trade and Rules of Origin – 23rd October (full-day)
Regulation – 29th October (half-day)
Customs – 30th October (full-day)
The Northern Manufacturing & Electronics Exhibition in Manchester has also taken place in the past month, which was a fantastic opportunity to see the latest machinery and production technology, to speak with the North's top engineering service providers, and to catch up with NAA members in attendance. Special thanks to Adrian Botham of Servispart Consulting and Ian Banister of Steeleson Engineering for exhibiting on the stand with us (see picture!)
Looking forward, the NAA will be exhibiting at Advanced Engineering at the NEC in Birmingham at the end of this month. Our stand is a Northern Powerhouse offering, in partnership with the NEAA and DIT Northern Powerhouse. Do drop by for a chat if you're in attendance.
To finish, I would like to offer my thanks to all the team at NGF for our recent Safety-themed event at its facility in St. Helens. I would also like to offer a warm welcome to the following companies who have recently joined the NAA network; Piab, Quickgrind and 3DGBIRE.
To finish, I'm looking forward to seeing you all at our Annual Awards Dinner at the Mere – and there are still places for those of you who have yet to get tickets!
Rowan