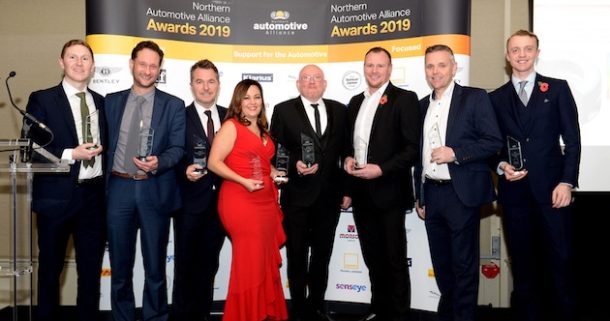 NAA Update: Congratulations to the 2019 NAA Awards Winners
What a fantastic night we had at the Mere for the 2019 NAA Annual Awards & Networking Dinner. The room was alive with networking from the start, a theme which continued throughout the night and, for some, into the early hours!…
Those in attendance were treated to colourful keynote speech from Professor Jon King, updating us all on the latest news in electrification and EV supply chain. The whole night ran extremely smoothly thanks to warm MC'ing of Steve Dickson, and thanks to the tireless efforts of the NAA team planning the event months in advance.
And let us not forget the NAA Awards. 2019 saw both a record number of Award categories, and a record number of applications – a special thanks goes out to all the Sponsors and Applicants who devoted their time to the event. Of course, with such a high number of applications, naturally the competition for winning an Award becomes even greater. The judging process was a challenge to say the least, with a lot of close calls in multiple categories. I offer my congratulations to all of the winners on the night, but in truth, all companies who took part are winners, as this event affords such a brilliant platform for exposure to these companies and their brands.
A special note of congratulations must also be given to Sigmatex, the winner of the NAA Company of the Year Award. Sigmatex is featured in the company profile in this newsletter, for those who are interested to know more. As is tradition, we will be planning an event at the company's manufacturing facilities during 2020.
On the topic of events, October also saw a series of free Brexit support workshops which were delivered in partnership with the SMMT and with the other UK regional clusters; Drive Midlands, NEAA and WAF. The ongoing uncertainty around Brexit has had a significant impact on most of our businesses, and indeed on our industry. With the Brexit deadline extended once again, I would encourage all members to open a dialogue with the NAA to share information on how Brexit has impacted your business, and to understand what ongoing support is available.
The last two days of October also saw Advanced Engineering at the NEC Birmingham, where the NAA exhibited on a stand share alongside the NEAA and DIT Northern Powerhouse. We were joined alongside NAA network companies, Hylomar, Klarius Products, Product Release and Steeleson Engineering, who it was a pleasure to share a stand with, and I hope each got something valuable out of the two days. We will aim to do a similar stand share at the Cenex LCV exhibition next year, please register your interest directly with me if this is something you would be interested in (rowan.egan@northernautoalliance.com).