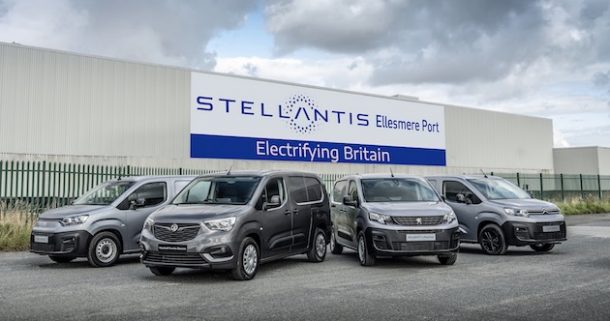 NAA Update: Electric vehicle production starts at Stellantis' Ellesmere Port plant
Ellesmere Port has become the UK's first manufacturing plant dedicated solely to electric vehicles, as production of Stellantis' all-electric small van gets underway.
Welcome to this month's newsletter and I hope that you are all keeping well.
In significant news for our region, Stellantis has started electric vehicle production at its Ellesmere Port manufacturing facility, with the first all-electric vans rolling off the production line.
Ellesmere Port is the UK's first EV-only manufacturing plant and the first Stellantis plant globally dedicated to electric vehicles, following a £100 million investment to transform the plant for EV production.
The Ellesmere Port plant will produce the Vauxhall Combo Electric, Opel Combo Electric, Peugeot e-Partner and Citroën ë-Berlingo compact vans – and due to increased demand for electric vehicles across Europe, also the Fiat E-Doblò. You can read more about Stellantis' Ellesmere Port plant in this article.
Although not in our region, it's also good to see the £600 million investment for all-electric MINi production in the UK at MINi Plant Oxford.
In other important news, it's almost time for our Annual Awards & Networking Dinner on 21 September – with a little over a week to go, this is your last chance to book a place. This will take place at The Mere Golf Resort & Spa and you can book directly with Zoe.
The first of September is also upon us and with it came the new 73 number plate. Whilst the date also marked the notional end of what has been a damp summer, the brighter story is the recovery of the new car market, with July completing 12 months of consecutive growth. This trend is expected to continue, with growth of around 20% in the third quarter, of which September plays the major role and sets the trajectory for year-end totals, which can only mean good news for our sector and its associated supply chain.
I recently attended Cenex LCV / CAM at Millbrook on 6 September, with other NAA members also at the event. This event covers policy, strategy and the latest technological innovations set to shape the future transport landscape; with over 100 speakers and more than 30 seminar sessions, it showcases the latest in advanced low carbon vehicle technology and connected automated mobility.
Some of the highlights at this year's event included the unveiling of the Toyota Hilux with a hydrogen fuel cell system; over £1 million worth of funding was awarded to four innovative UK niche vehicle technology projects by the Niche Vehicle Network; and Hall Engineering and Design's Electric Beach Buggy was the winner of the Nick Carpenter Award for Innovation.
With growth in mind, NAA member The University of Salford would like to personally invite you to join their upcoming cohort of the 90% government-funded Help to Grow Management Course. Aimed at managers and directors of SMEs, the government-backed programme equips senior business leaders with the skills to help you grow your business, expand your client base, improve your bottom line and optimise your business processes – please see later in the e-news for full details.
It's been a busy summer here at NAA HQ too, with the completion of the CW4.0 project, a three-year fully-funded programme of support for manufacturers in Cheshire & Warrington to help SMEs explore and adopt industrial digital technologies. Many of our members in the region have benefitted from this support and you can read further details on the programme later in the e-news.
In other news on the membership side, I would like to welcome one new member this month: Liverpool Life Sciences University Technical College (UTC), the first school in the UK to specialise in science and health care for students aged 14-19, combines outstanding academic education with specialist vocational qualifications, to prepare students for the world of work. We will hear more from our new member in the coming months.
Elsewhere in this month's newsletter, you can read about some of the latest developments from a selection of our other members, including Eaves Associates, University of Salford and Warwick Acoustics.
Dates for your diary – NAA Events / Webinars:
We have a packed events diary for the last quarter of the year:
10 October – NAA Networking Event: Jaguar Land Rover, Halewood / 12:00 – 15:15
26 October – NAA Members' Virtual Roundtable / 11:00 – 12:00
16 November – NAA Webinar, hosted by Grant Thornton / 11:00 – 12:00
23 November – NAA Networking Event: UTAC, Leyland / 12:00 – 15:15
7 December – NAA Networking Event: STFC Hartree, Daresbury / 12:00 – 15:15
If you would like to register for any of the above NAA events and/or webinars, please contact Zoe. Priority booking for NAA members is open until 30 September.
Other Events
20 September – Ghana JET Webinar: Investing in Ghana's Auto Sector
The UK Government Funded programme, Ghana Jobs for Economic Transformation (Ghana JET), is hosting a webinar that will highlight the impressive steps in the development of Ghana's auto sector. Following reforms to investor policy framework in 2020, global automotive manufacturers have made substantial moves into Ghana, setting up assembly plants either directly, through joint ventures, or through licensing agreements. These include Volkswagen, Suzuki, Nissan, Toyota and Peugeot, amongst others – full details can be found later in the e-news.
18 October – SMMT Global Trade Conference
The SMMT Global Trade Conference is a single-day, virtual conference, crossing multiple time zones. With the participation of senior global automotive executives, policy makers, trade experts, and the media, the SMMT Global Trade Conference will bring together high-profile speakers to address global and regional trade priorities for the sector – Full details and registration can be found here.
Training:
For any training requirements, please contact Zoe.
If you would like to submit content to feature in upcoming e-news please contact Zoe.
Paul Jones
NAA CEO