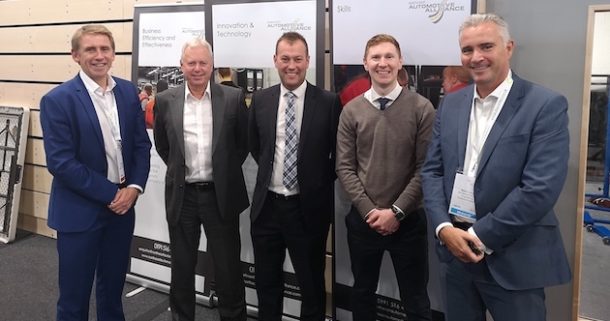 NAA Update: Fresh eyes, fresh approach – but building on solid foundations
The NAA's new Chief Executive, Rowan Egan, shares some thoughts about his vision for the NAA going forward…
What does the NAA do for you? What works well and what doesn't? These are the types of questions that challenge us to reflect on the different aspects of NAA membership that we value, and possibly rely on, in our roles and in our businesses.
Perhaps these aren't the same reasons why you initially joined, and actually, membership has opened up a whole range of other benefits you never expected? Whatever your answers may be, keep them in mind for a moment.
Since joining the fantastic NAA team, it has been a whirlwind month full of meetings, events, exhibitions and mileage! (One great example was the NEAA Expo in Sunderland (see picture inset with peers from WAF, NEAA and Enterprise Ireland), which also hosted the Automotive Council's Supply Chain Group meeting). Of course, it's been busy, but what I've found truly outstanding is the vast range of different forums the NAA has a voice in, when it shares the voice of our members. It has been a month of meeting the new faces of the NAA community; a friendly, passionate and vocal bunch with a vast array of skills and expertise. We've even managed a Board Review, the first of many for me.
Above all else, what I've tried to do this past month is to look and to listen; asking the questions above, and listening to your feedback. I shared all of this with the Board last week, presenting a strategy which, with my fresh eyes, I see as the strategy for taking the NAA forward. This being my first article, I can think of no better medium for sharing the key themes around which this strategy was formed:
Diversity (of people engaging with the NAA)
Exposure (of the NAA)
NAA services
Diversity
When I applied for this role earlier in the year, I must admit that I was not overly familiar with the NAA and what it was about. Once I accepted the job, and shared the news with my old JLR colleagues, I discovered that the vast majority of them (save a small portion of senior management) had not heard of the NAA – which is surprising, given that JLR is an active member and such a major company in our region!
This is a theme that is true for all of our member companies, and I see it as a top priority to address in the future strategy. I can only see benefits to pulling in more individuals from each company – individuals at all professional levels – to become more active in the NAA community. By doing this the NAA can start to facilitate and promote more collaboration, by connecting more people with a larger diversity of skills. So please ask your co-workers to get involved by signing up to our newsletter here, by clicking 'Receive NAA News' at the very top of the NAA home page.
Exposure
Earlier this month I attended the Cenex Low Carbon Vehicle (LCV) event Review, and during the keynote speech on day one there was a memorable plea, or battle cry of sorts. Ian Constance, APC CEO, said that there was only one way to overcome the challenges posed by electrification and for the UK to remain a leader in automotive – collaboration.
Of course, by increasing the diversity of people in our community we can achieve this collaboration, but importantly we need to ensure the message is reaching them. There needs to be a focus on the exposure of our NAA content and services to our companies and our people. If you are reading this article now, you have accessed our monthly NAA newsletter, our prized and valued medium of communication.
Moving forward, we need to bolster our newsletter with other media tools which are extremely popular amongst individuals and businesses alike, such as social media. In our future strategy, we will be aspiring to the creation of a digital community for our members. In a digital community, communication and collaboration becomes easier, and is not dependent upon individuals making introductions.
Social media platforms, like LinkedIn and Twitter, can be accessed free for all, and are spaces that offer this digital community immediately. This is an area that the NAA can improve on, and if we were to offer a battle cry of our own, it would be to like, share and comment on our content! Or, as companies, join us on our marketing and exposure journey.
Services
The last theme I want to talk around is services. The NAA already provides many fantastic services including training, events, networking opportunities, project support and advice, to name but a few. The strategy moving forward is to continue these great services, but to grow and improve on our offerings. With regards to training, for example, we offer core tools training packages (APQP, PPAP, MSA, FMEA, SPC etc) through a new partnership with Blackpool & Fylde College. We want to increase our portfolio further to include project management courses (APM) and also softer skills training that will help companies with sales, communication and customer service.
With regards to events, we want to get more people and new faces attending. We want to promote the sharing of best practice through deep dive events. If there are niche topics/issues you are struggling with as a company, please let us know! We will co-ordinate our events around your feedback.
One of our key services – that many NAA members may not have a high awareness about – is being the eyes and ears for our member companies in local, regional and national forums. As I mentioned earlier, the vast range of forums in which the NAA has a voice is truly outstanding. As our industry ventures forth into the untrodden paths of electrification and digitalisation, the NAA's strategy is to support all of its members to best leverage the opportunities these challenges bring.
EU funding opportunities may soon be gone with the impending Brexit, but new UK funding opportunities now exist! Just look at the Made Smarter North West pilot and the Stephenson Challenge, to name just two. Getting involved with initiatives such as these is so important for our industry and our region, and an essential aspect of our future strategy.
Before signing off, I'm delighted to announce that a consortium including the NAA has been successful in obtaining government funding from Innovate UK for the FAST STEP 3 collaborative research project to use titanium in automotive engines. Please find out more in our separate article about the NAA FAST Step 3 Consortium.
And I'd also like to welcome two new members to the NAA: MSS Products and Nickleby Design & Management. Although this is my first newsletter as CEO, it's already clear that the more you put in to the NAA – such as attending networking events – the more you get out, and so I hope all our new members take this approach.
As a parting thought, I'd like you to reflect back on the questions posed at the start of the article, and your respective answers. Ask yourself if this strategy satisfies what you want from the NAA? If it doesn't, please get in touch and share that feedback. If it does, please still get in touch! Perhaps it can even be a conversation topic when we meet at our upcoming NAA Annual Awards Dinner – for which there's not long left to book tickets. For those still intending to book – you have been warned!
It really does promise to be a fantastic event, with special guest Robert Llewellyn as our Master of Ceremonies on the night. For anyone who can't be there, perhaps we can meet at the Smart Factory Expo in Liverpool on 14th/15th November, where the NAA will be exhibiting. However above all I look forward to meeting you at the Awards Dinner and to finding out who our 2018 winners will be!
Rowan Egan