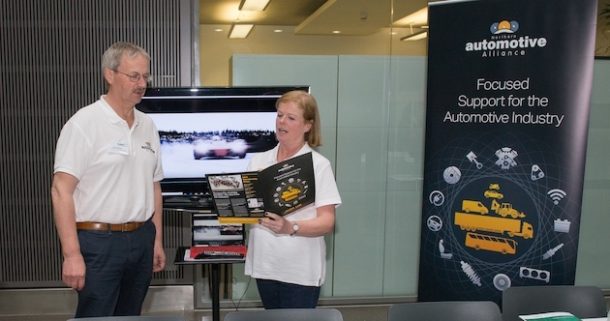 NAA Update: Happy 2019! New Year, New Services – Find out about them at our upcoming events!
Happy New Year to you all, I hope that this newsletter finds you well rested after the festive period and ready for the challenges (and opportunities!) 2019 will bring. For this first newsletter of the year, I would like to take a look ahead at the new services the NAA is planning on introducing in 2019 – our New Year's resolutions if you will!…
As a proactive industry-led cluster group, the NAA represents and works on behalf of a wide range of companies, which provide different products and services, across our governing regions. However different our member businesses may be though, all have similarities in their indirect procurement expenditure. By this, I mean things like energy, insurance, banking, consumables etc. Often procurement expenditure can be a confusing landscape, with many providers claiming to be the best. In 2019, the NAA will undertake a closer analysis of these providers to understand which ones can offer the best prices and service to our members, with the intention of establishing a partnership with those most suitable, i.e. those providers which enable members to make savings on their procurement expenditure and with a high standard of service. I will share more on this at our upcoming Energy event on 6th Feb!
In 2019, the NAA has an aspiration to significantly increase its portfolio of training courses. We have already re-introduced the IATF:16949 Core Tool Courses (APQP/PPAP; FMEA; SPC; MSA) which are being delivered by Smith Consultants Ltd on behalf of the NAA, all of which can be found on our website – http://northernautoalliance.com/skills-training/   Last year, we also scheduled a series of short taster sessions to explore the opportunities of key softer skills training, which we cancelled due to lack of uptake.  This will be rescheduled in the near future should the interest be there. Looking forward, we are exploring the introduction of some of the following training:
Project Management
Behavioural / Team Leader training
Industry Forum / NPLX (New Product Launch Excellence)
Procurement training
Marketing training
NLP (Neuro Linguistic Programming)
I will share more on this at our Apprenticeship Levy Event on 6th March Link to article Below http://northernautoalliance.com/event/naa-event-making-the-apprenticeship-levy-work-for-you-leyland-trucks-6-march-2019-leyland/, but for any further enquiries about training please contact Zoe (zoe.desoer@northernautoalliance.com).
Since joining the NAA, I have had the pleasure of both attending, exhibiting and presenting at some of the larger UK exhibitions.  Although each exhibition offers different marketing opportunities suitable for different companies, there is no denying the value of having a presence at these events.  In 2019, the NAA hopes to have a presence at more of these events, alongside some of our member companies, which promotes our collaboration and drives down what can be high costs of exhibiting. Please get in touch with me directly if you are interested in any particular events.
I hope this gives you a flavour of some of our 'New Year's Resolutions', and as always I would love to hear some of your feedback but also hear about your own aspirations for 2019 – perhaps there is some overlap!
To finish, the SMMT has released data on new UK car registrations for the whole of 2018.  Link to Article Below http://northernautoalliance.com/news/industry-news-fall-in-new-car-market-wake-up-call-to-policy-makers-as-environmental-goals-at-risk/. Overall there has been a fall on 2017 registrations of -6.8% (to 2.37 million units), reflecting the obvious 12 months of turbulence. Some positives can be taken from the data though, with registrations of plug-in cars reaching record levels as manufacturers plan a 2019 new model blitz.  However, demand is falling behind EU average as incentives are pulled, which should serve as the wake-up call to policy makers as the UK's environmental goals are at risk. Furthermore SMMT Chief Executive Mike Hawes reasons that "despite the overall decline in 2018, demand for new cars in the UK remains solid, with volumes on a par with the preceding 15-year average and the market still the second biggest in the EU, behind Germany."
Thanks for reading, and I look forward to seeing you all at our upcoming events!
Rowan