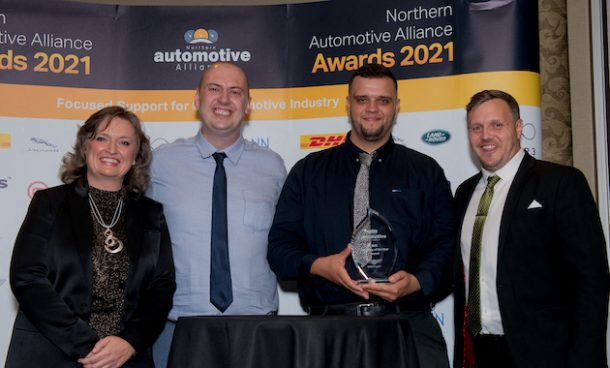 NAA Update: It's time to enter for the NAA Business Awards 2022
Have your achievements recognised by entering for the NAA Business Awards 2022; new NAA members; next NAA event at Element Materials Technology.
Welcome to this month's newsletter and I hope that you are all keeping well.
First and foremost this month, it's Awards Season!! As you will have seen from earlier communications, the NAA Business Awards applications are now open, so get your thinking caps on to see which Award you will be entering this year! Categories include:
• Design & Innovation
• International Trade
• People & Skills
• Manufacturing Excellence
• CSR
• Logistics Excellence
Closing date for entries is 22 July, so there's still plenty of time to refine those entries – please contact Zoe for more information on Award entry and reservations.
Staying with the Annual Dinner, we are pleased to announce that our Guest Speaker this year will be Steve Cropley, Editor in Chief at Autocar magazine. Steve has been testing and writing about cars for nearly 50 years, half of that time at Autocar, the original car magazine. He trained as a journalist in Australia, came to the UK to join the staff of Car magazine in 1978, and became editor in 1981. In 1989 he launched his own magazine, Buying Cars, which was bought two years later by Haymarket Media Group, where he has worked "very happily" ever since. He claims to be as much in love with cars – and the industry that makes them – as he was on day one.
On the membership side, I would like to welcome three new members this month:
Marks & Clerk LLP, based in Manchester and provides support for protecting and utilising all aspects of Intellectual Property (IP), including patents, trademarks, designs and copyright.
Product Release Europe – the non-stick coatings specialist. From its factories in the United Kingdom, Denmark, Turkey and China, the company is able to provide the most comprehensive range of coating systems to numerous industries across the whole of Europe and has an in-depth knowledge of the requirements for many sectors, including automotive.
Trading since 2008, The Abbey Group is an engineering company based in the North West of England. Offering a broad range of engineering capabilities from traditional metal fabrication to precision engineering.
We will be hearing more from our new members in the company months.
Our networking programme continues and the next event will take place at Element Materials Technology on Tuesday, 21 June – Element is a leading global provider of Testing, Inspection, and Certification (TIC) services on a wide range of products, materials, processes and services. The event will take in a tour of the facility, where you will be able to see the equipment that the Automotive lab has and the type of testing that they can perform as well as a look at the Doors & Windows and Hardware labs where Element perform different types of testing including, security, reliability, durability and cyclic testing on doors and windows and associated hardware products. Full details can be found here
Nokia and the University of Sheffield Advanced Manufacturing Research Centre (AMRC) North West are running a workshop on Tuesday, 5 July at the newly-opened AMRC North West applied research facility in Blackburn. The session will focus on the 5G Factory of the Future and demonstrate how it will drive forward holistic connectivity and unlock the potential of industrial digitalisation; defining new paradigms for how future factories will operate and how they will enable connectivity and business agility across manufacturing – to register click here
Our partner organisation, Make UK, has announced details of its inaugural National Manufacturing Day (NMD) which will take place on 7 July 2022. The initiative is being led by the trade body Make UK, and the whole sector is invited to participate. It will be a national celebration of UK manufacturing and a chance to raise the profile of the sector – full details can be found later in the e-news.
We will hold our next NAA Members' Virtual Roundtable on July 14 / 11:00-12:00 – if you would like to register, please contact Zoe
Last month's networking event was held at the headquarters of supercar brand Lister, in Hyndburn, where delegates were treated to a history of the Lister brand by Lawrence Whittaker, the current owner of the brand; plus a panel discussion on the future of electrification of cars and carbon free motoring – for the full event review, please read further in the e-news.
MMU has now launched OPEN SME, a free, online learning programme for small business leaders across Greater Manchester. The modules are all available online and it's an on-demand course, so business leaders can watch the modules at a time that suits them. There's no cost as it's fully funded by the Greater Manchester Combined Authority and Business Growth Hub – full details later in e-news.
Elsewhere in this month's newsletter, you can read about some of the latest developments from a selection of our other members, including Briggs Automotive Company (BAC); Manchester Metropolitan University; Spark EV and ULEMCo.
We have added two additional training courses to our schedule (numbers permitting):
IATF16949:2016 Lead Auditor and Geometrical & Tolerance Training – please read on for more details on our training courses:
Upcoming Training:
Production Part Approval Process (PPAP – 1 Day) – 22 June
Future Training:
IATF16949:2016 – Lead Auditor (5 Days)
IATF16949:2016 – Internal Auditor (2 Days)
Measurement Systems Analysis (MSA – 1 Day)
Statistical Process Control (SPC – 1 Day)
Advanced Product Quality Planning (APQP – 1 Day)
Geometrical & Tolerance Training (3 Days – Classroom)
*All above courses are held virtually, with the exception of Geometrical Training
Please contact Zoe regarding the above training courses.
Additive Manufacturing – in partnership with member company 3DGBIRE and its CREATE project, the NAA is able to offer a two-day training course in Additive Manufacturing Technologies, covering an introduction, exploration and application of a wide variety of techniques including 3D scanning and printing. Please note that we need to achieve a minimum number of delegates per course to make this feasible. For further details please contact Zoe.
If you would like to submit content to feature in an upcoming e-news please contact Zoe.
Stay safe.
Paul Jones
NAA CEO