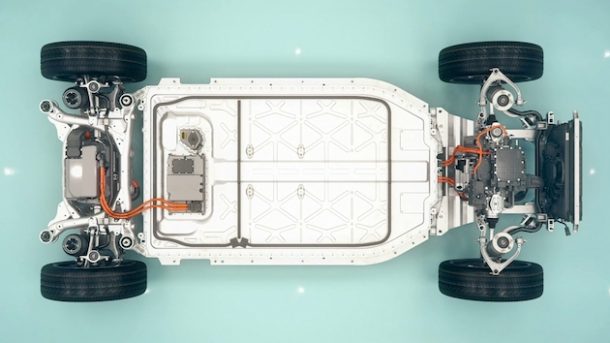 NAA Update: JLR to choose the UK for multi-billion pound electric car battery plant 
JLR is looking to choose the UK over Spain for a multi-billion pound electric car battery plant in Somerset, which will supply the Halewood car assembly plant.
Welcome to this month's newsletter and I hope that you are all keeping well.
I would like to begin again this month with some great news in terms of investment in our sector, with JLR looking to choose the UK over Spain for a multi-billion pound electric car battery plant in Somerset, which will supply the Halewood car assembly plant.
In further news on the investment front, the Advanced Propulsion Centre (APC) is investing £77 million in seven UK-based automotive collaborative research and development projects, three of which are NAA members, ULEMCo; Leyland Trucks and JLR. The seven projects, each involving a group of companies working in partnership on green transport technology, will each benefit from industry support, together with a government grant.
The £77 million awarded is made up of £38.4 million from Government, backed by a further £38.7 million from the automotive industry. A significant commitment to the decarbonisation of transport, and an investment into achieving Net Zero in the sector's supply chain – to learn more, click here.
Elsewhere in our region, NAA member Manchester Metropolitan University's Centre for Enterprise has recently announced that it is lead partner in two multi-million pound consortia, launched in May. The Centre for Digital Innovation (CDI) will deliver an Innovation Accelerator for Digital Technologies that will make a significant contribution to Greater Manchester's development as a fairer, more prosperous leader in digital technology and innovation, and The Greater Manchester Electrochemical Hydrogen Cluster (GMECH) will build on the work of the University's Manchester Fuel Cell Innovation Centre to accelerate the development and adoption of clean and efficient electrochemical hydrogen technologies – you can read more on these projects later in the e-news.
In other member news, Melo World are among finalists in two categories this year at the Halton Business Awards – Clean Green Business of the Year and BID Business of the Year – we wish them luck on 16 June.
Elsewhere in this month's newsletter, you can read about some of the latest developments from a selection of our other members, including The Abbey Group, The Blair Project, MMU, UTAC and VEC.
Last month saw the NAA visit member company Briggs Automotive Company (BAC) at its Liverpool headquarters for a networking event, where we were superbly hosted by Samar Behzadi from Operations and Chris Lockhart, Head of Global Sales – please read the event review later in the e-news.
Dates for your diary – NAA Events / Webinars
Our next webinar will be hosted by Grant Thornton on 6 July who will take us through the latest trends and data in the automotive sector from the supply chain through to motor retail. In addition, there will be discussion around the latest industry regulations and government funding – full details can be found here.
NAA Annual Dinner
On Thursday 21 September and we will once again be returning to The Mere Golf Resort & Spa for our Annual Awards & Networking Dinner – you can book your place(s) now with Zoe and we have several rooms reserved with the hotel on a preferential rate.
Award entry is now open – categories and criteria can be found here and application forms can be obtained from Zoe – you have until Friday 21 July to enter so please don't leave it until the last minute.
To register for the dinner or any of the above events and webinars, please contact Zoe
Other Events / Webinars
The University of Liverpool Management School is hosting a Business Breakfast on 21 June in Prescot – "The Future of Digital Technologies in Marketing" which will explore the impact of new technology on marketing and the reasons why it is important for businesses to adopt and embrace emerging technologies in order to thrive and grow. Register here.
Upcoming Training:
FMEA – 6 July
APQP – 12 September
PPAP – 19 October
Full details on the above courses can be found on our Training Hub here
Other News
As highlighted in previous weeks, the CW4.0 project is due to finish at the end of this month, therefore, please get in touch with us today if you would like to benefit from this funding. The NAA is looking for manufacturing companies who are interested in opportunities for growth and investment through the adoption of digital technology, with a turnover of less than €50 million, or a balance sheet total of less than €43 million – you must be an SME and you must be in the Cheshire region.
NAA Member, Autac has benefited from this project and has expanded into a new advanced manufacturing facility in Macclesfield – the third-generation, family-owned business worked closely with CW4.0 to plan the £2.8 million investment in its new facility. Using 3D laser scanning technology, the CW4.0 team was able to create a digital simulation of the new facility, allowing Autac to plan and evaluate the most efficient and productive layout for its manufacturing processes across the two facilities prior to the move – you can read more about this and find the full case study here.
For full details on how to access this funding, please see later in the e-news.
If you would like to submit content to feature in upcoming e-news please contact Zoe.
Paul Jones
NAA CEO