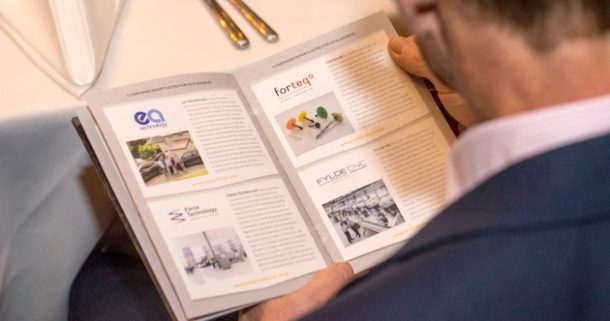 NAA Update: Last chance to enter for the NAA 2017 Awards, and make sure you book for our range of forthcoming events including at Bentley, AMRC Factory 2050 and Plastic Omnium
We're just about to enter the beginning of the intense autumn period in the life of the NAA, with the build up to our Annual Awards and Dinner in November, our monthly networking events programme through to the year end, and also two stands – at CENEX LCV in September and the Advanced Engineering Show in November…
Firstly, our events programme; elsewhere in the newsletter, there are articles about two visits that you need to book now, as our visit to AMRC Factory 2050 in Sheffield on Wednesday 20 September is already filling up fast (AMRC Factory 2050 Link) and the visit to Bentley Motors on Tuesday 24 October will go like 'hot cakes' (Bentley Event Link).  You also need to reserve Tuesday 5 December in your diary for a visit to Plastic Omnium in Warrington.
Please come and visit us in Hall 2, stand 218, at the Low Carbon Vehicle (LCV) Show at Millbrook Proving Ground on 6 & 7 September. I can't implore you enough that if you have any new technology for the automotive industry then this is the show you need to be at.  Not only is it an exhibition (inside and outside), but it also has a full seminar programme and the opportunity to drive the latest ultra-low emission vehicles.  It is not only about electric vehicles, but about all future vehicles.  You will even be able to pick up the new NAA leaflet that describes how you can become involved in the vehicles of the future.  Remember that the government's announcement about the ban of diesel and petrol-engined vehicles from 2040 is not new news, it's just a reminder for your company to keep abreast and be part of the changes that our industry is going through.
Opportunities to book space on the NAA Advanced Engineering stand will close on Friday 22 September; as there is limited space available at the show, this may be your only chance to be there on display – please contact me so that we can discuss your requirements.
If India is an area of interest, another opportunity for you is a visit from Chennai DIT personnel.  They are here to visit your companies, please take a look at the article and book your meeting with them now (Working with companies in India Event Link).
The NAA has signed up as a Northern Powerhouse Partner.  Now is the time to influence the future of the Northern Powerhouse; with 48% of the UK Automotive activity based here, let's make sure we're well represented.  You can also sign your company up as a partner.  Visit the Northern Powerhouse Partners website www.northernpowerhouse.gov.uk/northern-powerhouse-partners and then use their Contact button to send an email and someone will then get in touch with you to discuss your participation.  The NAA's activity with the Northern Powerhouse is primarily about strategy and lobbying activity for the automotive sector at this time.  I was fortunate to be invited to a partner meeting that was held in Liverpool in conjunction with the lead-up to the start of the Clipper Round the World Race, I will update you about the Northern Powerhouse in the next newsletter.
You have probably seen several reports in the news about the state of productivity in the UK with headlines such as 'for every hour spent at work, we make 20% less than a company in Germany.'  There are two actions I would like you to consider:
If you are an SME in Lancashire, take part in the survey the LEP is undertaking on productivity. Here is the link to it: www.surveymonkey.co.uk/r/lancashiresm1
For everyone, take a look at the initiative 'Be The Business', which aims to inform, educate and collaborate with the businesses of Britain to restore us to the forefront of business performance worldwide: www.bethebusiness.com/about. On the website there is also an opportunity for you to self-assess your own business
Finally, there are just a few days left for you to write and submit your applications for the NAA Awards – this is a free marketing opportunity for your company – it must be worth a couple of hours investing the time for exposure that would either cost a lot of money or that money can't buy.  If you're interested in entering for an Award, but know that you won't be able to make the 31 August deadline, then please contact Zoe and we can negotiate a revised deadline for you.  I can't remind you all enough that the value of the dinner for both those attending and all the sponsors is that they see a variety of companies applying and receiving the Awards – the evening is to celebrate the success of the industry, without your participation then we can't achieve the prime aim, so get your pen out now and start writing your application!
I would like to welcome the following new members this month:
CAL International
EA Technology
Exact Systems
mi-Vehicle Integration
Plastic Omnium
R S Clare
Sanko Gosei
We look forward to a long and happy relationship with you.  You can find out more about CAL International in both the In The Driving Seat Article and also in the New Member Article and look I look forward to sharing more information about the other new members in the coming months.
Carol