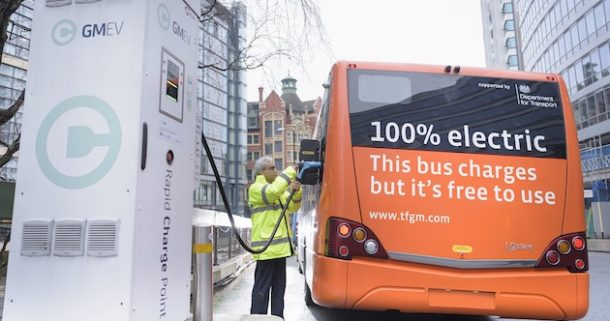 NAA Update: LowCVP/NAA Conference, Automotive Industrial Priorities for 2018, 'Planning for Brexit' event review
We start with exciting news; I'm pleased to announce that you are all invited to the first ever NAA Conference. Actually, to be more precise, it's a Northern Conference organised by the Low Carbon Vehicle Partnership (LowCVP), and the NAA is a partner – along with the Greater Manchester Combined Authority and Transport for Greater Manchester…
Entitled 'Moving North', and taking place on Thursday 12 April 2018 at Manchester Metropolitan University, the event will look at the future of transport in the Northern Powerhouse, with Andy Burnham, Mayor of Greater Manchester, delivering the keynote address, and it will also look at the business opportunities for NAA member companies that will result from policy drivers such as the air quality agenda. At the end of the day there will be a networking drinks reception. Take a look at our article in this newsletter and sign up now while there are still spaces. I highly recommend that all NAA members attend this event as delegates, and there are also some indoor exhibition spaces, a small number of outside spaces for vehicles, and a very limited number of sponsorship opportunities. Please contact Martina (Martina.rodrigues@northernautoalliance.com) or Paul Clarke (paul.clarke@automotivecomms.co.uk) to discuss any of these opportunities
In January we ran an event at GEFCO which looked at the implications of Brexit for the automotive industry – you can read a review of the event in a separate article below. Following on from this event, we have a short survey that we would like all of you to undertake, whether you attended the event or not. This can help us format follow-on activities which may include taking up PwC on the opportunity to hold a workshop at one of their local offices, so please use this link: www.surveymonkey.co.uk/r/JTDCGQD to undertake the survey to help us make sure that we are focusing on the right topics.
Still on the subject of events, at the time of 'going to press', we still have a couple of places available for our February networking meeting 'Driving the Digital Enterprise' at Siemens on 13 February – get in quick before all the spaces go.
While you're at it, why don't you also register for the visit to BAC in Speke, the home of the Mono, on 20 March. And please make sure that the relevant people in your organisation are aware of our Deep Dive Workshop on Machine Data – this really is a unique opportunity to explore the challenges of gathering and using machine data to improve utilisation, and is aimed at sharing best practice and helping all participants with the challenges that they may have. There will be more deep dive workshops across the year and if you have a particular subject area that is appropriate for a deep dive and sharing with others, then please contact Martina.
I participated in the SMMT Webinar 'Automotive Industrial Priorities for 2018' and thought that for those of you who did not attend the session, I would summarise three of the items that arose, together with my comments:
Brexit
Clearly Brexit is going to continue being headline news, and the SMMT's challenge is to represent our interests as an industry, whether it's the detail of the withdrawal, safeguarding the current arrangements, or the form of the future arrangements. Currently it's all words, and, as always, the devil is in the detail. The SMMT is in a good position to ensure that the detail is analysed, and that industry views are shared with government.
Emissions
The most highly polluted road in the UK is Putney High Street. From 1 January 2018, only Euro 6 buses have been allowed, and this has made a significant improvement to the air quality – so why the recent Budget implemented a tax on new diesels rather than encouraging people to buy new diesels is beyond me and many others within the industry. If you are ever in discussions with your MP I recommend raising this with them as it is also hampering new vehicle sales and manufacturing volumes in the UK. I know that the SMMT will be continuing to lobby on the wrong impact that this tax will have in the market place.
Auto Sector Deal
This included £246m for the Faraday Challenge, £250m for Connected & Autonomous Vehicles, and £16m for the Supply Chain. While it is good to know that there is a deal and that Automotive is recognised as a significant industrial sector, it continues the government focus on new technology and will have a very limited impact on existing companies. Existing and potential new inward investments have to demonstrate world-class capabilities to survive in this global industry, elsewhere in the world there is much more that both national and local governments provide to support the industry.
Most of you will be aware that the new General Data Protection Regulation (GDPR) comes into force in May 2018. Please take a moment to read our separate article below, which explains what information we store about you, and how we manage that data.
I would like to welcome new member Wynne Aviation Services, and I look forward to meeting all recent new members at one of our events in the near future. Make sure you maximise your membership and if you have any questions then feel free to contact one of us.
I don't think that I have ever given notice about a company that we are expecting to join the NAA in the near future, but M-Sport fall into this category; please see the good news in one of the articles below about continued support for M-Sport from Ford, and for the NAA, there's even better news that one of our member companies is a key supplier to M-Sport and has played a critical role in ensuring reliable performance from the winning Fiesta WRC rally cars during the 2017 season.
Finally, on a personal note, writing this article is my last task before I have an operation, so I will be out of the office for 3-6 weeks. During my absence, Zoe, Martina and Simon will continue to provide their excellent level of service. It's also possible that NAA Director Steve Williams will be writing my article next month. Let's hope his article is shorter than mine!
Please keep all your good news stories coming in so that Steve can have a similarly bumper edition as this month, and I look forward to seeing you all at the BAC event in March.
Carol