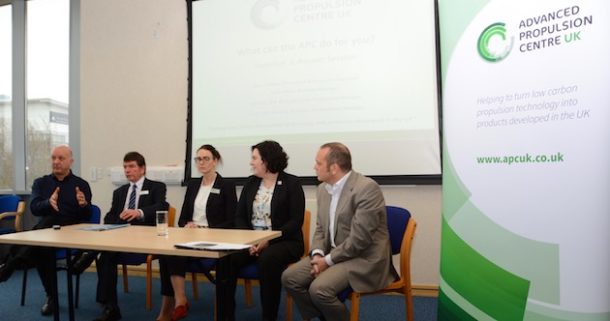 NAA Update: Make sure you don't miss the second and final opportunity to hear about what the Advanced Propulsion Centre can do for you
We have been busy on the Innovation front during January in a number of areas including our very successful 'Meet the APC' event held at Daresbury; if for whatever reason you missed the event, you can read the review in the article below, and you can even attend the repeat of the event which is being held on 4 April in Huddersfield; see more details in this newsletter…
The ConcentricCity team went to Swindon to present the project benefits of Manchester being host to a Grand Challenge for connected & autonomous vehicles (CAV), so please keep your fingers crossed for us that we will hear good news at the end of February. I have been amazed in the time we have been developing this bid how much CAV has been in the news and the momentum that is building across the country.
We also continued our work with Sheffield University Materials Group and submitted a bid for the Innovate UK Manufacturing & Materials 2 competition.
Don't forget if you are a member of NAA then make use of your annual 1-1 review; recently many companies have been taking advantage of this to develop their own technology roadmap or discuss with us how we can help you form your own consortium and submit a bid for funding.
Do you use materials in a harsh environment and want to increase your understanding and your applications? Then why don't you consider an engineering doctoral student from the University of Manchester? It is a 4-year taught course commencing in October 2017 with a research project from your own company. There is the potential for SMEs to get this at a very beneficial rate. If you would like more information, then please contact Carol, but don't wait until later in the year, the course has a very good reputation and the positions will get filled quite quickly.
I hope that you have been busy planning your marketing activities this year, if so, then please take a look at our exhibition schedule for this year – if you need any advice or have more questions then please give either Zoe or myself a call. We are extending the early bird booking until the end of February.
Brexit is continually in the news and we are regularly asked to comment on behalf of our members, so if you have any distinct insights from your own company then please let me know.
We welcome the following new members since our last newsletter:
BasePower
Bryken
Morson
PWHytek
Siemens
TT Assembly Systems
We look forward to hearing more about them in future issues, don't forget to share your success stories with us, as we want to shout to the rest of the automotive community about your successes. As you can see in this newsletter our congratulations go to ULEMCo and the company's success in the Green Truck trial!
Carol