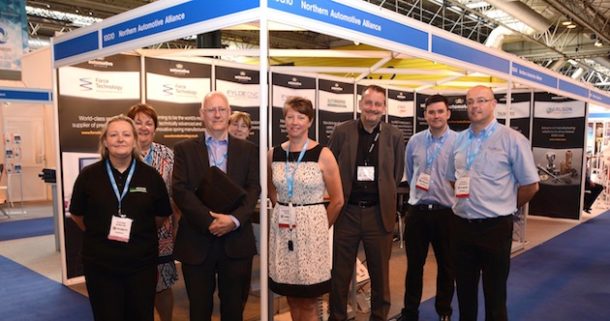 NAA Update: Make sure you're aware of our forthcoming events, NAA wins new funding, your chance to provide feedback about the Industrial Strategy, and lots more
Time is running out to exhibit at some key events with the NAA; sign-up for our visit to Cummins Turbo Technologies; new funding for the NAA in Leeds; do you want to help influence future government strategy about the automotive sector?; and what the Apprenticeship Levy can do for you…
Where are you exhibiting in 2017?
If you haven't had chance to think about your exhibition plan for this year, then now's the time to do it! For those who want to attend the Made in Yorkshire Exhibition 2017 with us (taking place on Wednesday 10 May), your last chance to sign up is Friday 21 April. If you want to join us in the Supply Chain Hall at Automechanika (6, 7, 8 June) then your last chance is Friday 28 April. Don't wait, contact Zoe today and reserve your space.
Do you want to help influence future government strategy about the automotive sector?
We held a very successful Industrial Strategy workshop in March (see the article later in the newsletter). We will be sharing the proposed NAA submission with all who participated and it will be available on our website. I encourage all of you to make your own submissions, either using our base, or feel free to take our information and modify it to suit your requirements. The closing date for the consultation is 17 April; we will send out an email advising you when our copy is ready to be accessed from our website.
New funding for the NAA in Leeds: 'Driving Innovation'We're pleased to announce that we have been awarded
funding to support the NAA Driving Innovation project for companies within the Leeds City Region; now the challenge starts to get it implemented and launched as quickly as possible!
The project will primarily support SMEs and has two key aims:
To create an innovation network for automotive supply chain companies to accelerate innovation, creating sustainable and profitable business growth
To encourage and promote investment in research and innovation activities through the support of company specific projects in the automotive sector. Primarily these projects will utilise one of the academic institutions within Leeds City Region and can include large companies as part of the project team.
If you want to be kept involved in this project or participate then come and see us at Made in Yorkshire on stand 47 or advise us via info@northernautoalliance.com and we will put you on the mailing list for all related information on Driving Innovation.
Also in this newsletter, there are two other new events for you to register your attendance for, as follows:
What the Apprenticeship Levy can do for you
On Friday 5 May we will be holding our own "What the Apprenticeship Levy can do for you" event. Even if you are not going to be in a levy-paying situation then please attend as there will be information at the session relevant for all. During our annual 1-1 meetings over the last year more than 65% of you have said that project management training is important for you in the next three years; so, we have also asked Blackpool & Fylde College, who run a very successful Project Management Apprenticeship for BAE Systems and other companies, to come and speak about their course.
The next two most important categories have been Advanced Problem Solving and Leadership & Management training, both in excess of 55%; so we have asked Dr Simon Farrall from BMW to come and present on behalf of the Automotive Council on the pilot schemes that have been run, which aim to provide benefit for the whole of the automotive industry, but immediately to support our next two highest priorities. The NAA is looking to understand if there is an opportunity to introduce these locally and we also need your feedback after the event if this is something that you would support. The event is open to all and there will also be more information on opportunities within Lancashire.
Networking visit, Cummins Turbo Technologies, Huddersfield
On Tuesday 16 May we will be holding one of our popular networking visits to Cummins Turbo Technologies in Huddersfield. Like many of these events we are predicting that the event will be sold out; so use the link and book yourself on it today as we're expecting that we'll need to have a waiting list!
SMMT Connected Conference
I attended the SMMT Connected Conference in London last week. There were many interesting presentations, including from BMW, Uber and Ford, and also some thought-provoking panel discussions. During the conference the Rt Hon Greg Clark MP Secretary of State for Business, Energy & Industrial Strategy outlined plans to create a cluster of excellence in CAV testing along the M40 corridor between Birmingham and London. The programme will use some of the UK's existing CAV testing centres to create a concentrated cluster of testing facilities in the UK's automotive heartland in the West Midlands, including Coventry, Birmingham, Milton Keynes as well as Oxford and London. Whilst this is excellent news for the UK as a whole, it is disappointing yet again for the opportunities that the North, and particularly the North West, have to offer the industry – from the likes of Media City, University of Salford and University of Liverpool, who are all active in connected and autonomous vehicles (not necessarily cars).
The 50 Women in Engineering campaign
The WE50 (The 50 Women in Engineering) campaign aims to raise awareness of the skills shortage facing the industry and the huge discrepancy between the number of men vs women currently in engineering professions, to change perceptions and encourage young women to consider engineering as a viable and rewarding career.
Nominations are now open for the 2017 Top 50 list which will be published in The Daily Telegraph on International Women in Engineering Day, Friday 23 June. This year the campaign focuses on young women role models in any engineering profession aged 35 and under. Further information can be found via the online hub (link below). Nominations are open until 12 May 2017 and we encourage nominations from anyone in the industry who knows an inspirational female engineer.  http://www.telegraph.co.uk/business/women-in-engineering
International Women in Engineering Day
INWED17 (International Women in Engineering Day) is on Friday 23 June; as you know, this is a day that the NAA supports, and I personally support through my long association with the Women's Engineering Society. INWED17 resource information packs can be downloaded via http://www.inwed.org.uk/resources.html and we would love to help you with any activities and also get them published both through us and via WES.
New NAA member
Finally, I would like to welcome SMC Pneumatics as a new member. All new members are invited to submit articles about themselves for the newsletter, so watch out for future editions to find out more about the company.
As you can see from the volume of content in my article, it is a very busy time of year for us. I look forward to seeing at our April and May events.
Carol