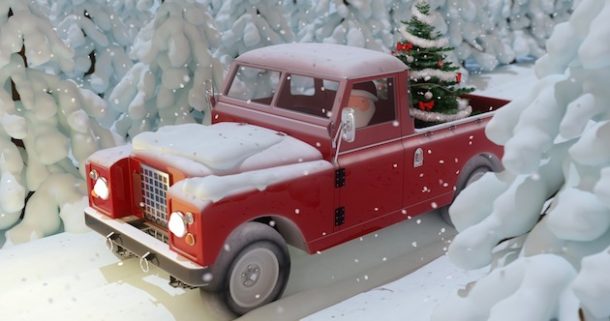 NAA Update: Merry Christmas and a Happy digital, connected and low emission New Year
The NAA's New Year offers you the opportunity to find out how you can future-proof your business with help from the Advanced Propulsion Centre (APC), and connected and autonomous vehicles may also be on the agenda, along with digitisation of the UK automotive industry – with funding available in Liverpool…
Amidst all the other activities, my October was focused on Connected and Autonomous Vehicles, leading to the submission of a bid into the Grand Challenge of 12 miles autonomous driving based in Greater Manchester in and around Media City.
November saw that focus shift to digitisation of the industry; while many of you will have heard the phrases 'Industry 4.0' and 'Internet of Things', has it really sunk in what it means for you in your business? Tuesday 29 November saw the launch of the SMMT-commissioned KPMG report on the Digitalisation of the UK Automotive Industry, see the separate article below. I recommend the report to you, it's a relatively light read, but I think John Leech's closing paragraph is worth repeating here: "There is much to do, digitalisation is a journey that starts in this decade and promises substantial benefits next decade and thereafter. In truth, digitalisation is unstoppable, the only option is to be an early adopter. We are in a fantastic position – lets act now to claim our future." The report identifies an annual benefit of £8.6bn per annum and increased competitiveness of the UK automotive industry, with these benefits identified as achievable:
3-5% productivity increase
20-35% reduction in downtime
30-50% increase in productivity of such disciplines as production planning
12-20% inventory reduction
5-12% reduction in the cost of poor quality
80% accuracy in forecasting
15-20% reduction in time to market
15-25% reduction in plant maintenance costs
Can you afford to ignore it?
For those of you in Liverpool City Region LEP, you have an ideal opportunity, as the LCR 4.0 ERDF project was launched on 30 November, this enables SMEs to work with both the University of Liverpool and Liverpool John Moores to start or even continue their digitalisation journey – make the most of this opportunity! I am sure we will hear much about this subject during 2017, but don't be left behind, talk to us if you want to find out more or how to make the first steps that are relevant for you.
Last week I also attended the SMMT 100th Annual Dinner – an ideal opportunity to catch up with others, have a reminder of the last 100 years in the industry, and look forward to the future. I find the applicants for the Autocar-Courland Next Generation Award inspiring and it makes you realise that we do have the skills, innovation and capability in our young people, we just need to find the right way to foster and develop it.
While this competition is a one-off opportunity for one undergraduate to spend six months with six different vehicle manufacturers, you can help inspire an undergraduate by offering 3, 6 or 12 month positions in your company, and again, the NAA can assist you in this process, we have the contacts in all local Universities and can help you through the process. For a limited expenditure, you have access to an individual who, with your guidance, can assist you in your business, maybe tackling some of those jobs that never quite seem to make it to the top of the list, and they can have an immediate impact on your business. The good students will have been offered places by March so there is no time to waste, think of it as your December challenge to decide to go and do it!
It never fails to amaze me how quickly December arrives in every year, so like many of you, we will be taking the opportunity to reflect on the year – on the good things, and on those areas that need improvement for the following year. We already have events planned for the first quarter of 2017 – I urge all of you to look at our January event: the Advanced Propulsion Centre (APC) is coming to us. For anyone who has not heard the myriad of recent news items from the likes of JLR, BMW, Nissan etc about the rapid expansion of their electric vehicle plans, if you are not embracing low emission vehicle technology then your business is at risk. Find out how the APC can help you, and provide funding to develop new low emission technologies.
Other NAA plans for 2017 include training courses, and we want your feedback; what training courses do you want? Please let us know. However one of the most important issues for you to think about now, in advance of 2017, is which event to exhibit at – again, please see the article below for more information.
In a year where we have moved to a virtual organisation (that really just means that we have modified all our systems and approach so that we no longer need a formal office base) – our small step to embracing digitalisation – we are certainly seeing productivity improvements and less downtime as a result of the change! I have been amazed by how many companies I come across, both large and small, that operate in a similar way to ourselves. Anything that means we suffer less from the challenges of travelling on the roads across our region has to be beneficial – which brings me back to where I started!
Therefore it only leaves me one thing to do, and that is to wish you all a Merry Christmas and Happy New Year – take time off to be with your families and also use the time to think about your vision for 2017, how you can support the development of young people, how to become an early adopter of digitalisation, and how your business can offer products and services for a lower emission future.
Carol