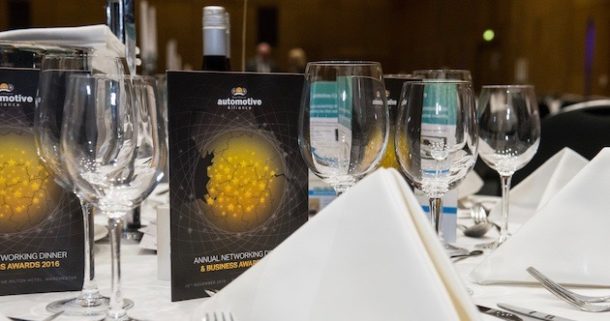 NAA Update: NAA Annual Awards and Networking Dinner, new NAA Chair
Welcome to the October newsletter; we are in the midst of preparations and Award judging for the NAA Annual Awards and Networking Dinner on 9 November, so if you haven't purchased your ticket yet then I recommend that you do so as soon as possible before the event is sold out!…
Many of you will be aware that our Chair, Michael Straughan, has left Bentley Motors to move to a new position outside of the automotive industry; we wish Michael all the best in his new role and thank him for the 7½ years' service as Chair. He has steered the NAA through many changes and difficult times and personally I can't thank him enough for his direction and support during my tenure as Chief Exec. It's not quite too late to say goodbye to Michael as he will be attending our Awards Dinner. In the meantime you can find out about Bentley's new NAA Advisory Board member, Sally Hepton, in this month's 'In the Driving Seat' article.
We have elected a new Chair, Wes Jacklin. Wes is the Senior Director at Magna Transmissions in Halewood; he has been involved with the NAA for many years, other than during his period while working in the Slovac Republic! Since his return he has been a familiar face at most NAA Networking events. I am really pleased that our new Chair is so experienced within the industry and comes with new ideas to help the NAA move forward into its next phase. You will be able to find out more about Wes in our November newsletter's 'In the Driving Seat' article.
Our networking event at Bentley Motors in October is already sold out, so please book soon if you want to attend our event at Plastic Omnium on 5 December. I'm looking forward to it, as I first visited while they were still putting machinery in, so it will be good to see how it looks now as an operational facility. It will also be a chance to catch up with previous NAA employee Martyn Cray who is now the Plant Manager.
Following on from the AMRC Factory 2050 visit (you can read a review of the event in this newsletter) we are planning a visit to the Siemens Congleton manufacturing facility during mid-February so that you can see the potential for Industry 4.0 in practice. As soon as we have finalised the date we will let you know, this is likely to be another sold-out event, so please book quickly!
Come and visit us on stand D33 at the Advanced Engineering Show at the NEC on 1st & 2nd November. We will be joined by member company CAL International. You also need to pick up one of our new brochures 'Automotive Business Opportunities', a new NAA service which is helping NAA members ensure they don't miss out on the new opportunities in the industry, such as with electric, connected and autonomous vehicles. As an example of such developments, we have included a review of the recent Nissan Futures event in Oslo in this newsletter, as it shows what car manufacturers – and therefore their supply chains – are doing in areas such as energy storage and vehicle to grid charging.
I would like to welcome two new members this month, Clear Air Tech and Macpac Ltd: we wish both companies a long and successful membership of the NAA. Clear Air Tech is also an NAA Award applicant, so you can find out more about the company at the Annual Dinner.
As we were about to 'go to print' we received the news that the Vauxhall plant at Ellesmere Plant is instigating a voluntary separation programme with the aim of moving to one shift during 2018. This is as a result of falling demand in this sector of the passenger car market and challenging European market conditions. Their focus is on achieving a level of plant productivity that keeps Ellesmere Port competitive and flexible to meet the demands of the market for their vehicles, a challenge that all of us face, of balancing expenditure to income. During this time of change our thoughts are with all the employees at Ellesmere Port and the NAA will continue to provide whatever support we can to assist during this difficult period.
Carol