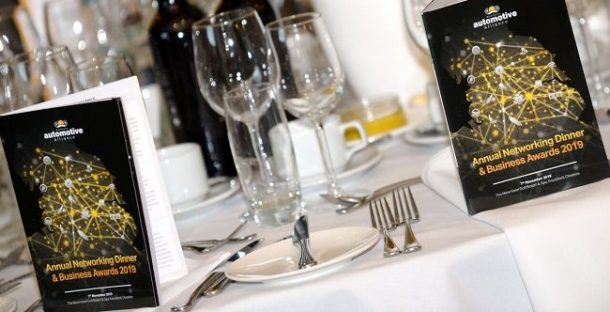 NAA Update: NAA Awards 2021 Now Open!
As announced in last month's e-news, the NAA Awards Dinner will be returning once again to The Mere Golf Resort & Spa on Thursday, 23 September.
The Business Awards applications are now open, so get your thinking caps on to see which Award you will be entering this year! Categories include: Design & Innovation; International Trade; People & Skills; Manufacturing Excellence; CSR and Logistics Excellence – closing date for entries is 23 July. We also have an Early Bird discount on table and individual ticket sales until 30 June – please contact Zoe for more information on Award entry and reservations.
This month, I would like to welcome new NAA member, Alchemist Consultants, who provide training and consultancy programmes within a range of sectors including automotive, engineering, manufacturing, and logistics. Alchemist is currently conducting a survey on Industry 4.0 – this is a great opportunity to take part in a research investigation into determining the level of understanding and adoption of Industry 4.0, Smart & Digital Manufacturing and associated technologies, as well as the impact that they are having within a sample population of the manufacturing and automotive sectors – to take part in this survey, please read further in this e-news.
Elsewhere in this month's newsletter, you can read about some of the latest developments from a selection of our other member companies, including BAC, Bigtank, DHL and ULEMCo.
With EU Transition now complete, the Department for International Trade (DIT) has launched two major support initiatives aimed at helping companies to grow internationally – The Export Academy and the Internationalisation Fund.
The Export Academy gives small and micro-businesses the know-how to sell to customers around the world with confidence.
The Internationalisation Fund is designed to support businesses looking to grow their international trade. SMEs can apply for match-funded grants of between £1,000 and £9,000 which will be available for proposed future activities (subject to eligibility) – details on both of the above initiatives can be found later in this e-news.
The Department for Business, Energy and Industrial Strategy (BEIS) has also launched a series of webinars and on-demand videos for companies that trade with the EU. Sign up for and watch these here. The guidance now also includes a useful resource section, as well as updates to the following areas:
• New rules for importing and exporting goods
• New rules for moving goods between GB and EU
The recent budget included the announcement of Super-deduction; allowing companies to claim 130% capital allowances on qualifying plant and machinery investments for expenditure incurred from 1 April 2021 to the end of March 2023. Under Super-deduction, for every pound a company invests, their taxes are cut by up to 25 pence. Find out further information here.
Through yet further government support for apprenticeships, employers will receive an increased incentive payment of £3,000 for new apprentices of any age who start their employment between 1 April and 30 September 2021. Find further information later in the e-news.
Were you aware that from April 2022, all businesses trading in the UK that use more than 10 tonnes of plastic packaging a year may need to register for and pay the Plastic Packaging tax (PPT) at £200 per tonne? Our partner organisation BDO has identified five key steps you should consider to get your business ready – here.
On a training note, we have a 1 Day FMEA Course scheduled for 15 June – this will be held virtually and full details can be found later in the e-news. For those of you who require training in other Core Tool courses (SPC; APQP/PPAP; MSA), please contact Zoe
Finally, as always, if you need us please do not hesitate to contact us.
Stay safe.
Paul Jones
NAA CEO