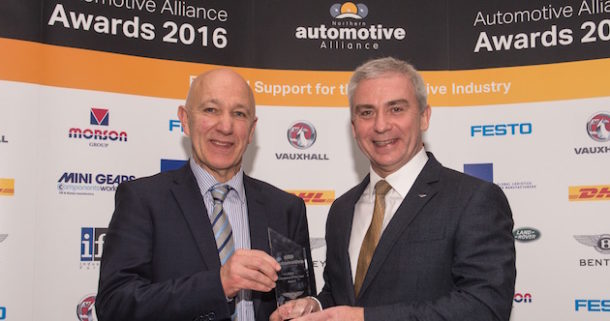 NAA Update: NAA Awards show the innovation in the region, NAA member company accompanies the Prime Minister to India, and find out how Brexit will impact upon the industry
I am extremely pleased to report on a number of very positive developments in this newsletter. First and foremost are the Award winners at the NAA Annual Dinner, along with their stories, but one of our members has also had the privilege to accompany the Prime Minister on her recent Trade Mission to India. In addition we feature a report about how Brexit is impacting on the UK car industry. I would strongly recommend that you read this article, as you will then see the increased relevance of the recent announcement about the all-electric Jaguar I-PACE…
What an amazing night we had last Thursday at the NAA Awards Dinner. Our congratulations go to the Award winners – of course especially to our Company of the Year, Scorpion Automotive (see more details about the event and all the winners in our separate article below).
I had the opportunity to visit Scorpion this Monday and see the new manufacturing facility and it is a credit to the whole Scorpion team – and we look forward to tracking the company's progress during the coming year! Of course now is the time to start thinking about which NAA Award you will enter next year.
Again, it was another excellent evening for networking and catching up with old friends. Our thanks also go to Lawrence Davies MBE for his uplifting speech, about which I received much positive feedback. For those of you who attended, your thoughts on the location would be appreciated, drop a few words onto LinkedIn or speak to any of us; the feedback will help us plan the location and content for 2017.
Our winner of the JLR Innovation Award was SOMI trailers (Same Outside More Inside) and I'm very happy to announce that on Tuesday, Pauline Dawes, SOMI's Managing Director, was also announced as one of 15 winners of the Innovate UK Women in Innovation Awards 2016.
Please get your diaries out and book in 18 January for the next NAA event, it will be a joint event between ourselves and the Advanced Propulsion Centre (APC) – see our separate article below. Low emission vehicles are the future; if you have a technology that can help to lower vehicle emissions and you need support in getting it to mass production, the APC can help you in a range of ways, including with funding.
As a perfect example of what can happen if you engage with the APC on a low emission technology project, you could end up on an exclusive trade mission to India with the Prime Minister Theresa May, just like NAA member Paul Andrews has done in the last two weeks; again, see more information in the article about OakTec below.
You may have noticed that there have been quite a few political changes over recent weeks and months! If you want to find out how Brexit will impact on the automotive industry then read our review of the SMMT Open Forum event below.
And in a very timely news release, Jaguar has revealed its all-electric I-PACE Concept (again, see more details below). This vehicle shows that highly desirable electric cars are coming, and that JLR needs suppliers of low emission technology for such vehicles – which is exactly what the APC is supporting supply chain companies to achieve, and even before JLR's news release, this 'electric crossover' concept was predicted to be one of the future trends at the SMMT Open Forum. On a personal note, prior to joining the NAA, one of the engineers who has helped to develop the electric powertrain on the I-PACE worked for me as a hybrid chief engineer – so well done Andy!
After all this exciting news I hope that you are starting to plan for 2017 and in particular please remember that we will have stands at the same three exhibitions as this year, ie. Automechanika, Cenex's Low Carbon Vehicle Event, and the Advanced Engineering Show. By being on the NAA stand you can have a presence at these shows with fewer staff, consuming less time and cost, leaving you to focus on your core activities. There will be more about this in our December newsletter.
Carol