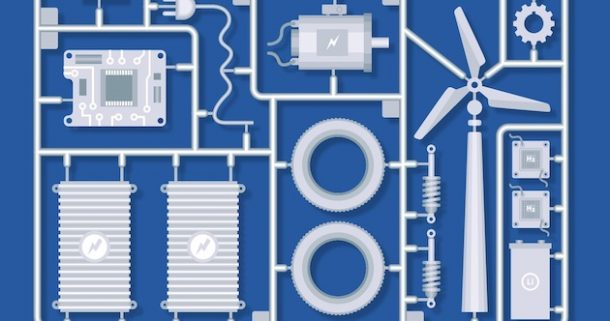 NAA Update: Powering Up Britain's EV Supply Chain
Last month the SMMT launched a key policy document concerning our sector – Race to Zero: Powering Up Britain's EV Supply Chain – a new blueprint for the UK's industrial EV transition. The challenge now is to scale up and at pace.
Welcome to this month's newsletter and I hope that you are all keeping well.
Last month the SMMT held a special Electrified Parliamentary Reception at the House of Lords where they launched a key policy document concerning our sector – Race to Zero: Powering Up Britain's EV Supply Chain – a new blueprint for the UK's industrial EV transition,
Powering up Britain's EV manufacturing and supply chain is the central theme of the blueprint, which highlights Britain's advantages as an automotive investment destination, including our experience in making electrified vehicles, which comprised a third of all car production last year.
The UK also offers significant renewable energy provision and world-class R&D know-how, which demonstrates some of our many intrinsic strengths. The challenge now is to scale up and at pace.
The SMMT blueprint goes further, setting out a Green Automotive Transformation strategy that would build on these foundations to position Britain as one of the world's most competitive locations for advanced automotive manufacturing. Critically, however, we need an urgent response to initiatives such as the US $370 billion Inflation Reduction Act and EU Green Deal Industrial Plan, with these substantial packages of support already affecting global spending decisions.
The government has also unveiled its proposals for a world-leading zero emission vehicle mandate which, from next year, will set minimum annual targets for the percentage of new car and van sales that must be zero emission. The proposed mandate makes the UK's path to zero emission vehicles the fastest in Europe.
The plans support the government's commitment to end the sale of new petrol and diesel cars and vans by 2030, and from 2035 all new cars and vans must be fully zero emission at the exhaust. Between 2030 and 2034, all new vehicles must be either fully zero emission or be able to drive a significant distance with zero emissions.
In an additional announcement on 30 March, the Energy Security Secretary outlined steps to strengthen Britain's long-term energy security and independence to help deliver a clean, prosperous future for the country, with initiatives including investing more than £380 million into boosting EV charging points and infrastructure across the country to support the roll-out of electric vehicles.
The SMMT's EV Supply Chain Directory is now available for download. This directory provides a snapshot of the UK's capability across the new technology areas which will be critical for the vehicle electrification transition. It is a showcase of what the UK is already doing in terms of EV component design, development, and manufacture.
The purpose of this is to demonstrate the UK's breadth of capability in this new technology space. It will also act as a guide for companies looking to source partners or components in the future.
It is meant to be a living document as industry continues to invest here in the UK and companies emerge with new and improved capabilities. If you would like to be included moving forward, which I would strongly encourage, please email memberservices@smmt.co.uk.
SMMT will aim to move this publication to an online format later in 2023 to ensure it is as 'live' a resource as possible.
Moving on to the membership side, I would like to welcome three new members this month:
Burnley College – a further education college focussed on supporting people and businesses to upskill in the areas that matter to them.
GMC-I PROSyS Ltd, located in Skelmersdale, whose expertise lies in the design, development, and manufacture of current probes, clamp meters, handheld instruments, and systems for current and voltage measurement, as well as measurement and processing of electrical parameters.
The City of Liverpool College, which is the only general FE college in the city and the largest FE college in Liverpool City Region – the college offers the widest, most diverse vocational curriculum in the region, from entry up to degree and post-graduate levels.
We will be hearing more from these members in the coming months.
Elsewhere in this month's newsletter, you can read about some of the latest developments from a selection of our other members, including Electra, Fitfactory, Klarity HR 4.0, Piab, The Blair Project and Warwick Acoustics.
NAA Events / Webinars
Last month saw us visit NAA member Amann Threads UK, at their Ashton-Under-Lyne facility for a networking event hosted by Managing Director David Johnston and his leadership team – you can read a full event review later in the e-news.
Dates for your diary
The next NAA Members' Virtual Roundtable will take place on 20 April / 11:00 – 12:00 – the Roundtable offers a great opportunity to network with fellow members from the convenience of your own desk.
On 24 May, The Tax Credit Co. will be hosting a webinar, in light of the changes regarding R&D tax relief coming into play this month, and some significant grant calls in the manufacturing and energy sector due to be released in the coming months – full details can be found here
Save the Date – The NAA Annual Awards & Networking Dinner will be held on Thursday, 21 September and we will once again be returning to The Mere Golf Club & Spa – you can book your place(s) now with Zoe and we have several rooms reserved with the hotel on a preferential rate. Get your thinking caps on as award entry will be opening in the coming months.
To register for any of the above events and webinars, please contact Zoe
Upcoming Training
MSA – 23 May
SPC – 15 June
FMEA – 6 July
APQP – 12 September
PPAP – 19 October
Full details on the above courses can be found on our Training Hub here
Other News
The Niche Vehicle Network Production Readiness Competition 2023 is now open for applications. Funded by the Advanced Propulsion Centre (APC), supported by Innovate UK and delivered by the Niche Vehicle Network in conjunction with Cenex, this competition provides a platform for collaborative R&D for organisations active in the UK niche and zero emission vehicle technology sector.
The competition is open to niche vehicle manufacturers, system suppliers and design/engineering or technology organisations active in the UK specialist and low volume manufacturing sector who wish to collaborate on innovative, industry-led projects.
The deadline for bid submission is 24 April 2023, at 17:00hrs GMT – Full details here
On 3 April, the Advanced Propulsion Centre (APC) launched its latest Automotive Transformation Fund competition. This competition will provide funding for feasibility studies to produce decision-ready business cases in preparation for projects which will develop large-scale manufacturing facilities. Businesses and consortiums based in the UK can apply for a grant up to the value of £350,000, from a total funding amount of £2 million – you have until 11 May to apply and full details can be found here.
On 20 April, the Department for Business and Trade (DBT) will hold an informative webinar on the business opportunities available at the upcoming DBT Mexico – Scoping Trade Mission: Automotive and Electro-mobility Sectors, Mexico, which takes place 5-7 June. Full details on the webinar can be found here.
We are entering the last three months to assist SMEs in Cheshire – in conjunction with the CW4.0 Project, the NAA is looking for manufacturing companies who are interested in opportunities for growth and investment through the adoption of digital technology, with a turnover of less than €50 million, or a balance sheet total of less than €43 million – you must be an SME and you must be in the Cheshire region. Please see full details later in the e-news.
Last month we kicked off the Boost Business Owners Network Meetings.
With the increased challenges facing businesses, including Net Zero, Energy Costs, Inflation and Skills Shortage, to name a few, this cohort of businesses can prepare for the future, by working together to find practical solutions to these challenges.
We are working with some great companies – Preston Technical, Coolkit, Big Tank Productions, MGS Technical Plastics, Helical Technology, Presspart Manufacturing, Forsberg Services, Melling Performance Springs, Graham Engineering, Sectortech, Agile Group Services & Systems and Pendle Engineering.
Boost, Lancashire's Business Growth Hub, is the lead body for Boost Business Owners Network. Boost is led by Lancashire County Council and the Lancashire LEP (Local Enterprise Partnership). It is supported by funding from Lancashire County Council, the European Regional Development Fund (ERDF) and the Department of Business, Energy and Industrial Strategy.
If you would like to submit content to feature in upcoming e-news please contact Zoe.
Paul Jones
NAA CEO