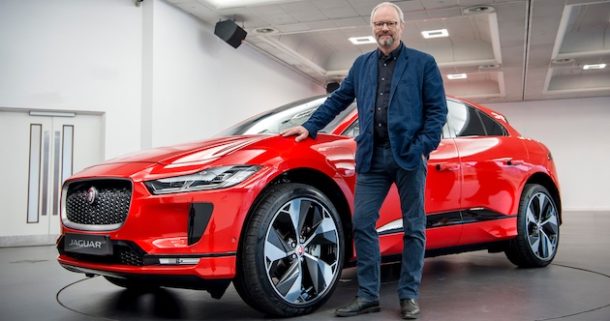 NAA Update: Robert Llewellyn to present the 2018 NAA Awards
I'm delighted to announce that our Master of Ceremonies for the 2018 NAA Awards will be Robert Llewellyn, actor (Kryten in Red Dwarf), comedian, writer, TV presenter (Scrapheap Challenge), presenter of the highly successful Fully Charged series on YouTube about electric vehicles, and most recently, the man behind last weekend's inaugural Fully Charged LIVE event review Link
Robert will be both our MC and also guest speaker. Be prepared for an entertaining evening! As well as being an engaging speaker, Robert has the ability to rapidly progress through the Awards, leaving everyone plenty of time to network. I would recommend booking your table or tickets now, because the early bird offer closes at the end of June. I also recommend that you start thinking about the Award you are going to apply for – the closing date will come very quickly!
More imminently, on 3rd July we have the Wynne Aviation networking event at Liverpool Airport, it should be a fascinating insight into how cargo is processed at an airport. Then on 10th July it is the second of our deep dives, this time the subject is the elimination of manual handling. The event is being held at Pirelli in Carlisle – an ideal opportunity for your HSE, HR or manufacturing leads to benchmark yourselves. Then while you're on Eventbrite, also go and book yourself onto the networking event in September at RS Clare, the oldest manufacturing company in Liverpool. And of course, for those of you who like to know what you missed, take a read of Martina's review of the Helical Technologies networking meeting held in May.
Even closer in time is the Liverpool International Festival for Business and I'm pleased to be able to say that we have three free tickets (normal price is £395 +VAT) for each of the following conferences:
Wednesday 20th June: Manufacturing Innovation Summit
Thursday 21st June: Women & Diversity in Manufacturing Summit
Thursday 21st June: Industry 4.0 Connect – a conference for IT managers
For more information read the article in this newsletter Manufacturing Innovation Summit Link / Women & Diversity in Manufacturing Summit and then contact Zoe if you are a member and are interested in taking advantage of the free ticket. The ticket allocation will be on a first-come, first-served basis.
The Northern Powerhouse Department for International Trade team is taking a mission to Turkey on 18th – 21st September. Turkey has a significant automotive manufacturing sector, so if you are interested in this please consider taking part. ERDF Trade Mission to Istanbul link.
We are trying to put together evidence from our companies to answer a government call for evidence on Business Productivity within manufacturing SMEs that reflects our manufacturing SME membership. We can do the majority of it via desktop-based research, but there are a few companies where it would help if we made contact with you, so you may hear from us in the near future. As in all of these activities, the information is all consolidated and no information on an individual company is shared. There is quite a tight turnaround, so it's likely that I will be able to share more information with you in the next newsletter.
I would like to welcome our new members this month: K-Tech Suspension, Fonseca Engineering Developments and AC Plastics. I'm very pleased that you have all joined us, we have had connections with all of you in the past and I look forward to you maximising your membership and seeing you at our future events.
This is quite a long newsletter, so I'm going to delay commenting on one final thing until next month – but in the meantime let's just say that Robert Llewellyn should be pleased: I'm now an electric car owner.
Carol