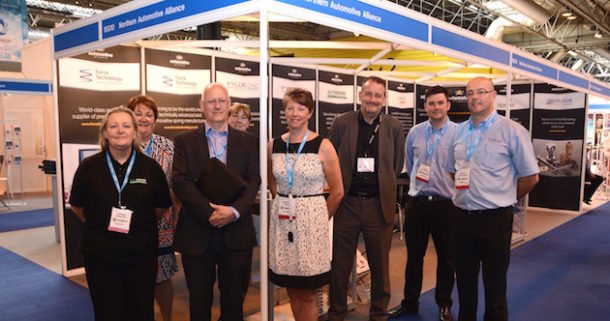 NAA Update: SME Investments survey, Memorandum of Understanding with the Welsh Automotive Forum, NAA Awards, LCV2016, Automechanika and more…
There continues to be a LOT going on in the automotive industry, one of the best ways to keep up to date with the overwhelming amount of news and latest developments is to read Carol's summary every month…
It's a busy time for us with events; back in May it was good to meet new companies at Manufactured Yorkshire and to listen to presentations from Sir Vince Cable and Mike Mychajluk, JLR's Supply Chain & External Engagement Manager, and it also gave us the opportunity to speak to Mike with one of our companies in Yorkshire.
We have also just returned from three days at Automechanika, more information in the article, the majority of companies who accompanied us on the stand found it to be a positive event and we have given feedback to the organisers about our thoughts as to how it could be improved for next year.  We also hosted a South Korean delegation for a networking reception. I have received very positive feedback from attending companies about the event, and we will be continuing to work with Incheon City from South Korea – watch out for more information in future newsletters. One more thing, if you're interested in supplying Aston Martin, then that's another reason why you should read the Automechanika/Open Forum article.
I would also like to thank all companies who responded to us about the SME Investments survey, it was double the number from last year and I hope that you're pleased with the press release and the map (Link to Press release & Map).  The press release was issued on the first day of Automechanika and we received many very positive comments about it – I hope that next year we give our graphic designers a challenge of how they fit it all on one page, due to even more of you having positive news to share!
Our second press release linked into Automechanika was that of myself and Tim Williams (the CEO of the Welsh Automotive Forum) signing a Memorandum of Understanding, you can read more about it in this Press Release Link; it's good news for NAA companies and those in North Wales, as we plan to run joint events and work more closely together, similar to the reasons for the existence of the Mersey-Dee Alliance.
We're launching our 2016 Awards in this newsletter, we have some Awards that you will recognise from before but we also have two new Awards for SMEs: the GM Manufacturing Award and the Mini Gears Marketing Excellence Award. Please take a look at this year's Awards line up (link to Awards Line up)) and register an expression of interest on our website today. This is not a submission of the full application form, but just to say which awards you are considering entering for this year. However the final submission closing date of 31 August will soon come around!
Please take a look on the website at our new Lancashire section (link to New Lancashire Section): and the first of what will be regular individual company case studies in Lancashire, kicked off by Fylde CNC. And remember to register for our next event, which will also be in Lancashire at Kensington Consulting – everyone is welcome, irrelevant of where you are based!
During the next few months we will be developing an interactive showcase map of all NAA member companies on our website. Your company details will link to your profile page on the NAA website, so now would be a good time to check that your details on this page are up to date.
We are now taking our final bookings for the 2016 CENEX Low Carbon Vehicle (LCV) event being held on 14-15th September at Millbrook Proving Ground. With half of the stand space already sold, you need to get in quick to secure your place on the stand with us. We have moved to Hall 3, so you will be right in the middle of all the action, and included in the cost of the stand is a ticket for the LowCVP Annual Awards & CENEX networking dinner. Please take a look at the article about LCV2016 (link to LCV 2016 Article), download the booking form and send the completed form back to Zoe; alternatively, please give me a call if you would like to discuss it further.
Some news just in, the Niche Vehicle Network will hold a launch event for its 2016 Collaborative R&D Competitions on 7th July 2016. The focus of the 2016 Niche Vehicle competitions will again be on low carbon automotive technologies, including powertrain electrification, disruptive technologies, and lightweight materials and structures. This NVN initiative is ideal for many NAA supply base companies that are developing low emission technologies, if APC funding competitions are too large in terms of investment required – (Link to Niche Vehicle Competitions Launch Event Information).
One more thing, I'm speaking at the Santander Breakthrough Moments Festival, (Link to Santander Event Information); you're welcome to attend, especially if you're a manufacturing company.
Finally, please welcome new members the Automotive Apprenticeship Matching Service, BCA Leisure and Turbo Precision Components of Huddersfield. We look forward to a long relationship with each of them and the opportunity to get to know them better at our meetings. If any of you are interested in taking an apprentice, then please do make direct contact with the matching service see previous NAA article Link:- industry-news-automotive-apprenticeship-matching-service.
Carol