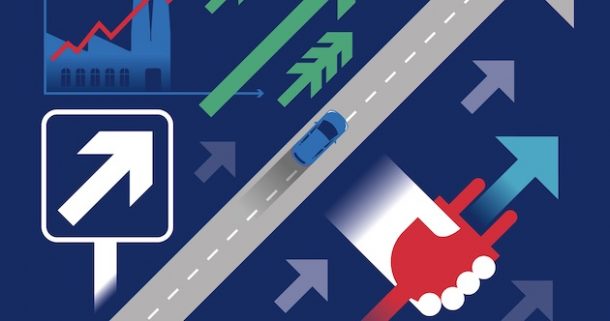 NAA Update: SMMT's 'From Full Throttle to Full Charge' report
The closing date for the NAA's Business Awards entries is looming, and the SMMT's 'From Full Throttle to Full Charge' report highlights the economic significance of the automotive industry in the North.
Welcome to this month's newsletter and I hope that you are all keeping well.
Last month's SMMT International Automotive Summit outlined the challenges that our sector faces, from Covid impacts to component shortages; supply chain disruption to trade uncertainty; and regulatory change to rising inflation. These pressures are also compounded by the UK's high energy costs, with electricity prices also 60% higher than the UK average. The SMMT's latest report, From Full Throttle to Full Charge, sets out how industry and government can work together to build a UK automotive ecosystem fit for a zero-emission future. The report highlights the economic significance of the automotive industry in the North – for example the North West has seen one of the highest levels of EV investment in recent years, at £2.8bn. Read the full report here.
The closing date for our Business Awards entries is looming, so get those pencils sharpened and your applications completed – you have until 22 July to refine them – categories include:
• Design & Innovation
• International Trade
• People & Skills
• Manufacturing Excellence
• CSR
• Logistics Excellence.
Details on award criteria can be found here – please contact Zoe for more information on both award entry and dinner reservations.
On the membership side, I would like to welcome one new member this month – Servispart Consulting.
Based in Cheshire, Servispart Consulting is an independent management consultancy dedicated to the aftermarket needs of manufacturers and distributors of engineered products (parts and equipment).
We will be hearing more from them in the coming months.
Last month saw a networking visit to NAA member Element Technology's Automotive Laboratory at Wednesbury. Element is a recognised leader in Testing, Inspection and Certification Services to a diverse range of industry sectors where failure in service is not an option. These include automotive; aerospace; energy; connected technologies; fire and building products – full event review can be found later in the e-news.
This month saw us visit the STFC Daresbury Laboratory for an event on developing the UK hydrogen vehicle supply chain, in conjunction with the Department for International Trade, the Advanced Propulsion Centre UK, NAA members ULEMCo and University of Liverpool Virtual Engineering Centre – full event review can be found later in the e-news.
Our partner organisation, Make UK, is running a Webinar on Thursday, 21 July "International Trade Webinar – Global Export Support" – Sharing best practice and guidance for boosting UK manufacturing exports – full details can be found later in the e-news.
We will hold our next NAA Members' Virtual Roundtable on 14 July, 11:00-12:00 – these offer a great opportunity to network with fellow members from the convenience of your own desk – if you would like to register, please contact Zoe
The SMMT, alongside other organisations, is hosting a number of trade missions over the coming months, starting with the Indian Trade Delegation Visit on 1 August – full details can be found here
The SMMT's Meet the Buyer event will be returning for 2022. The event will match automotive buyers with suppliers to develop meaningful business connections during this key period of recovery and transition. The event will be hosted physically at the Advanced Engineering Show at NEC on 2 November 2022 (10:00-17:00) and Expression of Interest is now open
Elsewhere in this month's newsletter, you can read about some of the latest developments from a selection of our other members, including Melling Performance Springs, ULEMCo and the University of Liverpool.
Future Training:
IATF16949:2016 – Internal Auditor (2 Days): 13 – 14 September
IATF16949:2016 – Lead Auditor (5 Days): 26 – 30 September
Core Tools:
Measurement Systems Analysis (MSA – 1 Day) – Date TBC
Statistical Process Control (SPC – 1 Day) – Date TBC
Advanced Product Quality Planning (APQP – 1 Day) – Date TBC
Failure Mode and Effects Analysis (FMEA – 1 Day) – Date TBC
All above courses are held virtually
Please contact Zoe regarding the above training courses
Additive Manufacturing – in partnership with member company 3DGBIRE and its CREATE project, the NAA is able to offer a two-day training course in Additive Manufacturing Technologies, covering an introduction, exploration and application of a wide variety of techniques including 3D scanning and printing. Please note however, that we need to achieve a minimum number of delegates per course to make this feasible. For further details please contact Zoe.
If you would like to submit content to feature in an upcoming e-news please contact Zoe.
Stay safe.
Paul Jones
NAA CEO