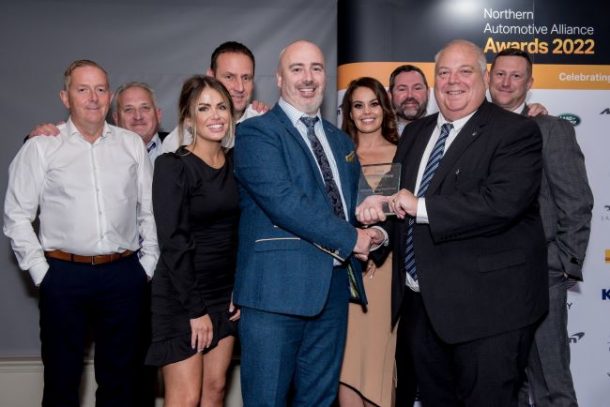 NAA Update: The NAA Award Winners 2022!
Congratulations to the NAA Award Winners 2022: The Abbey Group, The Blair Project, Briggs Automotive Company (BAC), Klarius Products and NanoSUN, with The Abbey Group winning the overall NAA Company of the Year Award.
Welcome to this month's newsletter and I hope that you are all keeping well.
Let me start with an update on the largest networking event of the year for us. Thursday 22 September saw the return of our Annual Business Awards and Networking Dinner, where we welcomed almost 200 guests from across our member companies to the Mere Golf Resort and Spa at Knutsford for a fabulous evening of networking, dining and entertainment.
We were treated to industry sector updates from Wes Jacklin, Chairman of our Directors and Advisory Board, and our Guest Speaker, Steve Cropley, Editor in Chief of Autocar magazine.
Thank you to all those companies who submitted an award application, sadly not everyone can win, however, we do appreciate the time and effort put in.
Congratulations to our winners and highly commended companies:
Manufacturing Excellence Award – Sponsored by Jaguar Land Rover
WINNER: The Abbey Group
International Trade Award – Sponsored by Amann Threads UK
WINNER: Briggs Automotive Company (BAC)
HIGHLY COMMENDED: Helical Technology
HIGHLY COMMENDED: Melling Performance Springs
Logistics Excellence Award – Sponsored by DHL Supply Chain
WINNER: Klarius Products
HIGHLY COMMENDED: Valuechain Technology
HIGHLY COMMENDED: Wynne Aviation Services
People & Skills Award – Sponsored by Klarius Products
WINNER: The Blair Project
Design & Innovation Award – Sponsored by McLaren Automotive
WINNER: NanoSUN
HIGHLY COMMENDED: Warwick Acoustics
Corporate & Social Responsibility Award – Sponsored by GEFCO
WINNER: The Abbey Group
HIGHLY COMMENDED: Businesswise Solutions
Company of the Year Award – Sponsored by Bentley Motors
WINNER: The Abbey Group
I would also like to thank all of our sponsors and attendees who made the event so successful.
Elsewhere, the new government's first full week of activity brought with it long-awaited news on the extent of business energy cost relief. Energy is a big issue for our industry, so capping wholesale gas and electricity prices for businesses for six months from 1 October gives thousands of automotive companies vital breathing space to keep their operations viable this winter. It remains, however, a short-term measure and it's clear, therefore, that longer-term solutions must be found to assure the viability of the sector over the coming months and years.
Moving on to the membership side, I would like to welcome one new member this month: Based in Birmingham, FR8 Technology enables a class-leading, ultra-low payload floor, through a new suspension and driveline technology for electric commercial vehicles – we will be hearing more from FR8 Technology in the coming months.
Member News
Last month, Briggs Automotive Company launched the Mono Art Car Challenge which is open to artists of all types – deadline for entries is 22 October and full details can be found later in the e-news.
Elsewhere in this month's newsletter, you can read about some of the latest developments from a selection of our other members, including Autac Products, Jaguar Land Rover, ULEMCo and Warwick Acoustics.
Events
We will be holding our next face to face networking event at UTAC Leyland testing centre on 27 October – full details can be found here
On 3 November we will be holding a webinar with Catax to discuss how to maximise your R&D tax claims – full details can be found here
We will hold our next NAA Members' Virtual Roundtable on 1 December from 11:00-12:00 – the Roundtable offers a great opportunity to network with fellow members from the convenience of your own desk – if you would like to register, please contact Zoe
You are also invited to join Make UK's HR Inform; From Flexible Working to a Four Day Week webinar at 10:30 – 11:45 on Wednesday 19 October for best practice sharing and practical guidance.
The pandemic has led employees and employers to re-consider their work-life balance on both a personal and professional level, with over one million employees having not returned to work post-pandemic. In order to provide a greater work-life balance, some firms have shortened the working week to four days. Whilst those firms currently remain in a minority, over half of manufacturers have started to offer flexible working post-pandemic. Many firms are considering the implications and practicalities of shortening the traditional working week or providing flexibility. Book your place here:
Make UK will be hosting a national Meet the Buyer event on the 29 November – this event will benefit businesses looking to solve supply chain challenges or source new technology. It will also be open to suppliers looking to promote their products to new clients – for more information, or to register please email: MemAdmin@makeuk.org
The Niche Vehicle Network 2022 Zero Emission Powered Light Vehicles (PLV) Feasibility Studies Competition is now open for applications. Funded by the Department for Transport (DfT) and supported by the Motorcycle Industry Association (MCIA), Zemo Partnership (Zemo), and Innovate UK, this competition provides grant funding of up to £35,000 – full details can be found later in the e-news.
Event Review – A Practical Introduction to Intellectual Property
Our latest networking event saw NAA member Marks & Clerk, a leading global intellectual property firm for more than a century, host a webinar on 'A Practical Introduction to Intellectual Property (IP)'.
The presentation covered an overview of the various types of IP, followed by an explanation of the range of benefits of IP. Both of these areas were clearly illustrated by case studies from a range of organisations within the automotive sector, nationally and globally.
Common IP pitfalls were then examined, followed by a summary of support and services available to prospective clients, with this latter topic illustrated via the whole IP journey from beginning to end including ongoing activities necessary.
Copies of the event recording together with the presentation slides are available on request.
Other News
The APC needs your insight to ensure that its products are right to meet the net-zero automotive challenge – if you could spare 15 minutes of your time to complete the survey it would be really helpful – full details later in the e-news.
Q4 Training
IATF16949:2016 – Lead Auditor (5 Days): 28 November – 2 December (Virtual)
Contact Zoe to register for above
Core Tools / Internal Auditor – Dates for 2023 TBC (Virtual)
Measurement Systems Analysis (MSA – 1 Day)
Production Part Approval Process (PPAP – 1 Day)
Statistical Process Control (SPC – 1 Day)
Advanced Product Quality Planning (APQP – 1 Day)
Failure Mode and Effects Analysis (FMEA – 1 Day)
IATF16949:2016 – Internal Auditor (2 Days)
To register your interest in the above courses, contact Zoe
If you would like to submit content to feature in an upcoming e-news please contact Zoe.
Stay safe.
Paul Jones
NAA CEO