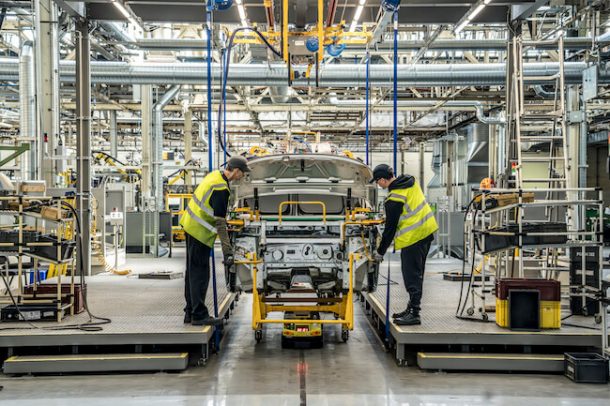 NAA Update: UK car production grows, but urgent solution needed for Rules of Origin
UK car production posted almost 40% growth in September, electrified cars have accounted for more than a third of all this year's exports, but tougher Rules of Origin coming into force from January 2024 risk the prospect of punitive 10% tariffs on EVs traded across the Channel.
Welcome to this month's newsletter and I hope that you are all keeping well.
Let me start with good news for UK car production, posting almost 40% growth in September to mark the best performance for the month since 2020, and the strongest uplift so far in 2023. While commercial vehicle output saw a small dip against a particularly strong September last year, it remained positive with volumes nearly double pre-Covid levels.
Latest figures from the SMMT demonstrate that electrified cars have accounted for more than a third of all this year's exports – up by more than a quarter. Electric CV production is also set to ramp up following last month's start of production at the now EV-only Ellesmere Port plant.
With Britain's growing foundational EV supply chain, world-class R&D expertise and a skilled and productive workforce, we are well positioned to become a global ZEV manufacturing hub – if the right investment and trading conditions are in place. Indeed, the sector is poised to deliver a £106 billion prize between now and the end of the next parliament – contingent, of course, on a competitive business environment.
A challenge to this ambition looms large on the horizon, however, with tougher Rules of Origin coming into force from January 2024, rules that risk undermining electrified car and CV production both here and in the EU. The prospect of punitive 10% tariffs on EVs traded across the Channel is a clear and present danger, which requires an urgent resolution. Otherwise, both the UK and EU industries will face severe competitiveness challenges, and consumers on both sides of the Channel increased costs.
The obvious – and urgent – solution is to delay these requirements to 2027, allowing the necessary breathing space for automotive sectors on both sides of the Channel to scale up gigafactories and supply chains. This is readily achievable through the existing TCA framework with no need for formal renegotiation. We know the UK government supports this, and our EU industry counterparts are in equal agreement, stressing the need for such a delay in a letter to the European Commission President Ursula von der Leyen last month.
In other local news, the Lancashire Local Skills Improvement Plan (LSIP) is bringing together employers, providers and other key stakeholders to deliver on the skills and employment priorities highlighted in the LSIP report. Further details and how to get involved can be found here.
Elsewhere in this month's newsletter, you can read about some of the latest developments from a selection of our other members, including B&FC; DHL Supply Chain; JLR; Melo World; STFC Hartree Centre; and VEC.
The University of Salford's Energy House 2.0 opened its doors to the public in September, with over 700 visitors, allowing them a unique glimpse into the heart of innovation and sustainability. To read more about this and other news on the Energy House 2.0, click here to view their October newsletter.
In September, all members will have received an e-mail from Zoe in regard to a benefits package, launched by Mercury Hampton and exclusive to NAA Members – if you would like to know more, please contact Zoe.
Dates for your diary – NAA Events / Webinars:
16 November – NAA Webinar, hosted by Grant Thornton / 11:00 – 12:00
23 November – NAA Networking Event: UTAC, Leyland / 12:00 – 15:15 (now fully booked – contact Zoe for reserve list)
7 December – NAA Networking Event: STFC Hartree, Daresbury / 12:00 – 15:15
If you would like to register for any of the above NAA events and/or webinars, please contact Zoe.
Other Events
Powertrain Systems for a Sustainable Future Conference 2023
29-30 November 2023, London
The IMechE warmly welcomes Northern Automotive Alliance members and their colleagues to this upcoming technical event.
Following the successes in 2021, the conference will provide a key forum for all vehicle, engine and powertrain development engineers and researchers to share their work and learn about the latest development and technological trends taking place – for more details, read further in the e-news.
SMMT Meet the Funder
7 December, London
The SMMT, in partnership with the Green Finance Institute (GFI), will be running a pilot Meet the Funder event on 7 December at SMMT's offices in Westminster, London.
The aim of the event will be to help match automotive companies with the investment they need to help drive change and a greener future for the UK auto sector.
The event will deliver pre-arranged meetings between automotive companies and potential investors over the course of a day, with additional networking, exhibition and presentations for those taking part.
Investors taking part will be spread across a range of types, including venture capital, private equity and auto industry players who will be looking for an equally wide range of company types, ranging from start-ups through to scale-ups and more established suppliers looking for investment to support a significant transition or growth plan.
If you are interested in taking part, either as an automotive company or as an investor, you can express your here.
Training:
5 December
1 Day AIAG/VDA Combined FMEA Awareness Training (Virtual)
As always, if you have any training requirements, please contact Zoe.
And if you would like to submit content to feature in upcoming e-news please contact Zoe.
Paul Jones
NAA CEO