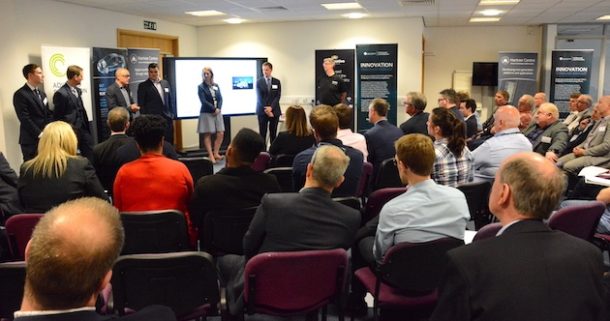 NAA Update: VM Strategic Collaboration! Can you implement in your business?
New NAA Training Hub, Are you ready for Electrification?, Automechanika, SMMT Open Forum, Robert Llewellyn's Fully Charged Live, and the NAA's first International Forum…
The NAA launched its new Training Hub this month, with a new portfolio of training courses, which sit alongside the long standing technical training offerings. The courses added were a direct response to the needs of NAA members, and include courses such as Leadership training through Dale Carnegie, and an Industry 4.0 Access Programme, which can be paid through Levy funds.
This month also saw the return of Automechanika at the NEC in Birmingham, and was a fantastic opportunity to catch up on the latest industry news, and also with a number of NAA members who were present. A special mention to members Forteq and TR Fastenings who exhibited at the event! Exhibiting at events can be expensive, but is a fantastic means of exposure for your business. For anyone interested in exhibiting at the Advanced Engineering Fair in October, for half the price, please click here.
Back to Automechanika – perhaps some of the most encouraging messages came from the afternoon 'SMMT Open Forum' session, where a number of guest speakers were invited to talk about battery technology. One speaker from Unipart Group, who launched the UK's largest independent vehicle battery manufacturing facility (in a joint venture with Williams Advanced Engineering), emphasised more than once the importance that the majority of their supply chain should be UK-based. A call to arms of sorts! And a particularly well-timed message following the recent NAA Electrification event where it was demonstrated there is a wide range of components that are needed for these batteries. Interestingly, Unipart Group's first customer is Aston Martin, where they will develop a battery system that fits into a car with a platform designed for an internal combustion engine!
In other Industry news, Ford has announced the planned closure of its engine plant at Bridgend in 2020, with the loss of 1,700 jobs. Former First Minister Carwyn Jones said while the company publicly denied the decision was related, it had privately told the Welsh Government the prospect of leaving the EU without a deal was a factor. Ford has consistently stated that 'a no deal, hard Brexit would be catastrophic for our operations and for much of the automotive industry in the UK'. More bad news for our industry, which begs the question – what can the new incoming Prime Minister do to turn things around?
In some more positive industry news, Jaguar Land Rover and BMW have announced they are to join forces on developing electric car technologies. The car giants said they would work together to develop electric motors, transmissions and power electronics. The driver for the partnership is to save costs through shared research, shared production planning, and by jointly buying electric car components. This demonstrates that even the 'big guys' need to collaborate to survive in these tough economic times – so I ask the question to all of our NAA members… have you thought about strategic collaboration?
Still on the subject of electric vehicles, Robert Llewellyn's Fully Charged Live event at Silverstone on 7th, 8th & 9th June attracted over 10,000 people – even though the weather was more appropriate for an event promoting boats than cars. All the latest electric cars were on show, and many were available for drives around Silverstone's Stowe circuit. I'm sure Robert will share some of the more amusing moments from the event with us when he speaks at our Awards Dinner on 7th November. In the meantime you can read a review about the Fully Charged Live event here.
This month also saw the launch of the NAA's first International Forum in partnership with Enterprise Ireland. With the impending Brexit, now, more than ever before, it is important to maintain our international business relationships. The NAA has partnered with like-minded organisations in Germany, Ireland, Italy and Spain to maintain and grow the international links with companies who wish to do business with our region, and to support NAA members in their efforts to export. A special thanks to Sean Long and Paul Wingrove for their support.
I would also like to make you aware of some of the following upcoming events:
Printing for the Future (FDM Digital Solutions, Burnley, 17th July)–how additive manufacturing is transforming low volume automotive production.
The journey to predictive maintenance (Webinar, 25th July)– a first for NAA, this Webinar gives members a chance to gain knowledge remotely about how you can develop a smarter factory.
Mental Health Awareness (Morson, Manchester, 12th September)
Driving Behaviour – a twist and turns safety journey (NGF, St. Helens, 10th October)
Rowan