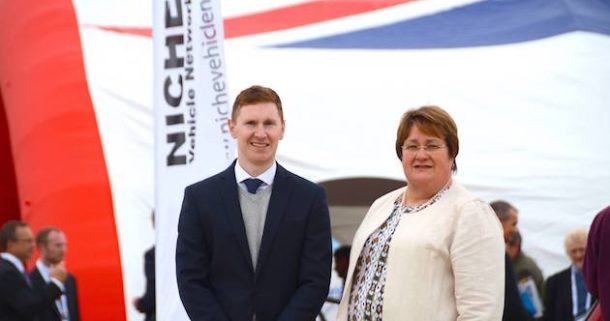 NAA Update: Welcome to the NAA's new CEO
I would like you all to join me in welcoming Rowan Egan to the NAA. Rowan became our new CEO as of 1st September. As you can imagine, it's a bit of a whirlwind introduction, as September is one of our busiest months of the year. If you would like to find out more about Rowan then please take a look at this month's "In The Driving Seat" article.…
Please also take a look at our article about the Low Carbon Vehicle Show, held last week at Millbrook Proving Ground. As always it was a superb event with seminars, exhibition and ride & drive opportunities – as well as the opportunity to visit and meet the key government groups involved in the industry from a national perspective. I know I've said this before, but it really is the place to go if you are serious about being involved in the next generation of vehicles – there's something for everyone there.
In my new (part-time) role as Technical Specialist for the NAA I would really like the NAA to have a stand at LCV again next year, spotlighting the lightweighting and Digital Engineering projects and opportunities that we have within the NAA. We can also aim to secure speaking opportunities as well as arrange meetings with key people. If you're interested then please contact me as soon as possible, because stands for next year's LCV event need to be provisionally reserved now.
During last week the winners of the APC10 competition were announced and we have had a North West success with NAA Board Members Sigmatex being successful in winning part of the £22m awarded between themselves and Jaguar Land Rover – both for lightweighting projects.
Sigmatex's ARCS (Affordable High Rate Composite Structures) project seeks to develop a high-volume, low-cost carbon fibre textile and material handling process. New methods will simplify the production process, while drastically increasing the rate of production and productivity. The project addresses the application of affordable lightweight technologies needed to make the transition from conventional components to next generation lightweight solutions. In addition to strengthening the UK's supply chain, the technology developed will position the country as a global leader in lightweighting technology.
At LCV2018 the NVN project winners were announced, which included NAA member AJE Powertrain with the titanium brake caliper in the production readiness competition.
Briggs Automotive Company (BAC) has also received funding to undertake research on graphene, with a view to pushing the technology towards production-readiness Link to BAC Graphene Research Article
I would also like to welcome a new NAA member, FD Sims, the only company in the UK that produces wire that is used in the manufacture of electric motors in volume. This is an excellent example of how an old established company can start to see new opportunities in the Automotive Industry.
By now you should have already submitted your application for an NAA Award – best of luck to everyone during the judging period in the coming weeks.  Now is the time to get your dinner tickets for what should be an excellent event with Robert Llewellyn leading the proceedings. Please look at bringing with you a guest from the education sector. It can be a head teacher, or a STEM teacher – so that they can witness first-hand the success and benefits of working in our industry, and spread the word to others. We can't just sit and think people will want to join our industry, we have to actively go out and sell the benefits. I have had a thoroughly enjoyable career, travelling the world, working on technical activities, working with individuals from many nations, and getting to experience their cultures – and many of them are still close friends. I have, and would still, recommend a career in both engineering and the automotive industry to anyone!
This will be my last monthly newsletter article as Rowan will be the author from now on. So, this is my last chance to say a few words (did I hear some of you say, I doubt that!).
I believe that the North West, Yorkshire & Humber have a lot to offer the automotive industry both from a manufacturing and academic perspective – but it is a very diverse offering with quite a broad geography. The automotive industry is changing, EVs are here now, but their growth in the market place will be significant over the next 10 years, plus there will be the arrival of greater levels of connected and autonomous vehicles. Don't hide your head in the sand, you need to have a strategy as to how you are going to embrace this new world: there are plenty of opportunities available. I believe that it is important that we all collaborate from both a private and public sector perspective – please remember that we are here to aid and assist you on you journey. We are in a unique position to work with both groups and to help you find the optimum solutions for your company.
Other areas of England have realised the benefits that an organisation such as ours brings to the local automotive community, with the NEAA starting up in 2015 and this week Drive Midlands will be launched as a member organisation – we wish them all the best. But don't take us for granted; as I have said before, use us or lose us as a cluster organisation – we will not survive if you do not support us.
I was NAA CEO for eight and half years, which was the longest time that I have been in one position throughout my working life! We have changed significantly from April 2010 when we were wholly funded by the North West Development Agency, had 10 staff on the books and had a huge office with its own training room etc. I like to think that with three and half full-time staff and a virtual office we are more successful, better known throughout the industry, and more effective than when I arrived.
Thank you all for your support, it's now time for a change to prevent the NAA from stagnating, so I look forward to seeing how Rowan will shape and develop the organisation in the coming years – please give him as much support as you have given me.
Finally, as this is my last article, I also wanted to sneak in a quick final thought about electric cars. We've now had our BMW i3 for nearly four months – I'm still really pleased with it and the cost of fuel for its seven days away in August was just under £3. Our son, who was sceptical initially, was insured to drive it while his car was being serviced and he is now hooked, he loves its acceleration and leaving everyone behind at the traffic lights. Which is perhaps more evidence – not that any is needed – that electric cars are the future, and my question would be, is your business ready? That seems like a good place to leave things for Rowan to pick up from…
Carol