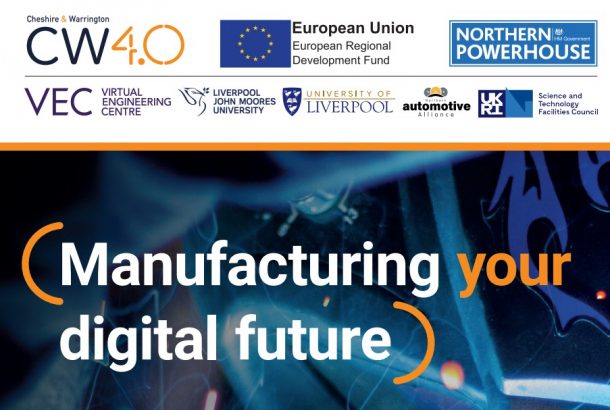 NEED FOR INDUSTRIAL DIGITALISATION
Are you a manufacturing company based in Cheshire? Are you an SME with a turnover of less than €50 million, or a balance sheet total of less than €43 million? Are you interested in opportunities for growth and investment through the adoption of digital technology? If so, the NAA would like to hear from you.
Whatever opportunity lies ahead, adopting industrial digital technologies will help you maximise your business potential.
Whether you're planning for growth, bidding for investment, succession planning, or you simply want to improve efficiencies, we can help.
Cheshire & Warrington's manufacturing sector is one of the fastest growing in the UK. As the challenges of Brexit and COVID-19 lighten, new business opportunities are emerging for the region's SMEs – from the march to NetZero and vehicle electrification to responding to Supply Chain challenges and MedTech 4.0.
With digitalised ways of working fast becoming non-negotiable, expectations of OEMs and Primes, long-term business growth and resilience requires supply chain businesses to adopt new technologies, skills, and ideas.
Part-funded by the European Regional Development Fund (ERDF), Cheshire & Warrington 4.0 (CW4.0) has been created to help manufacturing businesses to seize opportunities for growth and investment through the adoption of digital technology.
The CW4.0 Project will:
Support 170 SMEs and collaborations
20 new start-ups across the region
Support in the creation of new valuable jobs
Support in the development of 40 new products to market and 60 new products to firms
Benefits to your business:
Access fully-funded and impartial support
Practical, hands-on support and advice
Take advantage of new opportunities for investment and growth
Adapt to a changing world and upskill staff
Boost efficiency through smarter products and processes
Identify which digital tools and skills can really add value to your business in your digital transformation journey
Become better connected through digital enabled supply chains
Collaborate with leading universities and industry experts whilst accessing advanced and world-class facilities.
If your business meets the following criteria, you are eligible for this fully-funded support:
Operates within the Cheshire and Warrington region
Manufacturing companies (including pharmaceutical, renewables, medical and more)
Classified as an SME (fewer than 250 employees)
Have a turnover of less than €50 million, or a balance sheet total of less than €43 million
If you would like to learn more or are interested in accessing this support, please contact: