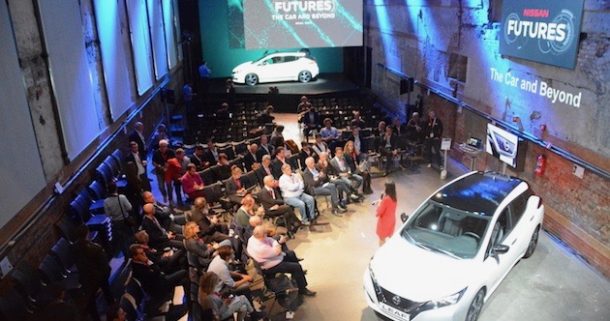 Nissan Futures event review: Cars and Energy Come Together
The headline from the 2017 Nissan Futures event in Oslo was the European launch of the new Nissan LEAF, together with the increased driving range of the Nissan e-NV200 electric van, but stepping back from the cars and taking an overview of the event as a whole, the most significant news was Nissan's announcements in the area of energy, where there's a huge amount of change happening.
The third Nissan Futures event – 'The Car and Beyond' – was a statement from Nissan that it is aiming to lead the changes that are happening with EVs and energy, as the world acknowledges that electric cars are the future. Other players in the automotive industry should take note, or risk being left behind.
Before we look at the significant opportunities for the energy industry from the shift to electric cars, let's just recap on Nissan's new car news.
The new Nissan LEAF had its European launch at the Nissan Futures event. The highlights are that it has new exterior styling, a new interior, and a longer official driving range of 235 miles. It also comes with ProPILOT, an advanced driver assistance system, which uses steering, braking and acceleration to assist the driver within single lane, low speed traffic, highway driving environments.
The key point is that the Nissan LEAF aims to be an affordable, mainstream electric vehicle, in a market where Tesla and a range of premium manufacturers are bringing new models to market at, typically, a much higher price. The launch edition of the new LEAF costs £26,490 including the UK Government plug-in car grant, with cars being delivered from the beginning of 2018.
A higher-powered/longer range LEAF will be available in spring 2019, and a LEAF Nismo will be unveiled at the forthcoming Tokyo Motor Show.
It was also announced that the Nissan e-NV200 100% electric van would be available with a new battery offering a longer range. It's easy for the e-NV200 van to be overlooked due to all the attention being on the Nissan LEAF, but it could be argued that the van is actually more important. This is because one of the key issues for cities is the emissions from increasing diesel van deliveries, and there really is virtually no choice in the electric van market. The existing Nissan e-NV200 100% electric van has a fairly limited real-world driving range, so the new van, with an official range of 174 miles, is a welcome addition to the market. It even has a variety of body styles, being available in Van, Combi or Evalia variants, with 4 or 5 doors, and 2, 5 or 7 seats. The e-NV200 has a maximum payload of 694kg, with a cargo area measuring 2m in length, 1.5m in width, and 1.35m in height.
Back to energy, Nissan's big news is that it plans to offer its customers free power to charge their EVs. This is based on Nissan EV owners having bi-directional charging, which means that energy can be taken out of the car's battery when needed by the grid. By doing this, the cost of charging an EV can be offset by revenue gained from offering energy back to the grid. Nissan says that a 'nominal charge' needs to be paid for the installation of a V2G charger.
This approach has been trialled with fleet customers in Denmark, and there are now plans to offer a similar service in the UK. Nissan announced a collaboration with OVO allowing customers to purchase an xStorage home energy unit at a discounted price, enabling them to sell back energy to the grid.
OVO's VNet intelligent energy technology will be combined with the capabilities of Nissan's xStorage Home system, as OVO plans to launch OVO SolarStore (beta), the company's first battery storage offering. OVO customers with solar panels will be able to buy an xStorage Home system from OVO for £4,800 (excluding installation), and benefit from savings of £590 per year, comprised of an annual £350 Battery Credit and an estimated annual average energy bill saving of £240. This latest home energy storage system can store energy from solar panels, which can then be used to charge a Nissan EV – delivering 100% renewable, zero emission power.
As well as this home battery storage system, Nissan and OVO are also intending to launch a vehicle-to-grid (V2G) offering for private customers buying the new Nissan LEAF from January 2018 – which will allow customers to sell energy to the grid at peak times.
The V2G offering will work by allowing Nissan EV owners to connect to the grid to charge at low-demand, cheap tariff periods. They can then use the electricity stored in the vehicle's battery at home and at work when costs are higher, or even feed electricity back to the grid which could generate revenue for EV owners. OVO plans to create special tariffs to reward customers for this interaction with the grid.
OVO estimates that if all of the 20,000 Nissan electric vehicles currently in the UK were connected to the energy network they would generate the equivalent output of a 200 MW power plant. In a future where all vehicles on UK roads are electric, V2G technology could generate a 'virtual power plant' of up to 200 GW. This energy capacity is more than double the peak demand on the UK grid.
Nissan also announced that it is offering EV buyers home chargers that are twice as fast as the current versions. The new 7kW home charger will provide a LEAF with a 100% charge in just 5.5 hours – a 70% reduction in charging time from the previous charging technology.
There's also a 22kW charger for fleet and business customers, capable of charging a Nissan EV in just two hours. The new range of home and office charging units will be available from early 2018.
In addition, Nissan announced a plan to expand its existing public charging network by 20% over the next 18 months. Working with the CHAdeMO EV fast charging standard, the company has already built Europe's most comprehensive charging network, with over 4,600 quick chargers. Nissan now plans to invest in supporting the installation of a further 1,000 chargers over the next 18 months.
So Nissan is genuinely 'going beyond the car', during a period described by Nissan as an "incredible time to be in the automotive industry". As well as Nissan showing leadership in the automotive industry, Oslo, the venue for the Nissan Futures event, and the European Green Capital for 2019, is showing leadership in the area of EV incentives, such as by offering EVs zero tax, free parking, free charging, and the ability to use bus lanes. In September 2017 there was a 40% market share for pure EVs, and one in every two vehicles sold by Nissan in Norway was an EV.
Nissan stressed that it can't do everything in this exciting new world of opportunities by itself, and that collaboration is required between the automotive and energy sectors – as well as with other industries.
The Nissan Futures event showed that electric vehicles are the way forward, and that they're likely to be adopted more rapidly than many people have previously thought. Nissan appears to be ahead of the curve; elements of the automotive industry that are lagging behind in the area of EVs should be taking urgent action now if they want to guarantee their future.
Paul Clarke