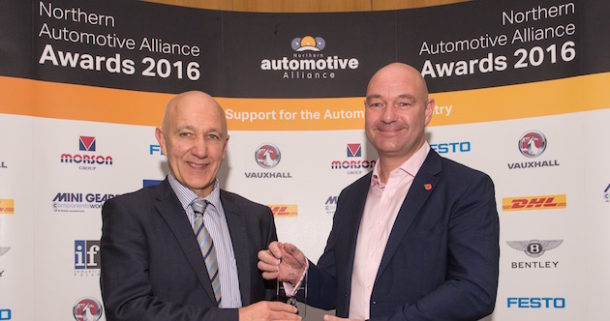 Northern Automotive Alliance Awards highlight innovation in the region's automotive businesses
The winners of the Northern Automotive Alliance (NAA) Awards 2016 show that there is widespread and diverse innovation in the region's automotive companies…
The NAA Awards, which showcase the successes of vehicle manufacturers, supply chain companies and service providers in the region, took place in Manchester on 10th November 2016. Lawrence Davies MBE, CEO, Automotive Investment Organisation (AIO), Department for International Trade, gave a keynote speech to the audience of over 270 members of the Northern and national automotive communities.
The winner of the overall NAA Company of the Year Award 2016, sponsored by Bentley Motors Ltd, was Scorpion Automotive Ltd. Scorpion Automotive is the UK's leading designer and manufacturer of vehicle alarm, immobiliser and GPS fleet management and theft tracking systems for cars, motorcycles, LCVs and HGVs. Scorpion products are supplied worldwide to automotive manufacturers such as Aston Martin, BMW Motorrad, BAC, Caterham, Toyota, Subaru, Isuzu, DAF Trucks, Leyland Trucks, Iveco, Norton and Triumph Motorcycles. The judges awarded the NAA Company of the Year accolade to Scorpion based on the "all-round excellence of the business, including achievements in the areas of manufacturing, quality and international trade."
Scorpion Automotive also won the Manufacturing Excellence Award, sponsored by Vauxhall, for measurable improvements that the TS16949 accredited company has made in its manufacturing, backed up by a recent £1 million investment in a new state of the art manufacturing facility.
Commenting on receiving the Awards, Mark Downing, Managing Director of Scorpion Automotive, said "We're delighted to have won the Northern Automotive Alliance Manufacturing Excellence and Company of the Year Awards. Scorpion Automotive is fast becoming a global force in the design and manufacture of automotive electronic products, alarms, immobilisers, GPS tracking systems and LED technology. Being an NAA Award winner will be another reason for vehicle manufacturers and aftermarket customers in 15 countries spanning 6 continents to continue choosing to work with us."
The winners at the NAA Awards event, which was sponsored by Festo and GEFCO, were:
Innovation Award
Sponsored by Jaguar Land Rover
SOMI Trailers Ltd
International Trade Award
Sponsored by Morson Group
Briggs Automotive Company (BAC) Ltd
Marketing Award
Sponsored by Mini Gears
EA Technology Ltd (for the Electric Nation project)
People & Skills Award
Sponsored by Industry Forum
Auto Marine Cables Ltd
Manufacturing Excellence Award
Sponsored by Vauxhall
Scorpion Automotive Ltd
Logistics Excellence Award
Sponsored by DHL Supply Chain
Briggs Automotive Company (BAC) Ltd
Company of the Year Award
Sponsored by Bentley Motors Ltd
Scorpion Automotive Ltd
The Innovation Award was particularly hotly contested this year, with six shortlisted companies: BAC, CSA Group, G&P, OakTec, SOMI and Vodafone Automotive.
The eventual winner was SOMI for its new HGV trailer design which carries eight extra pallets by incorporating the area underneath the trailer into the main compartment. This reduces four HGV trips to three, saving costs, fuel, emissions and traffic congestion. This new innovation has taken nine years and has achieved 22 granted patents.
As a demonstration of the high calibre of entrants for the Innovation Award, Briggs Automotive Company (BAC), manufacturer of the highly acclaimed single-seat Mono supercar, was also shortlisted. BAC was ultimately successful not just with one, but with a total of two other Awards: International Trade and Logistics Excellence.
Another shortlisted company for the Innovation Award was OakTec. The company's director Paul Andrews returned just in time for the Awards ceremony from accompanying the Prime Minister on a Trade Mission to India. OakTec was meeting companies in India to discuss the commercialisation of its Pulse-R multi-gas and multi-fuel engine technology.
A further example of innovation was evident with EA Technology's Electric Nation project, which was the winner of the Marketing Award. Electric Nation, the world's largest electric vehicle (EV) trial of its kind, is testing a smart charging system in order to avoid excessive strain on local electricity networks when clusters of EVs charge at peak times. A strategic marketing campaign has resulted in a high level of interest from EV owners to take part in the project.
Auto Marine Cables Ltd, the winner of last year's overall NAA Company of the Year Award, won the 2016 People & Skills Award. Auto Marine Cables is a manufacturer of high quality cables and a distributor of electrical components and accessories throughout the Automotive and Marine sectors.
Carol Holden OBE, NAA Chief Executive, commented: "Our Annual Awards event has shown that there is a vibrant innovation community in the Northern Automotive area. Such an approach helps to provide competitive advantage for our companies, and combined with the significant investments that have been made since the start of 2015, you can see why many of our members are optimistic in the face of often rapidly changing global trading conditions."
Garry Wilson, Director – Business Development, Advanced Propulsion Centre (APC), added: "It's excellent to see the wide range of innovation from NAA members at this Awards celebration. We continue to be impressed with the strength of automotive innovation and supply chain development from NAA companies, many of which are participating as collaborators on APC projects or through one of our other support mechanisms. Very well done to all the winners."
The Northern Automotive Alliance helps to support and nurture supply chain companies to grow into larger businesses, in order to strengthen the upstream supply chain in the UK. The NAA works with the Automotive Investment Organisation (AIO) to help supply chain companies to increase sales to OEMs and Tier 1 suppliers, to access finance and to promote trade opportunities.
The innovation displayed by NAA companies has been supplemented by the release of recent figures that showed that Northern Automotive supply base and niche vehicle manufacturing companies were responsible for investments of £22 million during 2015. These figures purely relate to Small & Medium Sized Enterprises (SMEs) and do not include investments by the major vehicle manufacturers in the region, ie. Bentley Motors, Jaguar Land Rover, Leyland Trucks and Vauxhall.
This provides an interesting contrast to a similar survey conducted just one year earlier, for 2014, when investments totalling just over £7.5m were made. The latest figures equate to an increase in investment of around 300%. In addition, at least 341 jobs were created by automotive SMEs in the Northern region during 2015 – compared to 237 jobs during 2014.
The NAA is an independent, not-for-profit company which provides a membership service to the automotive community, supporting micro-companies through to the locally-based global vehicle manufacturers. Find out more at www.northernautoalliance.com