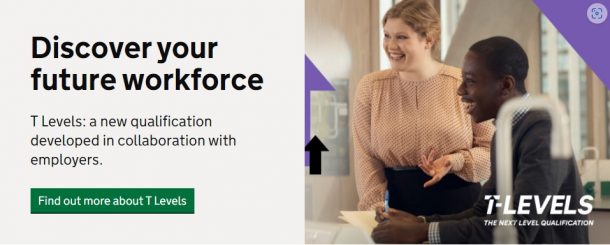 Other News: T Level courses – designed with employers, for employers
Employers have told us that they face a skills shortage that could impact the future success of businesses. In response, the government has worked alongside hundreds of employers to design T Level courses that deliver the skills your business needs.
Each T Level is equivalent in size to 3 A-levels and helps young people develop the knowledge, attitude and practical skills to thrive in the workplace.
At the heart of each course, every T Level student completes an industry placement that lasts a minimum of 315 hours (approximately 45 days). Industry placements give you a unique opportunity to help develop new talent in your industry, and get young people work-ready.
• Develop your future talent/workforce and bring fresh ideas and perspective
• Flexible scheme to meet your business
• A new qualification developed in collaboration with employers
• An industry placement is at the heart of each T Level
• Government funded scheme, but you may have your own business costs
• The qualification designed by employers to provide the skills set you need