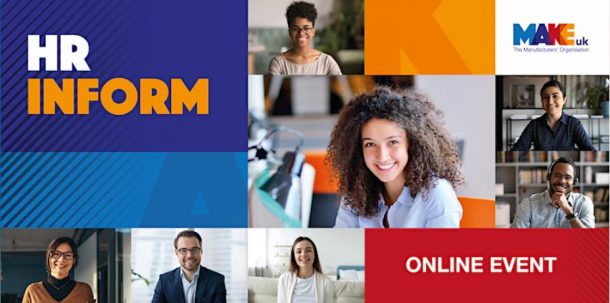 Partner Event: Make UK Invitation – HR Inform: From Flexible Working to a Four Day Week
You are invited to join Make UK's HR Inform From Flexible Working to a Four Day Week webinar at 10:30 – 11:45 on Wednesday 19 October for best practice sharing and practical guidance.
The pandemic has led employees and employers to re-consider their work-life balance on both a personal and professional level, with over one million employees having not returned to work post-pandemic. In order to provide a greater work life balance, some firms have shortened the working week to four days. Whilst those firms currently remain in a minority, over half of manufacturers have started to offer flexible working post-pandemic. Many firms are considering the implications and practicalities of shortening the traditional working week or providing flexibility.
Register your place here
This online event will provide unique insight into those firms that have made flexible working and a four-day week a reality. In this session you will hear from a HR & employment law expert on change management and from both an SME and a Large organisation on their experience of implementing flexible working.
Guest Speakers:
• Sharon Broughton, Head of HR & Legal, Make UK
• Dan Hutchinson, Vice President HR, UK & Ireland, Schneider Electric
• Laura Clarke, Managing Director, Chillwell Products Ltd on their Four Day Week
Feedback from the Make UK HR Inform webinar series:
'This webinar series is great! Really informative looking at current issues but with a forward-thinking approach. For me personally it was reassuring to know our HR Strategy is spot on in line with the recommendations!' – Savita Kudhail, Head of HR, Aston Manor Cider
'Very informative and insightful with lots of great ideas to provoke thought' – Anna Murphy, Head of HR, Stadco Ltd
'Very informative and accessible information, including enlightening, real case studies' – Louise Hughes, Head of HR, Neoperl UK