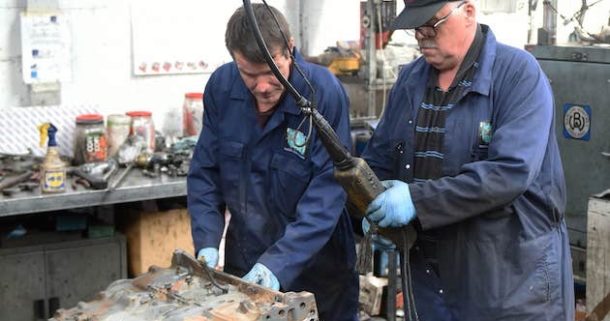 The Manufacturing Growth Fund solving problems for North West manufacturing firms
North West small-and-medium manufacturing firms have the opportunity to drive growth in their business says Anne Campion, Manufacturing Lead at the Manufacturing Growth Fund – a specialist grant-backed scheme to help deliver projects which will boost productivity in the region.
The North West has a proud and rich history of manufacturing and remains a vital cog in the UK's economy. Manufacturing in the North West accounts for 14% of its local economy and 9% of employment with world-renowned expertise in the fields of automotive, aerospace and advanced manufacturing.
But we also know that the UK faces huge uncertainty at the moment, baring significant recent losses in the automotive supply chain, whilst productivity is 16% lower than anticipated and output per hour is 20% behind the G7 average.
But what does this mean for an 'average' manufacturing firm. Beyond the challenges from overseas closures and from Westminster, many firms are struggling to fulfil their order book, or to access quality and cost-effective materials. Some are looking to reach new customers or develop their product range, whilst others are taking the first steps into industrial digitalisation. The challenge in every business is unique, which is where the Manufacturing Growth Fund comes in.
Eligible firms can access fully-funded specialist advice from our team of manufacturing advisors, to create and plan a specification for a new growth project, of which 36% is paid for by the Manufacturing Growth Fund. In addition, there are capital grants available for businesses needing to invest in facilities and equipment, which covers 50% of the cost. The expert guidance sets this fund apart by reassuring the business they're investing wisely and maximising return on investment.
And most importantly it is working. Since 2016 we have worked with over 218 businesses across Cheshire and Warrington, Cumbria, Greater Manchester, Lancashire and Liverpool City Region and we have helped to create 189 jobs, launch 45 new products and increase sales by £9.7million.
There are a limited number of grants available, so I urge any business with a problem to solve, to get in touch, and let us help you find the best solution.
Visit www.manufacturingnorthwest.com for more details and to get in touch.
Funding for the scheme comes from the European Regional Development Fund and is guaranteed until at least the end of 2021.
Case study: E&E Potts increased productivity by 20% and secured 3 new contracts
E&E Potts remanufacture diesel engines for the transport sector from their factory in Salford. Brian Potts, Managing Director approached the Manufacturing Growth Fund for support when the opportunity to win new business arose. Brian said:
"Several of our clients had indicated that if we had the capacity to work on larger scale jobs within our facility they could place long term lucrative contracts with us."
Brian met with Geoff Crossley, a specialist Manufacturing Advisor who helped him to redesign the factory layout and implemented Lean manufacturing techniques to increase capacity and reduce waste. The business needed to build a new, larger access point, and they received a grant from the Manufacturing Growth Fund which match funded their investment.
Brian said: "The support we have received from the GC Business Growth Hub has helped our business enormously.
"Once access was improved, we let our customers know about our new service and we have been inundated with orders. The increased demand for our new service means we are now looking to expand further and take on additional staff."
The business increased turnover by £50k within six months of completing the work and anticipate further growth in 2019.