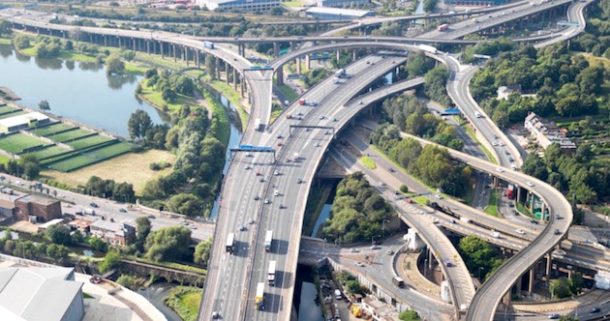 Transport feature: Motorways in the NAA region – what is being done to help us travel around more efficiently?
Have you been delayed on motorways due to accidents? Congestion on the strategic road network is estimated to cost the economy £3 billion each year, 25% of which is caused by incidents. Have you ever wondered if anything is being done to address this? NAA newsletter editor Paul Clarke asks Highways England what is being done to help us move around more smartly and more efficiently…
Q: Many NAA members experience delays on motorways caused by accidents as they travel around the region and the UK on business. What is being done about this?

A: Safety is the top priority for Highways England and we operate some of the safest roads in the world.
We are working hard to do more to increase road user safety, and we have a target to reduce the number of people killed or seriously injured on our network by 40% by the end of 2020.
We are working to further improve safety. In terms of education, we are undertaking a number of targeted campaigns on a variety of media platforms. Some of the most recent are the hard hitting 'when it rains it kills' video (https://www.youtube.com/watch?v=x75jZiLFMUg), the smart motorway campaign (https://www.gov.uk/guidance/how-to-drive-on-a-smart-motorway) and our latest TV-led 'vehicle checks' campaign (https://www.youtube.com/channel/UC68PZJdKAzOWv0yDHqXrmZw)
Highways England will continue to educate road users and work with organisations like the AA, RAC and Road Haulage Association on safer vehicles and ensuring vehicles are in a good condition (condition of tyres and sufficient fuel/oil).
We are not complacent and we will continue to commission a range of research projects to further improve road safety, including research into the causes of fatalities in collisions on our roads and the factors which contribute to poor driver behaviour.
We are also working with vulnerable road user groups, such as cyclists and motorcyclists, to ensure their needs are met in the design of future schemes. With this in mind, Highways England is investing in safety schemes, funded by one of our ring-fenced funds. These schemes focus on changes to infrastructure and how we manage this to reduce the likelihood of incidents happening.
Q: What is the cost is to clear up accidents on motorways in the UK over the course of a year?

A: Department for Transport statistics show that the average value of prevention of reported fatal road accidents on motorways, for 2015, was £2,121,965. (See:
https://www.gov.uk/government/statistical-data-sets/ras60-average-value-of-preventing-road-accidents)
Q: What is the cost to the UK economy from people being delayed on motorways due to accidents?

A: Congestion on the strategic road network is estimated to cost the economy £3 billion each year, 25% of which is caused by incidents (see reference below and link to CLEAR report on gov.uk).
When incidents do occur, we commit to responding more promptly, and developing the right level of response to resolve the issue and prevent any further escalation.
We will coordinate Traffic Officers, our asset maintenance and vehicle clearance contractors in a timely manner to clear the incident and reopen the affected lanes or road to traffic.
We have a target of at least 85% of all motorway incidents should be cleared within one hour.
More information can be found here: https://www.gov.uk/government/publications/investigation-and-closure-procedures-for-motorway-incidents
Q: Standards of driving on motorways seem to be very poor, this is evident in the amount of people who sit in the middle/wrong lane on motorways. In 2013 it was announced that the police would target people who sit in the wrong lane on motorways. Has this been done, has it had any effect, and what more should be done about driving standards on motorways/lane discipline?
A: Middle Lane Hogging became part of a change in law brought in by DfT. More information can be found within the news release issued by DfT:
https://www.gov.uk/government/news/new-penalties-to-tackle-tailgating-and-middle-lane-hogging
Safety is our number one priority and we encourage drivers to drive safely and sensibility, in accordance with conditions on the road and the Highway Code.
Q: What investment in roads is taking place in the North West, Yorkshire and Humber areas, and how will this improve things for drivers?
Highways England became a government company in April 2015 and since then has completed the following schemes to improve journeys for road users by adding extra capacity and reducing congestion:
Smart motorways
Sections of the M1 have become a smart motorway (junctions 39 – 42 in December 2015, junctions 32 – 35a and junctions 28 – 31 became fully open in March 2017. Smart motorways help to relieve congestion by using technology to vary speed limits. They also allow the hard shoulder to be fully converted to a running lane to create additional capacity. They deliver these benefits at a significantly lower cost than conventional motorway widening and with less impact on the environment during the construction.
Schemes completed in 2016/ 2017
Cheshire: A556 Knutsford to Bowden (March 2017): Highways England improved the A556 trunk road between Knutsford and Bowdon by creating a modern dual carriageway road. The existing A556 will become a single carriageway road with facilities for pedestrians, cyclists and horse riders.
Yorkshire and North East: A160 / A180 Immingham (March 2017): Highways England has also improved the A160 between the junction with the A180 at Brocklesby interchange and access to the Port of Immingham.
Gateshead, Tyne and Wear: A1 Coal House to Metro Centre (July 2016): We completed an upgrade to the A1 between the Coal House and Metro Centre junctions by creating new parallel link roads between the Lobley Hill and the Gateshead Quay (A184) junctions; increasing the lane capacity on the A1 main line from two lanes to three lanes in each direction; reconfiguring existing merge and diverge arrangements. The scheme was built within the existing highways boundary which means that no additional land was required.
Schemes currently in construction
M60 J8 to M62 J20: We are improving the M60 by making it a smart motorway between junction 8 (Carrington) of the M60 and junction 20 of the M62 (Warrington).
M6 J16 – 19: We are improving the M6 between junction 16 (Crewe) and junction 19 (Knutsford) by making it a smart motorway.
M1 J45 Improvement: We are widening the slip roads and roundabout to increase capacity at this junction.
A1 Leeming to Barton: We are upgrading the A1 between Leeming and Barton by replacing the existing dual carriageway with a new three lane motorway.
A19 / A1058 Coast Road: Improvements to the A19/A1059 coast road junction by lowering the A19 beneath the existing triple decker roundabout in a cutting.
Growth and Housing Fund schemes
The Growth and Housing Fund is a £100m pot of funding allocated to Highways England through the Government's Road Investment Strategy. The objective of the fund is to enable the delivery of as many new jobs and homes as possible by the end of the Road Investment Strategy period by selective investment in improvements to the Strategic Road Network needed to facilitate stalled/stalling development sites.
The fund is a key means by which Highways England will play its part in supporting the local economies. To date nationally, Highways England's Growth and Housing Fund announcements have contributed over 40 million to the 13 announcements and have unlocked almost 22,000 new homes and more than 34,000 jobs around Warrington, Foxdenton (Oldham), Derby, Daventry, Darlington, Scunthorpe, Grantham, Durham, Swindon, Exeter, Weston Super Mare, Honiton and Taunton.
So far we have announced 5 Northern schemes funded by Growth and Housing Fund:
The first scheme announced in the North from the designated funds was:
£8.6 million for the M181 Lincolnshire Lakes project in North Lincolnshire which will allow more than 5,000 new homes to be built and up to 4,000 jobs to be created by 2028; North Lincolnshire Council is topping up the remaining £4.7 million using developer contributions.
This was closely followed by these two between September – November 2016:
£3 million for the M62 J8 Warrington improvements which will allow more than 700 homes and 8,502 jobs.
£1.01m for the A1 Darlington scheme, which will make way for 1,200 homes and 1,500 jobs.
Most recently in March 2017 the following two awards were made:
A663 / M60 J21 Foxdenton improvements: Highways England awarded £500,000 for improvements to the A663 Foxdenton and J21 of the M60 in Oldham, Greater Manchester. Supported by private contributions and Local Authority's own funds, the scheme will be delivered by the local authority (Oldham Borough Council) unlock 44 hectares of development land, enabling up to 2,000 jobs and 500 new homes.
A1 (M) Junction 61 Durham: Highways England awarded £1.85 million for improvements to the A1 (M) junction 61, Durham. Supported by additional private funding and delivered by Highways England, in partnership with the local authority (Durham County Council). In total, around 270 homes and 3,750 jobs are expected to be unlocked, with substantial benefits for the operation of the Strategic Road Network.
Q: Is innovation playing a part in Highways England's approach?
A: Innovation in this sector will support Highways England's strategic objectives and create value for customers and stakeholders. Innovation will also be critical in helping Highways England meet the safety, economic, environmental and efficiency challenges it will face in our changing world over the next 25 years.
Highways England's innovation strategy builds on its successful track record of innovation, from developing and building the world's first smart motorways to pioneering the use of more efficient and effective pavement materials.
The strategy sets out for the first time Highways England's wide-ranging plan to ensure that we keep pace with advances in technology, bringing benefits to road users up and down the country, as well as unlocking economic growth.
Highways England will pursue a strategy of open innovation, increasing its external focus to identify potential partners, opportunities and promising new areas of research and technology.
With thanks to Highways England